Guardians of the Galaxy 3 Steals a Trick From the Best Modern Star Trek Movie
Boldly going where another franchise has gone before.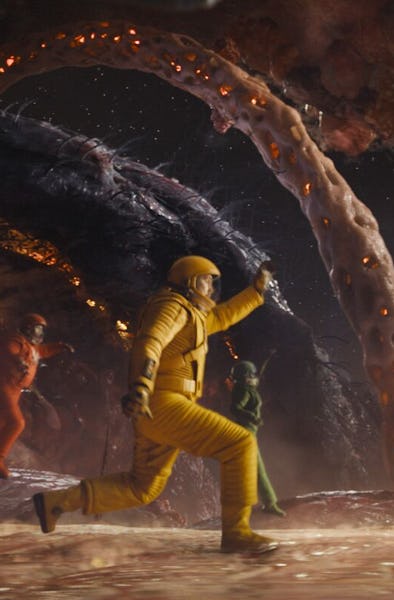 Guardians of the Galaxy Vol. 3 is the end of an era. It closes the door on James Gunn's time in the Marvel Cinematic Universe and brings about the end of the Guardians team as we know it. So the final chapter should be a suitably epic adventure that threatens the fate of the galaxy, right? Well, yes and no.
Spoilers for Guardians of the Galaxy Vol. 3 follow.
Guardians of the Galaxy Vol. 3 isn't quite the high-stakes final adventure fans might expect. In fact, it's quite the opposite: a standalone chapter with high personal stakes for the team, but not for the rest of the galaxy. Yes, there's a genocidal maniac as the villain, but the High Evolutionary's threat against the team is predicated on his shared past with Rocket Raccoon (Bradley Cooper), whose rescue becomes the central conflict of the film.
The found family narrative of Guardians of the Galaxy Vol. 3 is what makes the final film of the trilogy feel like an emotional (if minor) adventure with the Guardians of the Galaxy. And it's a trait that Vol. 3 shares with another third (and presumably final) film of a modern sci-fi franchise.
Star Trek Beyond was Justin Lin's 2016 follow-up to the overly grim misfire Star Trek Into Darkness. It was a breath of fresh air in every way possible. Where Into Darkness was too embedded in the lore established by 2009's Star Trek and leaned too heavily on nostalgia for 1982's Wrath of Khan, Beyond stripped the story back into its basic Trek components: the team arrives on an alien planet, encounters a problem, and uses all their skills to solve it. Lin delivered what was essentially a throwback Star Trek episode. It felt familiar and fresh at the same time, and gave audiences an idea of what The Original Series might look like with a contemporary spin.
For all of the comparisons that the first Guardians of the Galaxy movie drew to Star Wars, Vol. 3 feels heavily indebted to Star Trek. It's smaller, scrappier, and, like Beyond, delivers a one-off adventure that feels equally fresh and familiar. The only downside is that Guardians 3 doesn't feel quite like the satisfying conclusion to the Guardians of the Galaxy trilogy that we've been waiting for. But what does it matter when we get to spend one more adventure hanging out with our favorite cosmic misfits?
Guardians of the Galaxy Vol. 3 is playing in theaters now.