Ridley Scott's Gladiator Sequel Scores a Big Name by Offering a "Bad-ass" Role
Prepare to be re-entertained.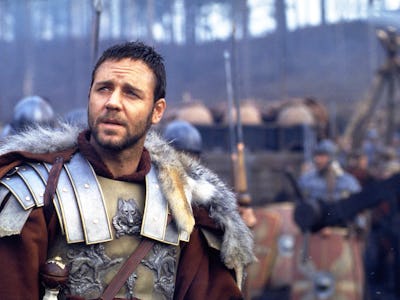 DreamWorks Distribution
23 years ago, Ridley Scott and Russel Crowe made Hollywood history beneath the towering decadence of the Roman colosseum, as their period epic Gladiator took the world by storm. Now, after two full decades in development hell, the long-awaited sequel is finally getting ready to entertain audiences. And, even with only three actors in talks right now, it's already gearing up to be one of the most stacked casts of the 2020s.
Sword-and-sandal epics were massive moneymakers in Hollywood throughout the '90s and early 2000s, and perhaps none of them were as successful and iconic as 2000's Gladiator. The film won Best Picture at the 73rd Oscars, and Russell Crowe's win for Best Actor catapulted him into a new level of stardom he's comfortably enjoyed ever since. It was such a success that development on a sequel began the following year, and although Scott, Crowe, and producers read dozens of script treatments (including Nick Cave's infamous "Jesus Killer" angle), the project languished in an endless cycle of early development.
Earlier this year, however, the clouds parted just enough to reveal that not only is Gladiator 2 in active development with Ridley Scott as director, but Paul Mescal will be playing the film's lead, an adult Lucius. In the original film, Lucius is the son of Connie Nielsen's Lucilla and the nephew of the sadistic Emperor Commodus (Joaquin Phoenix), who's killed by Maximus (Russell Crowe) in Gladiator's bittersweet ending. While not much more is known yet, we do know that it will pick up 25 years after the original, and that Lucius will have been left with a "strong impression" of Maximus after seeing him in the arena.
Alongside Mescal in the lead, it was also announced that Barry Keoghan would join the project as the historical Emperor Geta. If two beloved indie darlings aren't enough, Scott is also reaching for Hollywood prestige by reteaming with Denzel Washington for an undisclosed role. Scott and Washington first collaborated on the gritty box-office smash American Gangster back in 2007, and although Washington is notoriously selective about scripts, apparently the "bad-ass" role Scott pitched to him was too appealing to turn down.
Like Lucius, audiences have spent over 20 years thinking about Maximus. If the stacked cast is any indication, Gladiator 2 might be well worth the long wait.