Knock at the Cabin Star Abby Quinn Reveals Her 2 Nerdiest Obsessions
"Have you heard of The Saddle Club?"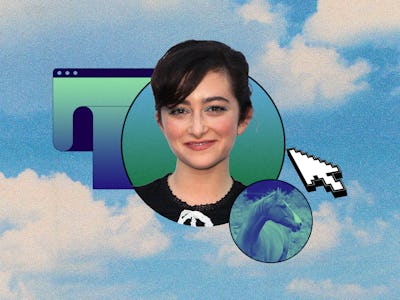 Dewey Saunders/Inverse; Getty Images
It's been a little over a year since Quinn was cast in M. Night Shyamalan's Knock at the Cabin. She plays Adrienne, one of four strangers that descend on a remote cabin in the woods to present a terrible choice to the young family vacationing there. Adrienne and her companions — Leonard (Dave Bautista), Sabrina (Nikki Amuka-Bird), and Redmond (Rupert Grint) — have been sent to prevent the apocalypse. But their efforts will demand an unthinkable sacrifice from Andrew (Ben Aldridge), Eric (Jonathan Groff), and their young daughter Wen (Kristen Cui).
Knock at the Cabin puts a uniquely compassionate spin on the traditional home invasion thriller. Shyamalan's four horsemen of the apocalypse don't want to hold anyone hostage. But they're compelled by something greater than themselves — and go to terrifying lengths to fulfill their task. It can't be easy maintaining such intensity, but Quinn and her co-stars found ways to keep things light between takes.
"I think I was looking for it to weigh on me a bit more, or to be even more bogged down by those feelings, but it wasn't really like that," Quinn tells Inverse.
The cast got incredibly close during the shoot, which made it hard to say goodbye after the fact.
"We all trusted each other so much and created this bond," she says. "Even now it still feels like it was a month ago and not an entire year ago. I think I'm still letting go of it in some ways."
As tough as it must be to move on, Quinn still has plenty to occupy her time. Ahead of Knock at the Cabin's release on Blu-ray and DVD, Inverse sat down with Quinn to discuss the things she likes to geek out over.
Geeking Out is an Inverse series in which celebrities tell us about their nerdy and niche interests, hobbies, or collections.
Do you have a niche hobby or passion that you like to geek over?
I think I do. I mean, I feel like the first thing that came to my mind that has been the most consistent through my life is musical theater and also horses... They're relatively common, but I love horses and horseback riding and was a kid with 30 figurine horses above my bed. I would make my whole family watch... Have you heard of The Saddle Club?
I love The Saddle Club.
Are you a horse person? Or you just like it?
I used to be. I never had a horse or anything like that, but I always used to fantasize about it, and I love The Saddle Club.
It's so good... I'm from Michigan, [and] it was not on our channel. So I would have to order the DVD and make everyone watch it. And Spirit, the movie, that cartoon.
I recently got a horseshoe tattoo. I have a Baggu bag with horses all over it. It's just something that I've always loved throughout my life, and now it kind of connects me to my childhood. I don't even know if it's a passion. It's just something that I love and symbolizes something for me. And then musical theatre too.
What's your favorite musical? Is that a tough question?
Well, my first favorite movie was Labyrinth, which — I don't know, it's kind of a musical. I would say that was my first favorite musical. Then it was Grease for about 10 years. I just had a Grease birthday party every [year] ... I would, again, [make my friends] watch Grease and dress up their favorite character. It's interesting because I did a bunch of musicals in high school and growing up, but I still have a bunch of blind spots for the classics. I haven't seen many classic musicals, but I love the musical Next to Normal. And then there's this musical called Hands on a Hard Body, which is ... I also love folk music, and the creator is the main band member of Phish.
I know they're out there, but none of my friends really share [my interests] with me. But when people ask me about some of the classics, there are many that I don't know.
Classics like Stephen Sondheim's?
No, I've seen a lot of Sondheim, and I did like West Side Story ... I've done Oliver, like those. But then people will be like, "Rent." And I have never seen Rent but I know "Take Me or Leave Me," and I've seen that clip a hundred times of Idina Menzel singing that song through the house. [But] even the movie version, I can only reference. I haven't seen the musical.
I feel like that's not so bad though, because they carried a bunch of original cast members into the film ... I'm geeking out now a little bit too.
What's your favorite?
Rock of Ages. It's like this jukebox musical and it's just rock tracks, and it's so good. It's so much fun. It's so silly though — so if you do check it out, brace yourself for high camp.
Have you seen Jesus Christ Superstar? I just get songs stuck in my head and I don't know the context of them at all.
I feel like at this point in time, you can treat musicals almost, not so much as an album, but as taking the songs out of [their original] context. If they're good songs, then yeah — listen to them by any means.
Yeah!
Knock at the Cabin is now available on Digital, 4K Ultra HD, Blu-ray and DVD.