Arnold Schwarzenegger Reveals the Surprising Reason TV Is Harder Than Movies
In the True Lies-inspired Netflix series, Schwarzenegger faced unlikely new challenges.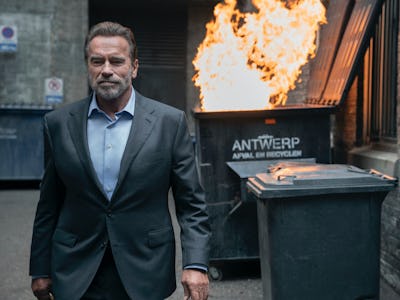 Netflix
Arnold Schwarzenegger has done TV before. But with a short resume of only some cameo appearances, cartoon voice roles, and one pre-Terminator performance as an Italian masseuse who gets ogled by Lucille Ball, Schwarzenegger's domain has remained firmly in the realm of blockbuster movies. Which is why the veteran Hollywood star, whose career includes hits like Conan the Barbarian, Kindergarten Cop, and the Terminator franchise, says he found his biggest challenge yet in Netflix's newest series, FUBAR.
"Doing films are very challenging, especially when you get to the size of True Lies, which is what this is based off," Schwarzenegger tells Inverse. "There was tremendous action in there, and it took a lot of discipline. But this is, of course, much longer."
Premiering May 25 on Netflix, FUBAR stars Schwarzenegger in his first major television series role. A loose reboot of his 1994 action-comedy True Lies, FUBAR follows a CIA legend (Schwarzenegger) who learns that his daughter (played by Monica Barbaro, of Top Gun: Maverick fame) is also an exceptionally trained spy. When the two are assigned to work together on a mission involving a South American warlord, a father and daughter finally learn who they really are beyond their cover identities.
After decades of making movies, Schwarzenegger had to adjust to the smaller screen and longer runtimes. "You have to stay disciplined for a longer period of time," he says. "You have to play this one character in many different circumstances, throughout the different episodes. You have to resist doing the same thing."
While it might be hard to imagine Schwarzenegger needing help of any kind — he was famously one of the world's greatest bodybuilders before becoming an actor, and served as governor of California from 2003 to 2011 — he credits his castmates for helping him throughout the making of FUBAR, echoing the show's overall theme of families.
"Those scenes between the father and daughter were not easy to play out. It was sometimes difficult to get the right chemistry — the right humor, the right intensity. Having Monica by my side, doing scenes with her, was very meaningful and very helpful to me."
Monica Barbaro, herself more experienced than her co-star in TV with starring roles in shows like Unreal, Chicago Justice, and The Good Cop, says there was "a little bit of art imitating life" to the dynamic between her character, Emma, and Schwarzenegger's Luke. Both of their characters hail from different worlds and generations, but there's still plenty of mutual understanding to go around.
"What I love in [our characters'] generational divide is that I think we can learn so much from people who've lived longer lives. I also think the older generation can be reminded to be open to change," Barbaro says. "Striking a balance is significant in the story, and I think for us in our lives in the way we work. We enjoy bickering and bantering, and I think our characters do the same."
She adds, "We all don't want to become our parents, as much as we respect or admire them. We do certain things to avoid becoming them. She realizes she's looking in a mirror when she's looking at him. That's fun to explore what that looks like."
Gabriel Luna, another TV star who played Ghost Rider on Marvel's Agents of S.H.I.E.L.D. and Tommy in the HBO series The Last of Us, tells Inverse he was mesmerized by how easy Schwarzenegger made his transition to TV seem. The two worked together in the 2019 film Terminator: Dark Fate, and reunite in FUBAR as Luna plays its main antagonist, Boro.
"There's nothing you can teach Arnold Schwarzenegger," Luna tells Inverse. "It was amazing to witness him adapt and study as hard as he did, with all that dialogue. He hit all the notes and comedic tone. That's second nature. Comedy is who he is. The big macho guy is part of it, but comedy is his spirit. He was a fish in water. He handled it gracefully."
But Schwarzenegger was a lot more humble when it came to learning the ropes in TV. "I rely a lot on the cast. Without a really good cast you cannot do something [like this] well," Schwarzenegger says. "We want to entertain millions of people, and that's happening because of a great cast."
FUBAR premieres on Netflix on May 25.