How Apple's Extrapolations Uses Sci-Fi to Warn of the Climate Apocalypse
The team behind Apple's newest anthology series reveal how the show reconciles science fiction with science fact.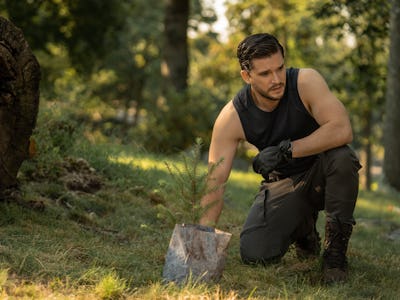 Apple
Even when the Covid-19 pandemic lead to a plummet of pollution levels, NASA found in January 2021 that 2020 was tied as the warmest year on record. It doesn't help that Zoom video calls and streaming video, adopted en masse in social distancing, leave their own carbon footprints.
It's ironic, then, that Inverse met the showrunners and stars of the eco-conscious Apple TV+ drama Extrapolations over Zoom. How sincere can Extrapolations really be in its depiction of a future succumbing climate change? To creator Scott Z. Burns, producers Dorothy Fortenberry and Michael Ellenberg, and actors Indira Varma and Tahar Rahim, everything is worth getting the message across.
"One of the ways I think about this is: We live in states where there has been gerrymandering, but it's a good thing to vote," creator Scott Z. Burns tells Inverse. He name-drops environmental advocate Bill McKibben, a consultant on Extrapolations, who imparted to him holistic wisdom about life in a climate crisis. "You can't let the suggestion of hypocrisy stop you from engaging with the issue. There is no choice for a Zoom that is net zero [pollution]. But by bringing it up, maybe we create a path to find it."
Extrapolations, premiering on Apple's streaming platform today, is a speculative sci-fi drama with a star-studded cast — Kit Harington, Meryl Streep, Tobey Maguire, Edward Norton, Daveed Digs, and more make up the ensemble — that is rooted in the real consequences of climate change. Over eight loosely-connected episodes, Extrapolations spans a period of 33 years (from 2037 to 2070) and zeroes in on a diverse fabric of people impacted by warming temperatures, toxic air, and rising sea levels.
From a Jewish community in a flooded Miami to smugglers in overheated India — and the scheming, shadowy billionaires who leave the biggest footprints among all of us — Extrapolations is half-Black Mirror, half-Isaac Asimov's Foundations, all of it a foreboding look at our immediate future.
Burns has been here before. The playwright turned filmmaker produced Al Gore's 2006 documentary An Inconvenient Truth before writing 2011's Contagion, which found eerie relevance during Covid-19. An Inconvenient Truth catapulted climate change to mainstream awareness in the 2000s that even South Park spoofed it (and later conceded it was wrong), but Burns felt more could be done.
"After An Inconvenient Truth, I felt like we had done what a documentary could do in terms of reaching people. But I think anyone who works in our business has to believe in the power of storytelling," sys Burns, who strove to make climate change look less like "graphs and charts" and more like stories "about love, families, and faith."
Those behind Extrapolations resist calling it science fiction. Climate change is real, and the team consulted with expert advisors who aided the writers in identifying climate change's many consequences, some of which the average person might not think about. "We found out that if you picked up the phone and said, 'We're working on a show about climate change,' lot of people are excited to take that call," producer Fortenberry says. "We tried to ground all of our imagination in actual science. But we were always thinking about how these characters live in this world. What could happen, and how would that impact [them]?"
Extrapolations isn't a complete picture. It's a mosaic made up of many possible futures. "We painstakingly narrowed them down to the ones you see, but there are so many other potential extrapolations in this future," says Fortenberry. "The important thing was making a future that felt accessible. When people talk about environmental calamity onscreen, it's the apocalypse and the world is a barren wasteland. The only question is where can you find drinking water."
Fortenberry says Extrapolations is meant to be a show about the years where the apocalypse is normalized. "You still go to work, you still come home, but your commute is flooded because there was a downpour," she says. "We wanted to live in that messy middle space."
As real as Extrapolations gets, it relies on the traditions of sci-fi. Seeing the terrifying normalcy of a ravaged Earth might feel like witnessing an alien planet ripped from a sci-fi paperback. "Science fiction is a genre we all love. It's a way to explore the biggest questions of human existence in a way that's stimulating," says Michael Ellenberg, a producer on the series. "The genre is inviting, so we want to make a show audiences were excited to enter. This is the subject of our time. The genre is a vehicle to get into all kinds of big questions."
The show's most visible sci-fi elements can be seen in the increasing leaps in its technology, which contrast with the dismal physical environments. "We cover over three decades in our imagined future," explains Fortenberry, "We begin in a world that looks like ours, but over time the carbon increases and we turn up the dial. By the final episode it doesn't look like our world, maybe not entirely with you knowing it, which is what the show is about."
To actors Indira Varma and Tahar Rahim, both veterans of sci-fi projects (Varma starred in Obi-Wan and the upcoming Dune TV spin-off, and Rahim will appear in Marvel's Madame Web), it's the playground of imagination that imbues Extrapolations power.
"The question becomes, what will our complacency allow to happen?"
In Varma's episode, her character — a billionaire figure like Elon Musk — spends most of it in a pilotless aircraft. "To me that's science-fiction, but it actually exists," she says, "And it's just the beginning."
She adds, "I feel privileged to be telling this story. We've all heard about the science of climate change. But that doesn't make us feel anything. Whereas people who tell stories, you feel something. You begin to empathize. Hopefully it will galvanize change in people."
"It's not really science fiction," Tahar Rahim offers to Inverse. In his episode, Rahim plays a gig worker of an unusual sort. Due to climate change causing childhood respiratory problems, Rahim's character outsources the archival of his memories to a cloud service. "As the title says, it's a near-future that is plausible. I hope this show will help the audience be more eco-conscious. I hope to slow it down. In a dream world, we'd stop it."
While Extrapolations reveals the dismal realities of unchecked climate change, the show isn't about hopelessness. It's less focused on pointing fingers — though it's also unafraid to lay accountability on the billionaires who contribute to climate change the most — and more about asking the human race as a whole: What can we do?
"The solutions for climate change exist," Burns tells Inverse, "It's not as though we are unarmed against this crisis. There are so many things that can be done that aren't being done. And so you have to look at and go, why?"
He adds, "It's not a matter of if there's climate change. We're in it. The question becomes, what will our complacency allow to happen? I think what any good piece of art does is make you go back out into the world and question the things you've come to believe."
Extrapolations is streaming now on Apple TV+.