Evil Dead Rise is A Relentlessly Gory And Groovy Return to Form
This is the Evil Dead revival we've been waiting for.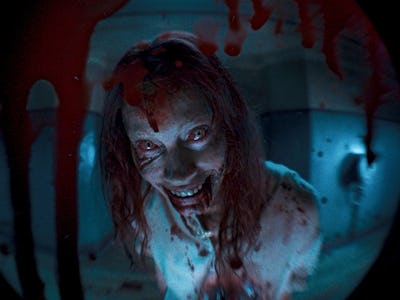 Warner Bros.
It has been a full decade since Evil Dead graced the big screen, though it was not for a lack of demand from horror fans around the world. Well, the original trio of Rob Tappert, Sam Raimi, and Bruce Campbell have finally delivered — this time as producers — with a brand new installment in the form of Evil Dead Rise. Directed by Lee Cronin (The Hole in the Ground), this latest entry revives the long-running series with a relentless, bloody, and expertly-crafted new take that absolutely delivers the goods — for those that have the stomach for it.
The big hook of Evil Dead Rise is that it moves the action (mostly) out of the woods and into the big city. The film, somewhat basically, centers on a pair of estranged sisters (Lily Sullivan and Alyssa Sutherland) who are dealing with complex family and personal issues that bring them back together. Unfortunately for them, and for the three young children of the family, things quickly go south after a series of events puts them face-to-face with flesh-craving demons that they are ill-prepared to deal with. Let the blood spill from there.
It must be said that Evil Dead Rise is not for the squeamish — this particular entry pulls zero punches and leaves no drop of blood unspilled. It's more closely related to Raimi's original The Evil Dead or 2013's Evil Dead, in terms of its utter brutality and lack of camp. Rise is not really aligned with the sensibilities of Evil Dead II or Army of Darkness, even though it does certainly feel like it belongs in the same universe. The point is, expect plenty of gore, savage kills, and wild scares. Once this thing gets going, it simply does not let up. Are there moments of levity? You bet! And Cronin certainly borrows from Raimi in that way, but rest assured, this is a "strap yourself in and hang on for your life" kind of ride.
That having been said, fans of the franchise who are also okay with a more violent and hardcore take should be more than pleased with what writer/director Cronin has managed to do here. Evil Dead Rise is a movie that plays incredibly well for a crowd, and is loaded with applause-worthy moments. In that way, it's a little shocking that it was produced as an HBO Max exclusive. Warner Bros. did us all a huge favor by pivoting to a theatrical release with this one.
While the setting is moved to a major city here, it does still largely keep things contained. There's no all-out zombie apocalypse, but with Deadites. That means we're dealing with a relatively minimal cast. The problem with a small cast is that a weak link in the chain exposes itself pretty easily and is tough to hide. For my money, there is no weak link in this chain. Particular credit goes to Sutherland, who has to bear the burden of being our main Deadite here, and does a phenomenal job with it. Sullivan, meanwhile, makes an equally admirable turn as the sister tasked with protecting her young nephew and nieces, played by Morgan Davies, Gabrielle Echols, and Nell Fisher, respectively. And, not for nothing, but all three child actors go the distance as well — no child actors are mucking up the waters here.
Like Army of Darkness before it, Evil Dead Rise gets away from the cabin-in-the-woods narrative and uses its new setting to change up the formula. At the same time, the reverence for the series is oozing from the screen the entire time. Sure, we have to get along without Campbell as Ash Williams, the chainsaw-armed hero who anchored the first three movies as well as Ash vs. Evil Dead. But, much like how Scream VI recently proved with it can survive with Neve Campbell sitting it out as Sidney Prescott, Evil Dead can survive — if not thrive — without Ash. It's a big world with lots of people to possess.
In an era overflowing with franchise filmmaking, this feels like the kind of movie that everyone making a franchise film wants to make. It both manages to honor what came before while bringing something new to the table. It's something many filmmakers say they would like to do, but it's always easier said than done. Cronin walks the walk here.
Evil Dead Rise miraculously works as both a totally cold entry point for brand new viewers, or the long-awaited return of one of horror's truly great franchises for longtime fans — the ones who are not faint of heart anyway. It is, in a word, groovy.
Evil Dead Rise premiered at SXSW on on March 15, 2023, and is scheduled to be released in theaters on April 21.