New Series Pulls Everything Everywhere Stars into Another Multiversal Adventure
You can't go wrong with Michelle Yeoh and Lucy Liu.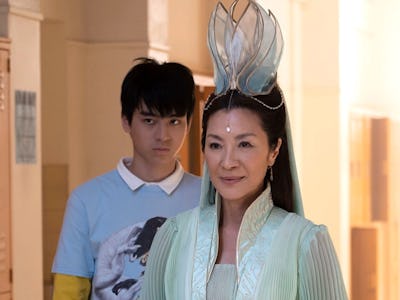 Disney+
Mere hours after the cast and crew of Everything Everywhere All At Once made history at the Oscars, we got our first brief trailer for the Disney+ series set to reunite its main cast. Created by Kelvin Yu and based on a 2006 graphic novel by Gene Luen Yang, American Born Chinese is a stride forward in terms of representation on Disney's flagship streamer, and there are some familiar faces behind the camera as well as in front of it.
Destin Daniel Cretton, the director of Shang-Chi and the Ten Rings, serves as both director and producer on the project, which features prolific actress Lucy Liu. Based on the trailer these two, with their experience working on intricately choreographed action projects, feel like perfect choices to bring the spiritual mythology of American Born Chinese to life.
Gene Luen Yang's original graphic novel is a genre-blending coming-of-age story about a young boy named Jin Wang, the child of Chinese immigrants, who struggles with his cultural identity in a mostly white school before discovering that his existence is intertwined with a conflict between The Monkey King and the creator of the universe. It's unclear whether the show will be an entirely faithful adaptation, but it's obvious the mythological stakes and cultural specificity of the book will remain at the core of the story.
The 30-second teaser hints at the interdimensional conflict driving the story, providing a few glimpses of what might be the mysterious Monkey King while also showing off some enticing clips of the action choreography. On paper, an action-packed adaptation of a graphic novel that speaks to the complexities of the Asian-American experience seems like a potential sleeper hit for Disney+. It might have a built-in audience, especially since its stacked cast includes two Oscar winners.
The presence of Michelle Yeoh, Ke Huy Quan, and Stephanie Hsu in the trailer is a two-fold victory. It's immediate proof that the lightning-in-a-bottle success of Everything Everywhere has already opened the door for more opportunities for its cast, and it's a clever way to add prestige and excitement to a TV project that shares some of the film's elements. From a multiversal existential threat to the stylings of Michelle Yeoh, it's clear that anyone who was a big fan of Everything Everywhere should be awaiting the release of American Born Chinese on May 24th.