Marvel's Biggest Sequel Has Become Its Most Troubled Production
The writer's strike has impacted a beloved superhero's greatest weapon.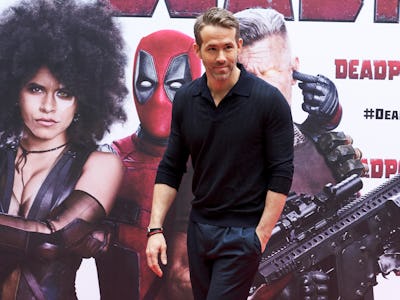 Carlos Alvarez/Getty Images Entertainment/Getty Images
In Deadpool's next movie, the Merc with a Mouth will have one of his signature powers taken away. It's not his healing factor or razor-sharp katanas. Instead, his loud mouth is getting muffled, and it's because of the Writer's Guild of America strike.
Principal photography on Deadpool 3 began on May 22, 20 days after the strike started. The movie marks the return of both Ryan Reynolds and Hugh Jackman to the X-Men film franchise, and their debut in the Marvel Cinematic Universe. While fans are excited for the R-rated antiheroes to spice up the MCU, expectations must come with caveats due to forces beyond Marvel's control.
Per Writer's Guild rules, writers are forbidden from contributing work to a production during a strike (to do otherwise can effectively end a writer's career). Non-writers are allowed to make only minor changes to scripts, such as what James Bond star Daniel Craig did while filming Quantum of Solace.
As noted by The Hollywood Reporter, Ryan Reynolds is one of the credited writers on Deadpool 3, and must therefore adhere to the WGA's rules. This means Reynolds cannot change the script to Deadpool 3 in any way.
This is a challenging scenario for Reynolds and Marvel. Reynolds is a known improviser who frequently comes up with jokes on the fly; while promoting the first Deadpool in 2016, he told Entertainment Weekly, "In between takes I'm just looking at them and I'm trying different ones." Deadpool 2 composer Tyler Bates revealed in a 2018 interview he was "getting updated cuts with lots of new jokes" by Reynolds, even after filming completed.
Marvel as a whole functions with similar fluidity, often relying on reshoots to finalize the shape of its movies. On-set script rewrites, where writers are present during production and make additional changes to the script, are commonplace in the industry, and a necessity on Marvel's complicated and expensive productions. A Deadpool movie filmed with these restrictions may not feel like a Deadpool movie at all.
"Make no mistake, the editing room and the soundstage are the final rewrites of any episode of television," an anonymous TV writer told The Los Angeles Times about the power of the WGA strike to impact the quality of shows (and movies). "A writers' strike will have a very large impact on the quality of the material produced. And shows that are in the middle of their seasons will not have scripts to shoot, which will necessitate a shutdown."
This might be a short-lived problem, as production on Deadpool 3 could come to a complete halt. On May 26, just days after Deadpool 3 started rolling cameras, SAG-AFTRA President Fran Drescher urged members of the actor's guild to vote "Yes" on its own strike, as Hollywood actors share the concerns of writers regarding pay equity and residuals in a streaming era. On June 7, SAG-AFTRA will commence negotiations with the Alliance of Motion Picture and Television Producers, which largely represents studios like Marvel, before its current contract expires on June 30. If actors go on strike too, a lack of improv will be the least of Marvel's problems.
Deadpool 3 will open in theaters on Nov. 8, 2024.