Daredevil: Born Again Report Reveals an Iconic Netflix Location Is Back
The Disney+ show may not recapture the tone of the beloved Netflix series, but it should look similar.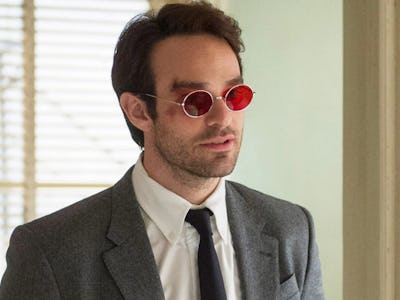 Marvel Studios
After six years and an underdog fan campaign, Charlie Cox will once again be helming his own series in Daredevil: Born Again. His Netflix show, which premiered in 2015, was far and away the most lucrative of the streamer's early superhero outings, and it epitomized the dark, noir-tinged cynicism that Frank Miller brought to the character. When the series was canceled following a stellar third season, fans were worried the character would be either recast or left to rot amid the legions of untouched heroes the MCU hasn't figured out what to do with.
But Marvel had a plan. With an appearance in Spider-Man: No Way Home, Charlie Cox officially returned to the mantle, and Vincent D'Onfrio's Kingpin followed suit in Hawkeye. With two iconic rivals set to face off once again, Born Again is shaping up to be a battle, and now we know where it will be fought.
According to Twitter user @karymalds, Brooklyn's Williamsburg has been spotted as a filming location for the series, after Yonkers and Harlem earlier this month. Williamsburg is especially fitting because it was used for all three seasons of the original Netflix production. This is a promising development, as Williamsburg provided the necessary intimacy for a neighborhood like Hell's Kitchen, while also offering the effortless urban sprawl of rooftops and skyscrapers that the Man Without Fear finds himself leaping from every night. Its shadows and dark corners are a crucial part of the atmosphere that helped ground the show in the first place.
Not only is Williamsburg a convenient location for mimicking Hell's Kitchen, but it's also a reassuring sign that the familiarity of the Netflix series won't be going away entirely. After it was announced last week that Deborah Ann Woll and Elden Henson won't be returning as Karen Page and Foggy Nelson, it seemed like the upcoming Disney+ series would be doing away with any tethers at all to the 2015 show. Shooting in the same location, even if it's for the sake of production convenience, speaks to a recognition of at least one thing the original did right in capturing the visual language of Daredevil's home.
With one more year to go before the series lands on Disney+, time will tell whether any other elements from the Netflix series worm their way into this one. One thing is certain: the MCU has mighty big shoes to fill, and it will take a lot more than a filming location for them to live up to the expectations left behind by their predecessor.