Ben Affleck Doesn't Plan on Joining James Gunn's DC Universe: "Absolutely Not"
Get ready to say goodbye to Batfleck.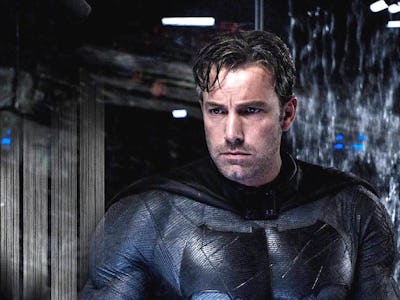 Warner Bros. Pictures/DC Entertainment
DC Studios boss James Gunn has ambitious plans for the DC Comics Universe reboot, including a decade-long slate featuring interconnected live-action movies, animated series, and video games.
Ben Affleck, however, has no desire to be in those plans.
Affleck starred as Batman in Batman v Superman: Dawn of Justice (2016), Suicide Squad (2016), and Justice League (2017). He'll also don his Batsuit twice this year, once when The Flash hits theaters in June and again when Aquaman and the Lost Kingdom comes out on Christmas Day.
However, the actor recently told The Hollywood Reporter that he's done with DC. After 2023, Batfleck will be no more. Not only did Affleck get bored with the Zack Snyderverse, noting that the stories "became somewhat repetitive to me and less interesting," frustrations on set during Justice League's production (more specifically director Joss Whedon's re-shoots) made Affleck declare, "I'm out. I never want to do any of this again. I'm not suited."
Affleck added that filming Justice League was one of the worst experiences he'd ever had "in a business which is full of some s***** experiences," admitting that his grievances with Justice League strained his health and family life. "I got to a point where I found it creatively not satisfying. Also just, you're sweaty and exhausted."
But Zack Snyder is no longer overseeing the DC Comics Universe. Gunn — known for the Guardians of the Galaxy trilogy, The Suicide Squad, and Peacemaker — is in charge. Does that change Affleck's decision about leaving Batman behind?
Nope. When asked by THR if he would want to work with Gunn, Affleck said, "absolutely not," at least not in the DC context. "I have nothing against James Gunn. Nice guy, sure he's going to do a great job. I just wouldn't want to go in and direct in the way they're doing that."
Affleck was surely referring to Gunn's iron grip on the reborn DC Universe, wherein Gunn (and his DC Studios co-chair Peter Safran) have their overhaul plans set in stone. With their creative vision locked down, Affleck wouldn't have much wiggle room to direct the DC Comics projects he would have liked to see through.
While Affleck said that he didn't want to "squander" any more of his life on DC projects, he did have some positive thoughts to share about his years as the Dark Knight. He thinks he "nailed it" in The Flash, and he liked what he did with the character in Batman v Superman: Dawn of Justice. Now he can finally take off the cowl and rest easy.
See Batfleck in The Flash, racing to theaters June 16, 2023.