AMC's Mayfair Witches is banal, not bewitching
Mayfair Witches is a neither kooky nor spooky adaptation of Anne Rice's bestselling trilogy.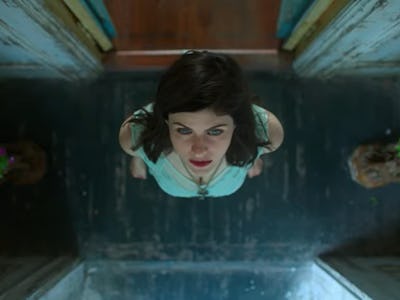 Witches have both terrified and tantalized us dull mortals for centuries.
Such fear of their potency and potions was evident in the many witch hunts that extended far beyond Salem, Massachusetts. And our enduring fascination with these alluring enchantresses has become a staple in pop culture.
Hocus Pocus revealed that witches can put on one hell of a show; The Chilling Adventures of Sabrina revamped the blonde teen to make her a genuine paranormal force to be reckoned with; Practical Magic made us wary of deadbeat boyfriend resurrection incantations; The VVitch made us all want to live deliciously (as the goat put it).
So, what does AMC's Mayfair Witches, starring Alexandra Daddario as one of said witches, have to offer to our repository of Hollywood sorceresses?
Very little.
Anne Rice's Mayfair Witches, which debuts on both AMC and AMC+ on January 8, is a supernatural thriller series created by Esta Spalding (showrunner of the criminally underrated dark comedy On Becoming a God in Central Florida) and Michelle Ashford (writer of the striking HBO miniseries The Pacific). The TV series is set in the same universe as AMC's intoxicating Interview with the Vampire show.
As the title suggests, Mayfair Witches is an adaptation of gothic horror author Anne Rice's bestselling trilogy, made up of The Witching Hour, Lasher, and Taltos. This first season focuses on the talented neurosurgeon Dr. Rowan Fielding (Daddario), who learns she is an heiress to a dynasty of powerful witches who are both guided to fortune and haunted to insanity by a sinister — and seductive — spirit, Lasher (Jack Huston). Rowan ventures from San Francisco to New Orleans following the tragic death of her adoptive mother, and discovers her mystical bloodline has bestowed upon her a dark gift, and a beautiful antebellum mansion in the French Quarter to boot. While in New Orleans, Rowan encounters her eccentric, party-animal uncle, Cortland Mayfair (Harry Hamlin), extrasensory empath Ciprien Grave (Tongayi Chirisa), and recurring Mayfairs Annabeth Gish a Deirdre, Beth Grant as Carlotta, and Erica Gimpel as Ellie.
It takes a special level of screw-up to make an Anne Rice adaptation boring — especially the trilogy that Mayfair Witches is based on. Ghost stories, wild sex, religious allegory, necrophilia, incest, hurricanes, demonism, corruption, and gothic horror only scratch the surface of the foreboding horror in Rice's acclaimed books.
Viewers of Interview with the Vampire will quickly be snapped out of the beguiling spell that was cast on them while watching Mayfair Witches. It seems almost impossible that one story, so full of vibrancy and verve even among its pulseless protagonists, could be set in the same New Orleans that Rowan sort of stumbles around in.
Daddario may not be at fault here. The writers of Mayfair Witches have done the improbable — made a neurosurgeon witch with the ability to both kill and heal people with her mind a tedious character. Who is Rowan? After watching the five episodes that critics were sent to review, I truly can't say what her personality is, or what her motivations are, other than "sad her mom died" and "freaked out about the whole cursed family thing."
Part of the problem with Mayfair Witches' inaccessible protagonist has to do with the pacing of the show — which somehow manages to go way too slow while also packing in way too many new characters each episode. In five episodes, a whole lot of nothing happens, except for some creepiness here and there that doesn't get nearly as scary or weird as viewers of Anne Rice's Immortal Universe on AMC know it can get post-Interview with the Vampire. At least we get some satanic freakishness in the form of Huston's character Lasher, a smoldering shadow who drives the Mayfair women crazy (in the bedroom and also, uh, literally).
But there's hope for Mayfair Witches, a glittering elixir for its matte-toned cinematography and two-dimensional narrative.
For one, Mayfair Witches has a wealth of source material on its side that can always be adapted to inject some much-needed zest into Mayfair Witches. Secondly, AMC is dead-set on making their Anne Rice adaptations a success as the Walking Dead franchise is approaching its end — Interview with the Vampire's cult following and popularity among critics and audiences could work in Mayfair Witches' favor for a Season 2 renewal (and thus give them time to go back to the drawing board and improve the series' middling storylines and dreary visuals). And speaking of Interview with the Vampire ... perhaps the best thing Mayfair Witches has going for it right now is its bloody and disturbing canon crossover moments with Lestat de Lioncourt, Louis de Pointe du Lac, and Claudia.
Mayfair Witches may be more banal than bewitching now, but it has room to become enthralling (if AMC decides investing in a glow-up is worth the trouble).
Mayfair Witches airs on AMC and AMC+ on January 8.