James Cameron Had Plans for an Alita Trilogy, Robert Rodriguez Reveals
If Rodriguez and Cameron get their way, we'd have not one, but two Alita sequels.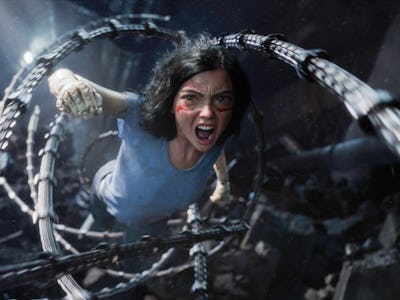 20th Century Studios
If Robert Rodriguez and James Cameron had their way, they would make Alita: Battle Angel 2 immediately. Believe them; they signed a blood pact. But does that pact extend beyond one sequel? Maybe, according to Rodriguez.
Alita: Battle Angel is the little anime adaptation that could, a longtime passion project James Cameron was initially meant to direct before another little movie called Avatar got in the way. In stepped Cameron's frequent collaborator Robert Rodriguez, who signed on to direct in 2015, with Cameron still involved as producer. Rodriguez's Alita: Battle Angel was released in 2019, earning mostly positive reviews and a passionate cult following.
Rodriguez has always been open about how much Cameron's fingerprints were all over Alita. In an interview with Inverse before the release of his action thriller Hypnotic, Rodriguez revealed that Cameron's involvement extended beyond just a single movie: Alita was planned to be three films.
"Jim's outline was very detailed, because he was going to make these himself: three movies. So I would love to go and do it."
The possibility of doing a sequel was built into the title, with Cameron musing about titles for at least two more Alita films in a 2019 BBC interview: "Because the next one will be 'Alita: Fallen Angel' and then Alita... you know 'Avenging Angel' and then Alita whatever." However, this is the first confirmation that there was a three-film plan from the start.
Could we ever get to Alita: Avenging Angel? Rodriguez can't answer that question, but he's still interested in making Alita 2, provided they get the green light from Disney and 20th Century Studios.
"We've been talking about it recently, and we always hope we can make that," Rodriguez says. "Disney bought Fox and they weren't making any Fox movies for a while, so I thought, okay, maybe that won't happen. But now Fox has been making movies again, so it could happen. I don't know if it's easy, but it could happen, so I'm hoping it does."
And though Cameron may be busy with multiple Avatar sequels, he may still impact the fate of Alita 2. Avatar 2 and Alita producer Jon Landau has hinted that the technology from The Way of Water may make the path to Alita 2 much easier, or at least that's what Rodriguez plans to mention in his pitch meeting with Disney.
"Because we use [the visual effects studio] Wētā, every time they develop new tools on a movie, they can use that on the next movie," Rodriguez says. "And then that movie will have innovations that'll help the next movie. So we'll try to make that sales pitch to Disney that, hey, it's good business to actually do another Alita."