On the eve of M3GAN, Blumhouse's blunt critique of digital sex work is worth another look
This isn't the first time Jason Blum's banner has tackled the palpable perils and pitfalls of digital innovation.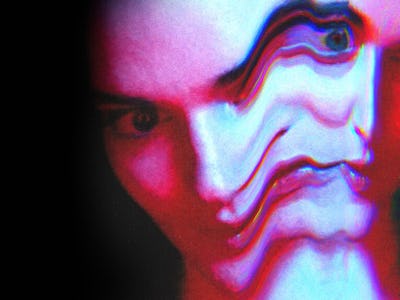 Blumhouse Productions, known best for its genre-warping social issue flicks like Us, Get Out, and The Purge, is trying to generate the horror icon of the 2020s.
M3GAN, murderously cartwheeling into theaters this Friday, is a techno-thriller, slasher, and black comedy all rolled up into a creepy killer doll story. But while M3GAN is slated to become Blumhouse's most recognizable sci-fi horror, it isn't the first time Jason Blum's banner has tackled the palpable perils and pitfalls of digital innovation.
In 2018's Cam, Alice Ackerman is a sex worker on Free Girls Live, which broadcasts "pay-for-play" kink shows and hosts private chatrooms and cam sessions with customers. Alice's flirtatious camgirl persona, Lola_Lola, often lit in pink and clad with heart-shaped nipple tassels, is popular, but not enough to make major bank. To improve her ratings on the site, Alice begins to experiment with increasingly ludicrous and sadomasochistic stunts, faking suicide and breaking her own boundaries to please big tippers. This taboo pairing of sex and violence brings in a large viewership with sordid tastes, and soon Lola_Lola starts to generate heat on FGL.
But that sharp increase in popularity comes with a price: Alice's account is hacked by... Alice. Or, at least, someone who looks and acts exactly like Alice. Alice — the real Alice — goes down the conspiracy rabbit hole, hoping to reclaim her identity and pick back up where she left off.
Brewer's performance is intoxicating as she deftly juggles the eerily similar but immediately discernible (to the film's audience, anyway) Alice and her imposter. Both are eager to please, but only one is capable of thinking outside the confines of an X-rated chatroom. But an honorary mention needs to be given to scene-stealer Patch Darragh as Tinker, who takes being a lonely, porn-addled middle-aged man to impossibly gross (and pitiful) heights.
Beyond anti-male gaze cinematographic choices that keep the protagonist and her identical counterpart's sexual services from seeming like gratuitous pornography, the director pointedly chooses not to glamorize or romanticize the digital sex industry. (Fitting for Mazzei, who penned a memoir of her complex experience working as a camgirl.)
Cam isn't a particularly sex-positive or empowering project, although Alice's mom and brother are refreshingly supportive. Alice's early cam sessions are desperate, teetering on pathetic ploys for clout that ooze in the giggly, overly-interested disingenuousness that garners repeat clients like Tinker.
The same goes for the risky situations that Alice puts herself in to climb up the FGL charts: One of the most horrifying scenes in the film comes when Alice is riding a device known as the Vibratron that almost gives her a panic attack. And when clients like Tinker touch Alice's "outside" world in chillingly realistic ways, Cam showcases how the life of a camgirl can become dangerous when the boundaries between online and offline are blurred.
Viewers hoping to watch an aesthetic and titillating thriller are better served by Park Chan-wook's The Handmaiden, because Cam isn't erotic at all. That's precisely what makes it work as an intense, mind-bending tale packed with social commentary about the modern porn industry, the exploitative gig economy it generates, and what we all stand to lose when we rely on the internet to satisfy the alter-egos we create on it.
Cam is streaming on Netflix.