Species II Had Everything Going For It — So Why Did It Flop?
25 years later, this gory sci-fi sequel is still worth checking out.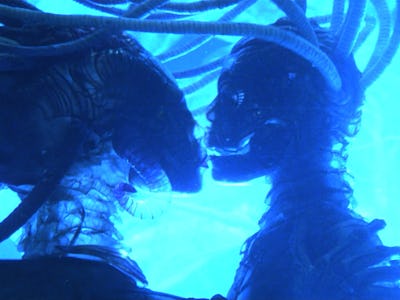 MGM
In the mid-'90s, big-budget erotic thrillers were having a moment. But only one featured an alien designed by legendary sci-fi artist H.R. Giger (best known for creating the alien in Alien). And, as an added bonus, this alien (technically an alien-human hybrid) turned out to be a beautiful statuesque blonde played by Canadian model-turned-actress Natasha Henstridge who was dead set on hunting down men to breed with.
It should be no surprise that 1995's Species was a hit, and it didn't hurt that it featured an all-star cast of Ben Kingsley, Alfred Molina, Marg Helgenberger, and Michael Madsen all working together to catch Henstridge's Sil. Producer Frank Mancuso Jr. (who worked on most of the Friday the 13th movies) knew he had another franchise on his hands. And three years later, he delivered Species II a quarter of a century on April 10, 1998. But no one could have predicted the twists and turns this already bizarre erotic sci-fi thriller would take in its next evolution.
While Species followed Sil on an animalistic quest to mate with a healthy human male, Species II pivots into Body Snatchers territory. The crew of the world's first manned mission to Mars is exposed to extraterrestrial DNA before returning home. Now, the invasion is sexually transmitted — and it's spreading. This premise inspired one of the greatest movie taglines of all time, "MATING SEASON BEGINS…"
When the astronauts return from Mars, they are immediately placed into a "sexual quarantine." Of course, none of them abide by it and things quickly get out of control, primarily with the handsome Patrick Ross (Justin Lazard playing the astronaut son of a senator). "Keep your dick in your pants and your eyes on the prize," his father, played by James Cromwell tells him. He does not do this.
Soon women are turning up dead all over town, their bellies burst open from sudden, violent births of extraterrestrial creatures — a repeated VFX technique that is so graphic I'm baffled it hasn't been the subject of a thousand GIFs. The chiseled astronaut settles swiftly into his new serial killer career, seducing women with ease. While Sil was depicted as an animal looking to breed, Patrick is a horny murderer and a very shitty man.
If you were worried Natasha Henstridge was done with the franchise after Sil died at the end of Species, you can rest easy. The actress returns as a clone of Sil named Eve living in a military facility staffed exclusively by women scientists. Eve is more subdued than Sil after an alteration of her hormones, but they still torture her in a lab, where she is suspended naked in a sort of sexy strappy mechanical chair.
When Patrick's rampage begins, Eve volunteers to help the crew hunt him down via a convenient telepathic connection they share. Yet accessing this connection reveals her location to him, and while Eve flails and sweats in her bed, Patrick is making a beeline for the one woman that might be able to successfully mate with him.
It's often been said that H.R. Giger's work is hypersexual, but the Species franchise takes this to new levels.
"I have 150 faxes from [Giger] of drawings, which I'm keeping forever," Director Peter Medak said in a conversation with Cinefantastique magazine. "He gave me designs of what the creature should look like and ideas for the transformation when the two creatures are making love to each other … He also came up with ideas for when the tentacles shoot out of the little kid and he gets taken up into the ceiling of the barn and then goes into the chrysalises, the cocoon stage."
The special effects in this movie are simply wild. From the repeated bursting belly effect to incredible gore and corpse work and even a scene of a bizarre teeth and tongue battle between Eve and Patrick. This may be the greatest science fiction film for gorehounds ever made. And yet, Giger was not pleased with the final designs, specifically taking issue with the use of CGI in Species II. After seeing an early cut, he petitioned the studio to remove his Creature Design credit, replacing it with "Original Species Design by H.R. Giger."
Disagreements arose between Giger and the movie's FX lead Steve Johnson regarding the design and execution of the creatures in the film. Johnson was an industry veteran by this point, best known for his work on Ghostbusters and the creation of Slimer. Giger wasn't interested in improving on someone else's work.
"This is not what I do best," Giger told Cinefantastique, "to make someone else's designs look 'Gigeresque,' or try to improve upon them."
Regardless of the drama, the team at Johnson's studio crafted some of the most incredible sequences of animatronic and puppet work captured on film to this day. The special effects in this movie are simply wild. From the repeated bursting belly effect to incredible gore and corpse work and even a scene of a bizarre teeth and tongue battle between Eve and Patrick. This may be the greatest science fiction film for gorehounds ever made.
While Species wasn't exactly beloved by critics, it clicked with audiences and grossed an estimated $113 million worldwide. The sequel didn't do nearly as well, unfairly maligned by both critics and audiences, it earned a global box office closer to just $19 million. This wasn't enough to kill the franchise, inspiring two more made-for-TV sequels, but it still feels like so many missed out on a total gem. Species II doesn't have much of a legacy to this day. Hopefully this year, for the film's 25th anniversary, that may change.
But for now, to revisit Species II, you'll have to subscribe to a 7-day trial for Cinemax, which feels extremely appropriate.