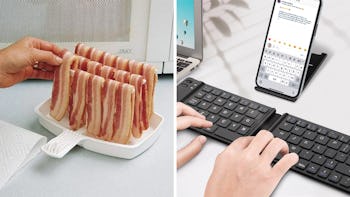 Shopping
Amazon keeps selling out of these 45 totally genius things under $20 for your home
We only recommend products we love and that we think you will, too. We may receive a portion of sales from products purchased from this article, which was written by our Commerce team.
Popularity has a downside. It can often mean that the thing you've just heard about and must have is sold out — curses! Especially when there are problems with the supply chain, people are panic buying, and online shopping has become everyone's go-to, the danger of sellouts is high. That's why Amazon keeps selling out of these 45 totally genius things under $20 for your home. But they are in stock — at least for now — and you probably need some.
The incredible insulated Champagne glasses here, for example, are perfect for any season. They are beautiful, affordable, and keep your champagne cold to the last sip. And this bacon cooker that makes perfect, grease-free bacon in minutes in the microwave is a must-have, so you can have excellent bacon without the mess. But do not miss this popcorn popper that makes creating your own popcorn snacks easier than using those microwavable bags.
I know you'll find something here you want. The only challenge is to snag it before it's gone again.
1. The simple pour-over brewer that makes great coffee
This simple pour-over coffee maker makes a fantastic cup of coffee and brings a moment of ritual to your mornings. The permanent, stainless steel mesh filter fits perfectly in the tumbler so you never have to buy paper filters, and it's portable so you can take hot coffee with you wherever you go.
2. This weird trick for reusing bacon grease
Instead of throwing out all that bacon grease that breakfast left in the pan, capture it to use when you fry eggs or make popcorn. It will infuse your next dish with the delicious flavor of bacon. This bacon grease container is the perfect place to store it. The strainer removes bits of bacon and the covered, 5-cup container keeps it ready in the fridge.
3. A set of 10 silicone straws in a cloth carrying bag
Slip this travel case loaded with 10 silicone straws into your everyday bag and solve the problem of plastic (and melty paper) straws completely. The straws are gentle on your teeth, kid friendly, and easy to clean with the included brush so you can even wash your straws on the go. Or keep a few at home and take some on the go so you are always ready for a smoothie.
4. The slick & effortless way to open a beer
Just push down on this beer opener and it does all the work of removing the cap, without bending it. It's easy on joints if you suffer from hand and wrist pain, and allows you to pop open a party's worth of beers with aplomb. Also, should you be a cap-collecting sort, this keep them nice.
5. This weird tool for giving yourself a massage
When your muscles hurt and no one is at the ready with massage oils and a willing hand, pull out this massage cane and do it yourself. The long arm lets you get to all the hard-to-reach spots on your back. Rounded balls on one end and an egg-shaped one on the other let you dig in as deeply as you can stand to work out tensions and knots.
6. The genius bacon cooker that goes in the microwave
Microwaved bacon is shockingly good and so easy. And, with this brilliant bacon-cooking tray, it's easy to make lots of it. Just hang bacon strips on the arms, cover with a paper towel, and microwave for one minute per slice. The fat falls to the tray below, leaving your bacon lean and not greasy.
7. A stylish sign so you know if the dishes are clean or dirty
If you are always wondering if the dishes in the machine are clean or dirty, this magnetic dishwasher sign is the system you need to clarify that. When you load dirty dishes in, flip the sign to dirty. When you wash them, flip it back to clean. It comes with a stick-on metal piece in case magnets won't stick to your dishwasher.
8. The activated charcoal soap for face & body
When you want to stay clean, smell clean, and not load your skin down with chemicals and additives, this activated charcoal soap is the smart way to do it. The two bars are gentle enough for your face and they nourish and moisturize your skin with palm, sunflower, coconut, and olive oils while getting your skin deeply clean with activated charcoal, oil of peppermint, and tea tree oil. "This soap smells amazing," says one reviewer. "It refreshes your body after a workout!"
9. This milk jug & frothing pitcher with a chic copper finish
Set a beautiful breakfast table by getting the cream out of the carton and into this stainless steel milk jug with a copper finish. It does double duty as a milk frothing for your morning cafe au lait. It even has liquid measures on the interior so you know how much milk you are pouring.
10. The tennis racket that zaps bugs
Don't let bugs get the upper hand. Pull out your famous backhand — and this 4,000-volt bug zapper — and win this match. Hit that bug with this loaded racket and that's the end..for it. It's rechargeable, lightweight, and comes in three sizes and four colors.
11. A handy stand for charging your Apple watch
Install your Apple watch charger into this charming silicone stand and it makes the nightly charging ritual much easier. It turns your watch into an easily-visible little clock while it juices up. It comes in nine colors, has a channel for the cord, and stays where you put it.
12. This moldable glue you can use to fix anything
This weird moldable glue comes out of the sealed package soft and malleable so you can shape it into whatever form you need, stick it to whatever you are trying to fix, or create whatever you have in mind. After about 30 minutes, it hardens to that shape. And in a day, it is permanent, heatproof, waterproof, and cold resilient.
13. A folding keyboard that's small & portable
When that email you started turns into a tome and you grow tired of typing on the screen, pull out this folding keyboard and work smarter. It snaps closed magnetically and turns on automatically when you open it. It works with any Bluetooth-enabled phone, tablet, or computer, and is a full QWERTY keyboard.
14. This beard-bib so you don't leave a mess in the sink
This beard bib is one of those life hacks that you will tell your friends about. They might hesitate because, well, it's a bib. But you will be right. Put on the bib. Attach the suction cups to the mirror. Shave. There will be no after-shave cleanup because all you do is empty the bib, which catches the shaved whiskers before they make a mess, into the trash.
15. The nubby balls that dry your clothes faster
Toss these four nubby balls into the dryer with your laundry and let them spin with your clothes. They plump and separate the fabrics as they dry, which lets the hot air circulate more — decreasing drying time and softening your clothes. You'll save money on dryer sheets, keep chemicals out of the water, and reduce your energy usage.
16. This protector so your pillows are always clean
Zip your pillows into this waterproof, bug-proof pillow protector and rest easy. Your pillows will be safe from accidents and insects. The fabric is soft cotton terry with a membrane coating on the back that serves as an impermeable barrier. The cover is machine washable.
17. A tiny & cute trash can for your desk or counter
Park this micro version of a kitchen trash can on your desk or counter to catch the small things that are too minuscule to warrant a trip to the real garbage area. It's small but sturdy, crafted of fingerprint-resistant stainless steel — and has a flip lid just like its larger counterparts.
18. This double-sided finger & hand massager
If your hands hurt from long hours at a keyboard, arthritis, or overuse, this dual-sized hand massager lets you apply relief anytime. You can roll your fingers between the pincer rollers or apply the single roller to your palm, wrist, or the back of your hands. It relaxes muscles and relieves stiffness.
19. A set of leak-proof glass food storage containers
Make all your lunches for the week in these glass meal prep containers so that your mornings are grab-and-go easy. They are sized to hold a single meal and go easily from the freezer to the oven or microwave to your lunch table. The borosilicate glass containers are pleasant to eat from and you can see what's in them. And the locking lids make sure nothing spills in your bag.
20. This desk ornament that keeps your glasses handy
Set this nose-shaped statuette down on your desk for a bit of whimsical decor. It looks great on its own but will really make you smile once you set your glasses on its nose. And, importantly, then you'll always know where to find said glasses. A slot in the back holds the arms of your specs firmly so they don't slide.
21. These reusable produce bags so you can stop using plastic
Tuck these nine reusable, mesh produce bags into your shopping kit and you can skip the annoying, bad-for-the-planet plastic bags in the produce section. You can store produce in them in the fridge — the mesh allows fruit and vegetables to get air so they don't rot inside plastic. And they are transparent so the grocery scanner can see scan the codes right through them.
22. A terrific set of fine-point colored pens
This set of pens is so much better than it should be for the price. The tips are thin and fine, the ink flows beautifully yet doesn't bleed through paper, and the colors are rich and varied. They are so good — and affordable — that almost 60,000 people give them five stars.
23. These microfiber pillowcases that'll make your sleeping situation better
Every bed needs a good set of pillowcases, and this set of pillowcases from HC COLLECTION found on Amazon Home are a perfect simple option. These come in two different sizes, 12 colors, and are super soft and breathable, helping you get a better night's sleep whenever you rest your head on them.
24. This cold-brewer so you always have coffee on tap
For the price of a few trips to the drive-through for cold brew, you can have a never-ending supply of the stuff chilling in your fridge. It's super easy with this borosilicate glass brewer that is both durable and beautiful. Just scoop the grounds into the inner sleeve, add water, and leave it in the fridge overnight. Once you remove the ultra-fine mesh filter, that sweet, grounds-free coffee will keep in the fridge — right in that pitcher — for a week. It comes with a scoop and a funnel.
25. A set of sharp steak knives that look good
Stop struggling to cut your steak without steak knives. It's a myth that a good set of steak knives has to cost a small fortune. This set of four steak knives feels hefty in your hand, looks like they belong in a high-end steak house, and cut through rib eye like it's butter. These are non-serrated and made from high-carbon German stainless steel.
26. This ring toss game that makes people obsess
Attach this minimalist — but addictive — hook and ring game somewhere convenient to play — in a doorway or on the patio — and watch as both children and adults discover that it is precisely difficult enough to be completely addictive. You will hardly notice it when no one is playing but it will provide lots of entertainment when they are.
27. The coloring book you need right now
When your family, your job, or the cat are making you lose it, this coloring book is the irreverent break you need to help you let it all go. You can focus instead on creating a beautiful picture with crayons, colored pencils, or your favorite pens. There are cuss words and attitude, though, so maybe don't gift it to your sister's kids.
28. These sophisticated S&P grinders for your kitchen table
Make spices as simple as salt and pepper look ultra sophisticated with these stainless steel salt and pepper grinders. These handsome grinders have a convenient transparent glass design that shows you exactly when it's time to refill, and the stainless steel tops twist off easily for quick replenishing. An added bonus? These'll look great on your kitchen table or counter.
29. The toilet bowl night light that makes bathroom trips better
Turn your toilet into an otherworldly source of light so you can easily stumble toward it when you get up in the night. This clip-on night light lets you choose a color — or cycle through all the colors — for a toilet bowl party. It only comes on when it senses motion, and turns off a few minutes later. The light is mild and soothing, avoiding that dreaded nighttime bathroom light-blindness. The clip-on arm is flexible and fits any bowl.
30. These LED puck lights that have hordes of fans
Solve every annoying lighting problem in your home in just a few minutes without calling an electrician by sticking these popular LED lights under your kitchen cabinets, in the closet, or in the trunk of your car. You can set the brightness, turn them on and off, and adjust the auto-off timer duration with the included remote. Or just tap the lens to turn them on. They run on batteries but draw very little power so they last a long time.
31. This UV flashlight that's ready to rat out a naughty dog
When you know the dog has been, er, bad but you can't find the place they did the dirty deed, pull out this UV flashlight and go forensic analysis on the situation. It will light up dog urine that's hiding in the carpets, furniture, or car so you can clean accurately and thoroughly and not give your pup the impression that peeing in that spot is a condoned behavior.
32. These silicone baking mats that replace greasing the pan
Forget about greasing the pan. It just adds unnecessary fats and oils to your food and makes cleanup harder. These silicone baking mats do the job without adding anything, are super easy to clean, and leave your pans clean. They even have circles drawn on them so your cookies come out uniform. This is a set of four in two sizes.
33. This weird toilet plunger that gets the job done
This is a serious toilet bowl plunger that will get the job done when your other plunger fails. The bellows design moves up to 1.5 liters of water at that obstruction, fast, to move it along. And it stores in a stylish and discrete canister so you can keep it next to the toilet without judgment.
34. These rug grippers that stop the corners from curling
Before you trip on that hazardous curled rug corner, attach these V-shaped rug grippers to the corners of the rug. They will hold down the edges and they won't damage your floors in the process. "I have had problems with the corners of my rugs curling up forever!!" said one reviewer. "These are AMAZING! They have heavy-duty sticking power to the back of the rug, and [are] super easy to install."
35. This set of 12 colorful knives & a cutting board
Set your kitchen up in color with this 12-piece colorful kitchen knife set that comes with a matching cutting board and knife sharpener. There is every knife you are likely to need, starting with a pairing knife and going right up to an eight-inch chef's knife. They are sharp, come with sheaths to protect them when stored, and brighten up your cooking adventures.
36. The chicken & waffle dog treats your pup wants
Everyone loves chicken and waffles, right? So obviously your pup will love these treat bites that combine the two just for them. And they're a nice shape and size for delivering a quick reward, but won't add junk to your dog's diet. The main ingredient is farm-raised chicken, and there's no corn, soy, wheat, or artificial flavors — the waffle shape is for fun purposes only.
37. A tall & skinny insulated tumbler to fit your bottle pocket
Pour your water, coffee, or cold brew into this tall and skinny insulated stainless steel tumbler for an all-day sip that's pleasant to hold in your hand and will fit into those slender water bottle pockets on your backpack or travel bag. It will keep your beverage hot or cold for hours, has a flip-top lid that won't leak, and comes in great colors and patterns.
38. This heavy kitchen mallet for tenderizing meat
This heavy mallet is the perfect meat tenderizer for creating thin cutlets or tenderizing meat so it melts in your mouth. One side is smooth for thinning cutlets of chicken or pork. The other is spiked for tenderizing steaks. It's heavy and has a grippy handle to make your work easier.
39. A set of oil dispensers with pouring spouts & labels
This olive oil dispenser set will set up your cooking area so that pulling together a stiff fry or salad dressing is fun and easy. The two slim amber bottles are perfect for oils and vinegars. And the four pour spouts — two flip tops and two with caps — make it easy and pleasant to pour from them. There is a funnel for filling them, labels so you know what's in them, and screw-on caps for storage.
40. This burger press for perfect patties every time
Make some burger patties with your own blend of ground meat and this burger press and the results will be perfect every time. Just drop the ground meat into the base, filling it to the marker for a consistent 1/4 pound or 1/3 pound burger. Then press the top in to form the patty. The results not only look professional but they also cook at the same pace.
41. The pizza peel that folds for storage
A pizza peel is really the only effective way to get pizza, bread, pies, and even large slabs of meat into and out of the oven or grill without mishaps. But where do you store it? This stainless steel pizza paddle is genius because the handle folds away when you aren't using it so you can store it in the kitchen you have.
42. This super simple egg separator tool
Just rest this clever egg separator on top of a bowl and crack your egg into it. The whites will continue through into the bowl and the yolk will stay in the spoon. You can do many eggs quickly and easily with it, then pop it right in the dishwasher. Great for making egg white omelets, hollandaise sauce, or anything that needs egg parts neatly split.
43. The kitchen scale that's built for baristas
When you want to brew great coffee — or bake anything — precision is the key. And this kitchen scale crafted with baristas in mind has that. Measure in ounces or grams, tare out the container, and see your precise measure on the big, clear LCD screen. It even has a built-in timer for pouring coffee at the perfect pace.
44. This microwave popper that will up your snack game
When making popcorn is as easy as putting oil and kernels into this silicone popping bowl and microwaving it for a couple of minutes, you can get really clever with the seasonings. You can choose your own oil, discover your favorite kernels, and have gourmet popcorn any time you like. It goes in the dishwasher, and comes in 10 colors.
45. The steel knife that is the master of butter
Whoever coined the term butter knife was probably hoping for one like this. It has a serrated side for cutting and spreading even butter that's cold. The flip side has small slotted holes so that thin strips of butter distribute evenly and melt on your toast. And the large hole on the end lets you curl large pieces of butter onto your food. It's must have if you want to master a stick of cold butter.