'No Man's Sky' Will Change Gaming and Maybe Redeem Sean Murray's Soul
At Tech@Fest, Sean Murray proposes 'No Man's Sky' will value the journey over any achievable goal, a journey he knows too well.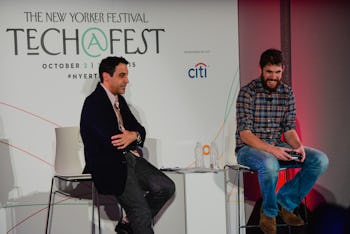 Sean Walsh, The New Yorker
It's a chilly Saturday night in lower Manhattan inside One World Trade during The New Yorker's Tech@Fest 2015. Sean Murray, Managing Director of Hello Games and chief designer of the highly-anticipated No Man's Sky, sat in front of a live audience. He was having a midlife crisis.
"Am I a good programmer?" he wondered.
Attending his demonstration was a Venn diagram of gamers, tech enthusiasts, and anyone who watched the previous night's Colbert, and they laughed along with (not at) him at his public revelation. It wasn't distressing, it was just telling of his headspace going into No Man's Sky, the boundless exploration game boasting 18 quintillion planets to explore.
The only video game at Tech@Fest, it's apparent why No Man's Sky is here alone: it's going to change everything. Or maybe just a lot of things, like what we decide a video game should or should not be. No Man's Sky does feature enemies, some combat, stats to upgrade, and an unknown galactic threat, but virtually all of these were downplayed at Tech@Fest. The game's online aspects are a bare minimum; most games attempt to be the next social affair like World of Warcraft was, but No Man's Sky wants you out moving as much as possible. You'll rarely meet another player. The game is the experience, the call to adventure the only purpose.
No Man's Sky might change the foundation of video games, finally fulfilling the promise that popular media is escapism by actually escaping. It could be a technological revolution, its groundbreaking procedural generation finding application in other industries. For most, it's going to be an experience. For Sean Murray, it could be his salvation.
"What's the full extent of my capabilities?" he asked rhetorically. "Will I ever do something really good?"
Looking on his past gigs at Criterion and EA, Murray spoke often with his head down as if he were ashamed but a smile showing no regrets. Around 2005, while working at Criterion on the first-person shooter Black, he came to a revelation upon seeing the two millionth digital avatar die at his hands. "You get to a certain point and you think, is what I'm doing now what I'm going to do forever?" he mused. "Is this all I'm ever going to do?"
But maybe there was more to it than that.
Sitting with Sean Murray was New Yorker journalist Raffi Khatchadourian talking about the nucleus of the game. Murray spent his childhood reading sci-fi novels with covers that had nothing to do with the stories they were attached to. He mused how these lush landscapes and planets were begging to be explored. "We wanted to create the feeling of landing on a planet and knowing that no one had ever been there before," he said. "That is the one thing that has been there since the very start of the game."
Murray bought his home with money earned working with EA — jokingly calling it "blood diamonds" — and sold it to fund Joe Danger. But it wasn't long before he asked those self-reflexive questions again during the production of Joe Danger 2.
A bearded British gentleman with a charming voice, Murray would fit in as a guitarist for a folk band. But his work showcases feats of intense mathematics and programming. "Hopefully for you this looks like hills," he says while exploring a planet's landscape. "For me, this just looks like a math equation." At Tech@Fest, Murray explored the systems he showed on Late Show with Stephen Colbert, inspiring the former Comedy Central satirist into genuine awe. You could hear a pin drop at the end of his Late Show visit when Murray showed the galactic map, the sea of white dots, each a system full of planets and various forms of life inhabiting it. When he showed it again at Tech@Fest, the pin found its way to the floor yet again.
Though No Man's Sky is intimidating, Hello Games is a small studio and only a dozen-ish people are putting work into it. Working on triple-A games like Burnout (which he confesses he took to calling "Turnout" for its yearly output) was akin to building a skyscraper: big, expensive, awesome, impersonal, and empty. Murray wanted to work on "small Swedish homes": video games where smaller resources allow him to experiment and be free of strict oversight. No Man's Sky, in a weird irony, is like that small Swedish home, which just so happens to contain 18,446,744,073,709,551,616 planets.
No Man's Sky's absence of typical video game hallmarks — like competitive multiplayer, final bosses, and even combat — zeroes in on its goal: to explore. Sean Murray wants the game to be adventure gamified, echoing Thatgamecompany's 2012 indie-hit Journey. But what No Man's Sky really echoes is Sean Murray's personal quest for self-satisfaction, which his Tech@Fest alludes to as constantly never-ending. Even now, at the helm of a game where all eyes are laid upon, Murray speaks with a timid disposition and a tone of constant self-reflection and doubt.
"I'm somebody who's never really that happy. As soon as things become a little bit comfortable, I feel itchy," he tells Khatchadourian. "Things were starting to feel a little comfortable at Hello Games."
What if No Man's Sky were to satisfy his itch? Will he find himself questioning himself yet again should the game reach the soaring heights of success it could potentially be?
Until then, No Man's Sky is Sean Murray's punk rock anthem, his declaration of independence, and a reason for being. But like the game's never-ending nature, his quest to refill a soul that has been emptied out by titanic projects has seamlessly transitioned into an odyssey, a second act, as he's found himself right in the center of a game bigger than anything he or anyone else has worked on before. No Man's Sky is a study in contrasts: a big game, made by a small team, inspired by the need to satisfy one's own soul, but it's now gaining global attention with universal ramifications.
But for Sean Murray, no matter how vast No Man's Sky is or will be, it's still a journey for one.
"I hope it's the kind of game that people will play just because it's a nice experience."
No Man's Sky still does not have a release date.
Correction 10/6: A previous version of this article stated that No Man's Sky does not include combat, enemies, or upgradeable stats. There are, but based on the demonstration at Tech@Fest there was very little of it which led the author to believe these aspects of the game are meant to be downplayed. We regret the error.