Google is marking its 21st birthday in the most Google way possible
Happy birthday...or is it?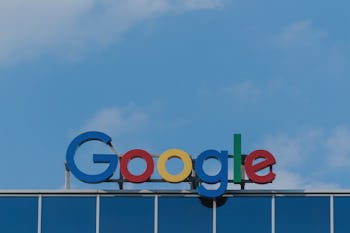 Unsplash / Paweł Czerwiński
Google is getting into the birthday spirit.
The world's largest search engine marked its 21st birthday Friday in perhaps the most Google way possible — by both posting a commemorative Doodle on its homepage, and hosting a 21 percent off sale for its gadgets in selected regions. Also in what's become something of a tradition, Google celebrated the anniversary on September 27, even though the actual birth date of the service is highly disputed.
The homepage doodle, where Google changes the logo to mark an occasion, is perhaps one of the earliest features of the search engine. The first doodle listed on the website was on August 30, 1998, to mark the Burning Man festival. Subsequent logos that year marked Halloween, Thanksgiving, and the launch of a Google beta version.
The doodle has since expanded into a means of celebrating the life of famous figures. Recent tributes included Russian mathematician Olga Ladyzhenskaya, artist Paul Klee and NASA pioneer Mae Jemison. Google has used the doodle to demonstrate new technologies, like the A.I.-powered tribute to Johann Sebastian Bach that composed new melodies based on an inputted song.
Google also marked the day with a sale on its products for European consumers. Using the voucher code "b‑google21" at the checkout will give users 21 percent off all products, except pre-orders related to its Stadia video game streaming service due later this year. The sale is a big reminder of how the company has moved from being just a search engine to a firm that sells a wide variety of gadgets and products, like the Google Pixel 3a smartphone, Google Home Mini smart speaker and Nest Hub Max smart display.
But much like its 20th birthday, it's not entirely clear why Google celebrates September 27 as its foundation. Inverse explored the issue and discovered that the company readily admits its birthday is a little fuzzy. The website launched in August 1996, the current website was registered on September 15, 1997, and the company was incorporated on September 4, 1998.
Google has previously marked its birthday on the seventh, eighth, 26th and 27th. In 2006, the company changed its website and perhaps wrote the most accurate summary of the situation: "The exact date when we celebrate our birthday has moved around over the years, depending on when people feel like having cake."
September 27th: maybe not Google's real birthday, but an excuse for cake nonetheless.