How Preferential Internet Enables High Speed Facial Recognition for Police
Law enforcement and first responders are getting an exclusive slice of AT&T's high-speed broadband network.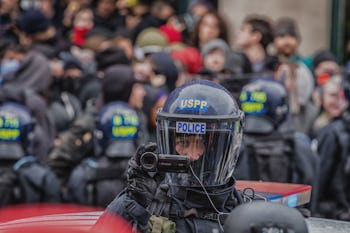 Mobilus In Mobili / Wikimedia Commons
For the affordable price of $6.5 billion in federal funding over the next five years, AT&T is providing law enforcement and first responders across America with a secure, high-speed communications network.
The program, called FirstNet (for the First Responder Network Authority), is an an independent group run out of the U.S. Department of Commerce. It was first chartered by an act of Congress in 2012 but — after a lot of time and expense — has only begun its actual roll out this year.
The project was born out of the widespread belief that poor inter-agency coordination between police and firefighters on September 11th had lead to death of 121 firefighters in the World Trade Center's second tower. According to the Atlantic, FirstNet has since metastasized and evolved along its decades-long journey from abstract recommendation of the 9/11 Commission to deployable government service. It's now something like specially ear-marked bandwidth for the surveillance state.
"This development of a separate purpose is surprising and concerning," Stephanie Lacambra, a Criminal Defense Staff Attorney for the Electronic Frontier Foundation tells Inverse. "The interoperability of numerous surveillance technologies without any significant judicial or public oversight is what I find the most troubling."
For one thing, it's promising real-time facial recognition: police and other agencies are being promised that they can photograph a suspicious person (or anyone really) on the street, and then send that image through FirstNet into a law enforcement database that will send them back matching information from federal databases related to immigration, criminal history, gang membership, you name it.
Thus far, according to a new Intercept report, millions of dollars have already been spent developing software exclusively for a FirstNet "app store" so that local law enforcement and first responders can tailor their own unique panopticon. The Department of Commerce's National Institute of Standards and Technology, for example, is working on what they describe as a "hyper-reality helmet for mapping and visualizing public safety data" as well as a less sci-fi, but still Orwellian, live-streaming and real-time video analytics suite for body-worn cameras. The analytics will also include automated object and text recognition, to go along with all that face recognizing.
The research for these apps will eventually become publicly accessible, but according to NIST's chief of public safety communications research, Dereck Orr, their government clients come first. Or, as he put it to the Intercept, "anything we do is going to be something that is impactful and useful to FirstNet."
Over the past five years, state Homeland Security agencies and other local offices have received approximately $116.5 million in funding from the Department of Commerce to encourage buy-in into the the network, which is comprised of "20 MHz of prime broadband spectrum" exclusively granted to AT&T for FirstNet use, according to the contract.
The trend appears to be that more government agencies will be trying to find excuses for why they need this preferential internet access. Already, FirstNet's prioritized range of the broadband spectrum has been offered to electric utilities, and other private entities, under the justification that they would be providing essential services during a major emergency.
One especially troubling aspect of this large migration into FirstNet is that AT&T is not obligated to share records and information from these communications channels with the public, due to the nature of its public-private partnership agreement and proprietary concerns as a commercial business. One of the most straight forward consequences of this will be that, as police, firefighters and EMTs move from radio frequencies to FirstNet, local reporters (even as humble and unobtrusive as AM radio traffic reporters) will no longer be able to listen in.
Stephanie Lacambra of the EFF says that, while she's "not surprised by the transition from radio to encrypted cellular communications," she is concerned about "the diminishing of avenues for public oversight."
And it's very much happening, full steam ahead. Axios reports that all the governors of all 50 U.S. states have opted-in to the FirstNet network. And Verizon has pledged to build its own encrypted "core" infrastructure to compete with AT&T.