Elon Musk Says He's Creating New Site Pravda to Rate Media "Credibility"
Things are getting weird.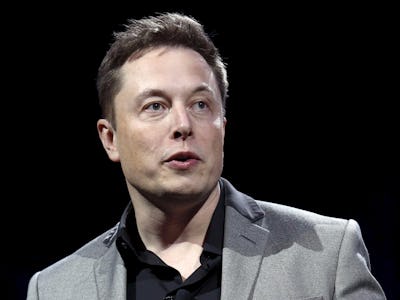 On Wednesday, increasingly eccentric tech billionaire and Grimes arm candy Elon Musk suggested that he would be starting a website that would allow the public to rate the truthiness of reporters and media companies.
"Going to create a site where the public can rate the core truth of any article & track the credibility score over time of each journalist, editor & publication. Thinking of calling it Pravda …" he tweeted. He followed his initial tweet with a poll that asked respondents whether creating such a rating system "would be good" or whether it shouldn't exist, ostensibly because "media are awesome."
Musk has been vocally dissatisfied with the way that the media has covered Tesla recently, particularly when it comes to production delays and crashes involving Teslas equipped with Autopilot technology. This, in turn, has likely led to investors constantly appearing to be betting that Tesla stock will lose value.
The rant went on to take straight-up swings at tech reporters, like The Verge's Andrew Hawkins, whom Musk said lost his credibility "long ago," after Hawkins accused him of a Trump-like anti-media rhetoric.
He also went on to call Reveal, the publication created by the non-profit Center for Investigative Reporting, "Just some rich kids in Berkeley who took their political science prof too seriously."
In April, Reveal reported that Tesla failed to report some of the serious injuries on legally mandated reports, thus massaging the company's overall injury numbers.
In his rant, Musk also waxed about the current state of journalism. "Journos are under constant pressure to get max clicks & earn advertising dollars or get fired," he said. Considering that "clicks" are in effect public attention, creating a site that also asks the public to rate the validity of journalists' work could in theory contribute to a traffic-curated media model. After all, the more we like something, the more likely we are to think it's true.
In a bizarre twist of irony, a publication called Pravda already exists — it's a communist paper based in Russia. Founded by Vladimir Lenin and the Russian Social Democratic Labour Party in 1912, the paper, according to its official website, "discussed the most important problems of workers' lives, inspired them to strike strikes and political protest actions, conducted open discussions about the role of the proletariat and the peasantry in the upcoming reorganization of society, was the school of Marxist theory and practice for the readers." It became an organ of state propaganda during the Soviet era, and today remains the paper of record for the Communist Party of the Russian Federation.
Alas, Musk's Pravda might still be real. The company appears to have been incorporated in California last October, in a filing by Boring Company Director Jared Birchall as a "media" business.
This story is developing.