A Crazy Sounding Museum of Candy is Opening in New York City this Summer
Because the world's largest gummy bear needs somewhere to call home.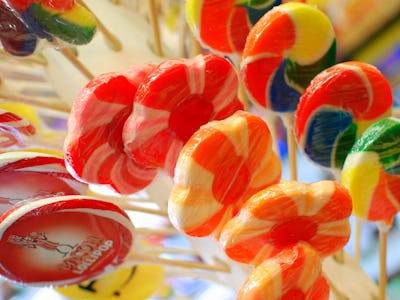 Flickr / Steve Snodgrass
This summer, New York City will get a lot sweeter with the opening of the first ever Museum of Candy. Created by Sugar Factory, the celebrity-endorsed sweets shop and restaurant chain known for their over-the-top creations, the museum will feature 30,000-square feet of candy-themed exhibits in Chelsea, Manhattan, complete with plenty of opportunities to taste.
"The idea to create a Museum of Candy originated from the imagination of my inquisitive children and my own personal dreams about a magical candy land," Sugar Factory founder Charissa Davidovici said in an official statement.
The museum will be housed in the Limelight Club building on 20th Street and 6th Avenue in Manhattan, a former church turned music venue and infamous club kid hangout (and ironically, most recently a gym).
Embracing the building's unique architectural details will add to the museum's playfulness. "Guests will be overwhelmed with joy from the edible candy murals, live art installations from local artists and whimsical musical performances," according to the press release.
Sugar Factory is one of the most Instagrammed restaurants in America, so it comes as no surprise that the Museum of Candy was designed to give visitors a lot of opportunities for sugar-filled selfies. There will be over 15 themed experiential rooms to explore. History buffs can stroll down Candy Memory Lane, featuring the evolution of the industry from the 1900s to present day, and those who like their fructose with a little fantasy won't want to miss the candy-covered unicorns or the world's largest gummy bear. Guests will also have the chance to make their own candy creations or shop for bakeware and ingredients to make it at home.
In addition to a full-service restaurant and an outdoor cafe where you can order Sugar Factory favorites like the 24-scoop King Kong sundae, the museum will also include the world's first dessert marketplace with candy from international destinations sold by the pound.
An exact opening date has not yet been released, but any of us who have dreamt of frolicking in an edible wonderland and plucking giant lollipops from the ground since seeing Willy Wonka & the Chocolate Factory will be anxiously awaiting further details.