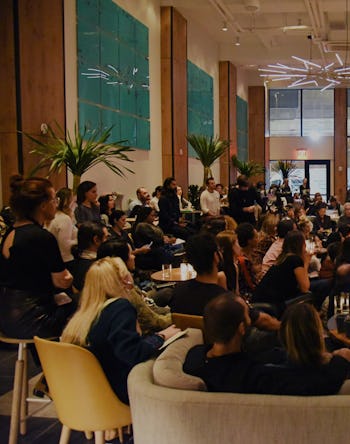 Culture
Coworking to a Higher Consciousness 
The Assemblage is a New Age work space where you can meditate between meetings.
Katherine Pastrana
Simone Spilka greets me with a hug in the reception of the Assemblage, New York's latest communal work space experiment. She's here to give me a tour of the 12-story building; a workspace that turns out to be as unconventional — and earnest — as her hello.
"A lot of membership clubs are places to be seen," says the space's director of content. "And this is a place to just show up for who people are, and that's the type of culture we're trying to create."
Located just south of Midtown Manhattan, the Assemblage's NoMad location aspires to offer more than just a place to work. The building is as much a new age clubhouse as it is a workspace; members are invited to partake in nightly events like Kabbala workshops and Consciousness Hacking, converge for daily, Ayurvedic meals, and even take breaks to meditate in crystal-laden rooms adjacent to work stations.
The number of coworking spaces have multiplied over the past decade, as millennials have entered the workforce and sought out a more flexible, individualistic work experience than generations past. Increasingly attracted to entrepreneurship, freelancing, and small startups, these days a laptop and a wifi connection can be all that's needed to clock in.
"Why don't we just create a space where it's the norm to take a break during the day and have a meditation?"
Coworking facilitates renting a workspace on a month-to-month basis. The commitment is minimal and the cost is lower than a traditional private office. For urban professionals, it's a way to avoid the drudgery of working in a small, inner city apartment, or mooching coffee shop wifi all day.
According to the Global Coworking Survey there's around 1.2 million people using coworking spaces worldwide. That number is projected to increase to 3.8 million by 2020. While large coworking brands like WeWork offer multiple office spaces all over the world, many stand-alone coworking spaces are refining their properties to offer way more than just a desk. Like most millennial-baiting things, it's all about enticing clientele by offering a lifestyle.
The Neuehouse in Los Angeles is in the old CBS Radio building in Hollywood, offers private listening parties for upcoming indie albums, film screenings, and lectures. Berlin's Factory bills itself as a "business club," offering members-only speaker series with the CEOs of startups like Airbnb and Soundcloud, as well as hackathons and other networking events.
The Assemblage, in particular, is going even further, and trying to affect how we spend our day at work. "I think it's reframing the way that we work," says Spilka, when asked about the ethos behind Assemblage. "So many times we say we're too busy for meetings, we're too busy checking emails, we can't take a break, we eat at our desk. Why don't we just create a space where it's the norm to take a break during the day and have a meditation, or sit down with your coworkers and actually eat lunch with them?"
Far from your standard open concept room with desks, the Assemblage's physical space also defies workspace convention. Communal tables, desks, and cafe-style seating are available on multiple floors, while members who pay an extra fee get private offices. The building's aesthetic is all new-age chic paired with reclaimed wood. With modern amenities to appease its tech community clientele, the look is Burning Man meets Silicon Valley startup.
"You wouldn't burnout here. It's built as an anti-burnout workspace," says 35-year-old Brandon Kaplan, a creative technologist and member of Assemblage.
Kaplan's business, Skilled Creative, rents a private office on an upper floor of the building for its staff of four. "We were working at another space nearby, and we came across Assemblage and thought that the concept was really kind of a fascinating counterbalance for the insane, stressful life that agencies live," he says.
In New York, burnout can feel like a common workplace hazard for most young professionals. "It's a culture in New York to work all the time and never stop," says Zenna Hanna, another member of Assemblage.
Hanna, 30, says that when she decided to take the leap into starting her own digital strategy company, she realized she wanted to find a work space where she could fully commit to her new business, but still avoid the stress of a new venture as much as possible. "That's what drew me here," she says. "If you want balance, yes, you have to carve that out. But [at the Assemblage] they've actually carved that out for you so that it can be a piece of your every day."
Behind a glass door on the second-floor mezzanine, Spilka shows me a modestly sized room covered in rugs and pillows. The comfy space functions as a sound meditation room. "We have different practitioners who will play music for 45 minutes as part of our daily movement program throughout the day," she says. "So today we'll have meditation, tomorrow we'll have sound meditation, yoga, and breathwork." All Assemblage members are invited to partake in these daily relaxation routines.
If you're cynical about the state of enlightenment you can reach in the middle of your nine to five, Spilka says it's best to experience the Assemblage's work rhythm for yourself. "Go to a 3 p.m. sound meditation, and you'll say, 'Wow, I've never experienced something like that before.' And understand that it makes you more productive, it makes you more creative.
"You really don't realize that you need these things until you have them, and it fuels you in a different way."
Still, a higher consciousness here comes with a price that reflects the value of Manhattan real estate. There are five different types of memberships, ranging from $200 a month for "after hours" benefits, which include access to Assemblage events and workshops as well as the space after 5 p.m., to renting your own desk space for $1,600 a month.
While the Assemblage views itself as a building that will facilitate community, it's hard not to wonder if the community it's likely to build will only include a narrow socioeconomic slice. To counter-weigh that possibility, Spilka tells me that the Assemblage plans to donate work space to local NGOs as part of incubator programs that could run over several months at a time. In the spirit of the Assemblage's collaborative ethos, members of the building will be encouraged to lend their expertise in branding, social media, and tech — and become involved with different visiting NGOs.
"So then, as a community we're actually thinking about impact as a whole," Spilka says.