World Cup Soccer Linked to Increased International Conflict in New Study
Maybe it's a good thing that the U.S. didn't make the World Cup.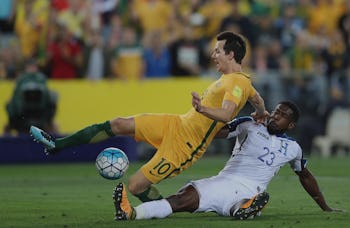 Getty Images / Mark Metcalfe
The sole purpose of the United Nations Office on Sport for Development and Peace is to use sports to ease international peacekeeping efforts. The practice is based on the long-standing belief that sports brings people together, a idea that's been supported over the years by the success of international competitions like the Olympics and Pan-Am Games. But a new study, which finds that nations who have played in the World Cup soccer are more likely to get involved in international conflict, is calling that notion into question.
The nationalist pride and passion that people feel when their countries competed in the FIFA World Cup corresponds with increased state aggression, researchers wrote in the study, published Monday in International Studies Quarterly. Furthermore, nations that faced off head-to-head in the international soccer tournament were 56 percent more likely to engage each other later in conflict, whether it was military or political.
"The qualifiers became much more aggressive following qualification, and they remained so until about the second year after the tournament," the authors write.
"The estimates suggest that going to the World Cup increases state aggression by about two-fifths as much as a revolution does, and that it resembles the effect of electing a leader with military experience."
The study, conducted by U.S. foreign policy researcher Andrew Bertoli, Ph.D. at Dartmouth University, compared the histories of countries involved in World Cup qualifiers between 1958 and 2010 that had either qualified for the World Cup against or just missed out on playing. In particular, Bertoli focused on countries that considered soccer the most popular sport and that had comparable histories of military aggression, measured by the numbers of international battles ("militarized interstate disputes") that each initiated. The U.S. did not meet these criteria.
In his analysis, he found that countries that had just played in a World Cup started many more international disputes than countries that didn't play — even if those countries had similar histories of past aggression. Bertoli concludes that, for countries where World Cup soccer is everything, international competition can increase feelings of nationalism to the point that it becomes a catalyst for conflict. Famously, the "Soccer War" of 1969 started when existing tensions between El Salvador and Honduras escalated during a FIFA World Cup qualifier, and the English-Russian riots resulted in similar instances of international violence during Euro 2016.
These results rang true even when nations playing each other in the World Cup didn't have a history of international conflict. World Cup fans often burn flags and taunt "traditional rival countries" at games, Bertoli notes, even when their countries play teams with whom they had no international conflict. This should come as no surprise to anyone who's ever watched a team that has a bitter rivalry: When the New York Yankees play any baseball team, for example, you'll definitely hear some fans roasting the Boston Red Sox.
This study calls into question whether soccer — the most popular sport in the world — should still be used to bring together different nations, including those "rival countries." The U.N. has been a huge proponent of this solution, even organizing a competition in 2013 between North and South Korean soccer players as a way to "open the door to peaceful dialogue and to defuse political tensions."
Bertoli, however, believes there's a way to play international sports responsibly. He suggests that nations engaged in military conflict and historically "rival countries" should simply not play each other in competition. Additionally, he warns that it's a poor choice for these international events to happen in conflict-riddled countries — like Russia, where the upcoming 2018 World Cup will take place.
"We should oppose bids to hold major sporting events in countries where leaders show a penchant for using nationalist sentiment to increase support for aggressive foreign policies," the study says. "International sports organizations should not make similar mistakes in the future."
Bertoli also recommends that international sports be re-organized into teams of "small regional blocks" so that neighboring countries are not pitted against each other. Of course, given the present state of international sports competition, that kind of drastic change seems pretty unlikely. Doing so would entirely uproot the Olympic Games, which prides itself on hosting athletes from a diversity of nations. It would also make it impossible for record-holders to hold titles for their own nations, forcing international athletes to reappraise who — or what — they actually play for. In addition to World Cup Soccer, the most-watched international competition in the world, tournaments like Grand Slam tennis, the objectives of the World Baseball Classic, the Tour de France, and the PGA Championship will also have to be called into question — but some may argue that it's a price worth paying for international peace.