'Get Out' Fans Will Love Jordan Peele's Viral Tweet About Trump
The movie's director reminds us once again that "Get Out" will always be relevant.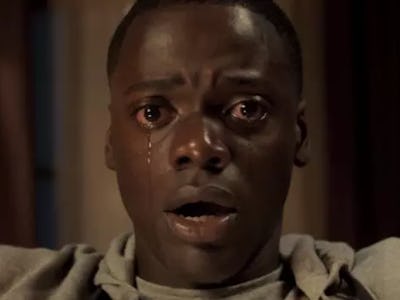 Blumhouse Productions
It's been a little while since the movie Get Out shook up the horror genre and mic-dropped into the American conversation of race. But the movie once again took centerstage Friday, thanks to a reference made in a tweet from the movie's director, Jordan Peele.
Peele's tweet was in response to the a post from the Golf Channel, which tweeted out earlier in the day that Donald Trump was teeing off at his Mar-a-Lago resort with golf pros Dustin Johnson, Brad Faxon, and the troubled Tiger Woods. It didn't take long for Peele's tweet to go viral and amass tens of thousands of retweets and likes.
For those who don't recall Get Out in detail or unfortunately haven't seen it yet, Peele's referencing a quote from the scene where the protagonist, Chris, is hypnotized under the pretense that it will make him quit smoking. The person who performs the hypnosis, the mother of Chris' girlfriend, refers to the the dark void that he's put into as "The Sunken Place." While in this state, Chris is completely paralyzed in his chair and forced to recall his mom's death when he was younger.
This all foreshadows when, a few days later, Chris learns he's involved in an experiment where the brains of older white people are transplanted into young black bodies. This allows the black bodies, with their supposed better physical capabilities, to host the older white people, forever dooming the consciousness of Chris and other black victims into "The Sunken Place."
Peele has explained before that The Sunken Place represents the oppression of black people. "The Sunken Place means we're marginalized," Peele wrote on Twitter back in March. "No matter how hard we scream, the system silences us."
Friday's tweet isn't the first time the "Sunken Place" quote has been used for snark and mockery of politics and institutional racism. Following the movie's release, the internet invariably made the quote into a meme. Peele even made a few of his own in February and March, so he simply revived the meme to give his own take on the latest Trump news.