What Would Have Happened if Steve Bannon Wasn't Fired 
Bannon's ideology leaves a mark.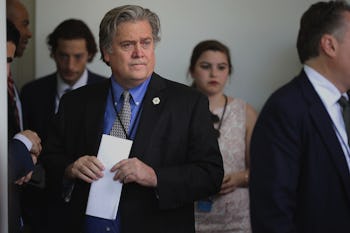 Getty Images / Chip Somodevilla
Steve Bannon, the pugnacious media personality who joined Donald Trump's whirlwind campaign and later served as its chief strategist, is officially out of the White House. We'll never know what changes he could have made if he stayed, but historians say it doesn't matter — the culture of xenophobia, extremism, economic nationalism, racism, and paranoia is "baked into the culture of the White House."
A White House spokesperson told The New York Times that Friday was Bannon's last day. Bannon told Circa, a digital media brand funded by conservatives targeted at millennials, that he resigned two weeks ago, but the news was not made public until Friday — either way, he's out.
Dr. Alice O'Connor, a professor of the history of U.S. public policy at the University of California, Santa Barbara, says that Bannon's departure — and indeed, his prominence in the first place — belies a deeper effect on the U.S. government's executive branch.
"I think it's a mistake to only focus on individuals in this whole picture. Economic nationalism, xenophobia, racism, among other things, and paranoia, and of course the culture of disruption which is Trump's M.O. — all of those things that we associate with a figure like Bannon — it's not just about Bannon," O'Connor tells Inverse. "It's baked into the culture of the White House. It becomes crystallized in a figure like Bannon but he is just representative of a much broader force."
Bannon, O'Connor says, is an embodiment of the extremist values the Conservative movement attempted to harness their quest to become America's ruling party, but have struggled to contain or control throughout the past several years.
During the seven months he served in the West Wing, Bannon was a hugely controversial figure, battling fiercely with comparatively moderate Republicans like former chief of staff Reince Priebus and quieter figures like the President's son-in-law, Jared Kushner.
If he had stayed, says Andrew Porwancher, an associate professor of constitutional history at the University of Oklahoma, "palace intrigue at the White House would have only worsened."
"Bannon is a flamethrower who demonstrates little hesitance to attack any given critic, even if the critic also works at the White House—indeed even if that critic is in Trump's very family," Porwancher told Inverse.
Bannon has long despised the traditional framework of power in the United States, and sources close to him say that he's "going nuclear," and will return to Breitbart, the far-right propaganda network he ran prior to joining the Trump administration, to push his agenda from the outside. Breitbart has been integral in pushing news and information that favored Bannon's viewpoints while in the White House, and O'Connor says that general onslaught will continue unabated.
"The constant state of siege is definitely part of the strategy," O'Connor says. "I think we can say that Bannon is going to continue to play that role whatever he does. He's going to keep this constant state of chaos.
Bannon's continued presence in the White House, had he stayed, would have highlighted a certain hypocrisy inherent in the rise of his anti-establishment views: to destroy the state, or accomplish the aims of a repressive, isolationist, xenophobic regime, you need to use establishment power.
"Even Bannon, who professes to despise the 'deep state,' he, like many of his like, are perfectly willing to use the apparatus of the deep state if it comes to trying to realize their aims," O'Connor says. "If you're going to enforce a Muslim ban, then you need a deep state to do that, you need extraordinary state power."
Much of the controversy around Bannon's tenure a chief advisor revolved around his supposed sway over President Trump. Porwancher says that Bannon's time has some parallel's to Alexander Hamilton's service as Treasury Secretary to George Washington.
"Just as Bannon's critics feared that he could impose an extremist agenda on an easily manipulable president, so too did Alexander Hamilton's adversaries believe that the young Treasury Secretary was exploiting his influence over George Washington to foist Hamilton's radical designs on the country," Porwancher says.
Porwancher was quick to point out that Bannon and Hamilton's views on immigration and economics were diametrically opposed, but that the two advisors were viewed as similar destabilizing forces by the centrist establishment at the time.
"The lesson we should draw from the Washington Administration is a simple but important one—the buck always stops at the president's desk," Porwancher says. "While Hamilton certainly had his ear, Washington was hardly the unthinking puppet that Hamilton's opponents claimed. No one controls Trump, and like all presidents before him, the outcome of his presidency will ultimately lie not with his advisors but with Trump himself."
Bannon's legacy in the White House, then, rests only upon the President himself. And even with Bannon now on the outside, O'Connor says his legacy is alive and well inside the executive branch.
"The agenda that he represents — I don't think that's gone away, I think that's still there," O'Connor says. "The warring factions of the Republican party and the Conservative movement are still embedded in the White House right now. The culture of disruption and the culture of extremism is still baked into the DNA of the White House. What are the anchors of what Bannon represented? Trump himself is one of the anchors."
As Porwancher says, the buck stops at the president's desk. And while Bannon may be gone, the president is still the same.