Sony PlayStation VR2 Review: Immersive VR Gaming on Easy Mode
Now the PSVR 2 just needs more exclusive games.
Photographs by Xin Xin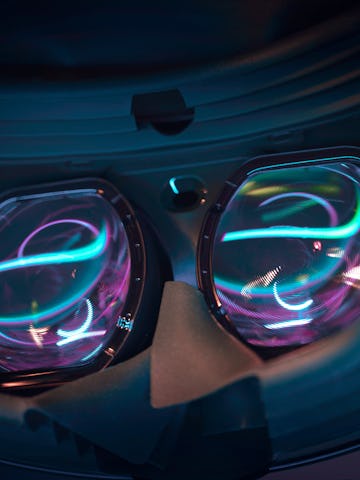 Photographs by Xin Xin
Sony isn't confused about what the PlayStation VR2 is.
Unlike Meta, which is fixated on brute forcing its way into becoming the next dominant computing platform with the Quest 2/Pro, and determined to make the metaverse the "successor to the mobile internet," Sony's second-gen VR headset for the PlayStation 5 has a much simpler ambition: be an awesome headset for immersive gaming experiences.
I love this focus. Instead of trying to revolutionize entertainment, socialization, work, and more, the PSVR 2 is merely another way to indulge in fantasy when you pull the headset over your eyes. It's really no different than paying an ungodly amount of money for a home theater system just to watch a movie at higher audiovisual fidelity.
But while the PSVR 2 hardware is without question a major leap over the first-gen PSVR headset — one with over 30 titles arriving in its launch window through March 2023 — the $550 sticker price could greatly limit its appeal. For many people, I suspect the head, eye, and hand-tracking immersion won't be more attractive than purchasing at least 10 PS5 titles at full price. VR, regardless of platform, is largely still early adopter tech. However, if you are on the cutting edge of tech and gaming, and entertainment, the PSVR 2 is definitely an additive experience for the PS5.
From the future
One look at the PSVR 2 and it's clear that it shares the same design language as the PS5. Its white and black mirrors Sony's console and accessories, and even the Inzone gaming monitors and headphones introduced last year. Curved edges connect the visor to the crown-like headband, and carry through to the rounded Sense controllers. The PSVR 2 is a beautiful headset that's way lighter than it looks; Sony somehow shaved 40 grams from the headset compared to PSVR, which is always a plus in comfort for extended play.
Don't let the plastic headset and controllers deceive you — they feel nearly hollow in comparison to the densely packed VR headsets from Meta and HTC — because there's a plethora of upgrades that not only improve on the first PSVR but give it a slight edge over competing VR headsets.
Compared to the original, Sony has streamlined the PSVR 2 in almost every way. Thanks to four cameras on the front of the headset, there's no need to use an external PlayStation Camera for motion tracking. This "inside-out" tracking is now standard on VR headsets including the Quest 2/Pro, and one less thing needed to use the PSVR 2. Also no longer required: a bulky external processing unit box that connects the headset to your PS5. There's just one USB-C cable that goes from the PSVR 2 headset into the USB-C port on the PS5 — simple!
The PlayStation Move controllers for the PSVR have been replaced with pair of wireless Sense controllers that resemble spacecraft throttles sans sticks straight out of Cowboy Bebop. I feel like I'm about to jump to hyperspeed every time I slip them on. Each of these sleek controllers comes with joysticks, a pair of buttons (Triangle and Square on the left and X and O on the right), adaptive triggers, grip buttons, and removable lanyard straps. They pair and charge via USB-C. For my testing, Sony Included its official Sense Controller Charging Station ($50 sold separately), which comes with attachable USB-C nubs that let you charge the controllers magnetically through its pogo pins. Sony's charging dock is better than the one that comes with the Quest Pro, which has arguably the worst way to charge its controllers because of how precise the pogo pins need to be aligned. The Charging Station is a convenient way to ensure your controllers are fully charged at all times.
All of these tweaks make the PSVR 2 a more enjoyable headset to use. It's more comfortable to wear, the accordion-style light shields do a better job of blocking out light, and setting up is easier (I love the way the headset scans your room and then automatically creates a playing space). Whereas the PSVR always felt cobbled together — for example, repurposing the PlayStation Move wands as VR controllers didn't make for very precise controls — the PSVR 2 is more polished hardware designed from the ground up for VR experiences.
Sony's technology prowess extends underneath the plastic shells, too. The dual OLED displays (one per eye) have higher resolutions (2,000 x 2,080 versus 960 x 1,080), a wider field of view (110 degrees versus 100 degrees), and native HDR support compared to the original PSVR. High-resolution screens have diminishing returns on TVs and computer monitors, especially when the panels aren't massive, but in a VR headset every additional pixel matters. I've used just about every major VR headset and the displays in the PSVR 2 are the best in a consumer headset that I've literally seen. From color and contrast to brightness, resolution, pixel density, and FOV, the PSVR 2 blows away even the Quest Pro. Graphics and, notably, text are sharper and more legible, and the undesirable "screen door effect" is greatly lessened. I'm extremely impressed with the image quality the PSVR 2 produces. Combined with a maximum 120Hz refresh rate — an important spec for reducing VR nausea — the PSVR 2 inches mainstream VR fidelity toward being indistinguishable from reality. We're not there yet, but we're getting closer with every new VR headset.
I'm extremely impressed with the image quality the PSVR 2 produces.
Complementing the displays is 3D audio piped through a pair of detachable stereo earbuds that clip into the underside of the headset. This is a more elegant solution than the dangly cord on the PSVR, but there's just one thing I don't like and that's the removal of the in-line controls on the cable. On the PSVR 2, there's no hardware volume control; to do that you need to go into the PS5's system settings. You can use your own pair of over-ear headphones with the 3.5mm headphone jack or a pair of wireless headphones like Sony's Pulse 3D, but the fit over the headset's crown might be uncomfortable.
The tech goodness doesn't stop at the audiovisual level. The PSVR 2 has haptic feedback in both the headset and the controllers; Quest headsets only have rumble in the controllers. I was caught off guard by the haptics gently pulsing my head and face — and genuinely delighted with the extra immersion to the high-res screens. The Sense controllers also come with their own satisfying haptics and adaptive triggers, which use the same motors in the PS5 DualSense and DualSense Edge gamepads, to reproduce precise tension and resistance depending on how hard they're pulled. For games like Horizon Call of the Mountain and Puzzling Places, the extra sensation adds tactile depth.
And last but not least, the PSVR 2 has built-in eye-tracking from Tobii. If you've never used Tobii's eye-tracking technology, it's exactly like it sounds: hidden cameras inside of the headset detect where your eyes are looking at, which enhances not just visual realism for distances like focusing on the foreground and background, but enables new forms of controls using your eyes. It's wild being able to look in a direction to aim at a target or select a menu option.
As a technology enthusiast, I understand the value of selling all of these advanced technologies in a sleek headset and controllers — objectively you're getting a greater audiovisual experience than the $1,500 Quest Pro — but the general PS5 gamer? The sticker shock might be too hard on the wallet.
Playtime in VR
Like I said earlier, I have a lot of VR experience, most of which has taken place in gaming. I play games on my Quest 2 at least once a week and love to try out new games. I'm one of the more than 5 million PSVR owners out there, and I regret purchasing it. At the time in 2017, it seemed the most affordable VR headset for gaming without needing a new gaming PC with a pricey GPU. But when the original Quest launched, it became apparent the direction in which VR was headed: standalone and wireless.
The somewhat janky tracking (particularly in small and dim rooms) certainly created unnecessary barriers to enjoying PSVR. Sony and developers also didn't flock to the PSVR with quality unilateral games support. Of the more than 500 VR titles released for PSVR, only a few are standouts and many of the VR modes included in AAA titles felt more like demos than full-featured gameplay. Needless to say, my PSVR has sat unused in the closet for years.
It's too early to declare at launch whether the PSVR 2 will move the needle for VR on PS5. Sony's at least included hardware that leads as opposed to lags for VR experiences. In the week that I've been using PSVR 2 daily for this review, I can confidently say the tracking and visuals are noticeably improved over PSVR. The inside-out tracking is far more accurate and responsive than using a PlayStation Camera and the Sense controllers are superior to the Move controllers for input. My only real complaint is that the PSVR 2 is still a tethered headset — the cable is long (14.7 feet) — but it can get in the way sometimes. Even so, the PSVR 2 hardware is everything the PSVR should have been.
The biggest question mark is the PSVR 2 games library. I got to try several titles including Horizon Call of the Mountain, Star Wars: Tales from the Galaxy's Edge - Enhanced Edition, Tentacular, Moss: Book II, Kayak VR Mirage, Puzzling Places, and What the Bat?, but the exclusives like Horizon are few and far between. Many games launching on PSVR 2 are already available on other VR platforms like Quest or Steam VR.
Sony says there are over 30 PSVR 2 titles coming through March and over 100 titles in development. That sounds promising, but I'm skeptical — I really hope I'm wrong! — that many of them will be breakouts that sell the value of VR, let alone a headset that costs more than a PS5. This isn't a problem exclusive to Sony; Meta is facing the same challenge of convincing people why VR games and experiences can be better than 2D.
As someone deeply familiar with VR gaming in general, the PSVR 2 titles I tried are pretty fun. Inverse senior gaming editor Jen Glennon has a standalone review for Horizon Call of the Mountain here. This is the one launch game that really pulls out all the stops in showing off the headset's graphics, tracking, and haptics. But most games simply don't push the envelope of the hardware — not yet at least. That's not to say the PSVR 2 library (so far) isn't entertaining — Tentacular is a hilarious gem that'll make you forget about time — but any PS5 owner who's ponying up $550 for the PSVR 2 is probably looking more for a VR God of War or Elden Ring. I'm personally looking forward to Gran Turismo 7 on PSVR 2. I know developing for the new Sense controllers and their adaptive triggers and the headset haptic feedback takes time, but a strong showing of exclusive AAA titles at launch could easily sell headsets — compelling, must-play games will always dictate the success of a platform, not hardware.
Perhaps the most disappointing thing about the PSVR 2 is that it's not compatible with the PSVR library. Games you purchased for Sony's old headset do not play on the PSVR 2. That effectively means the PSVR 2 library is starting from scratch with no backward compatibility unless a developer offers a free PSVR 2 version — and that's entirely up to them. Some developers like Drool are offering "PS4-to PS5 upgrades" for a small charge, like $4.99 for Thumper.
It's a bit upsetting that I can't continue pouring hundreds of more hours into Driveclub using the PSVR 2. Nor can I transfer my copy of Beat Saber to the headset — it's forever playable only with my old headset. Beat Saber is coming to PSVR 2, but Meta will likely charge for the new version. I can still play PSVR games on my PS5 (or PS4) with the original PSVR headset, but I'm also stuck with all of its shortcomings.
Games you purchased for Sony's old headset do not play on the PSVR 2.
You might be thinking that it's the usual corporate greed that's driving this lack of backward compatibility, but it's really the hardware that's the problem here. With the vastly better tracking system and controllers, developers basically have to rework their games entirely — and that costs money and time. Porting PSVR games with a different tracking system and controllers to the PSVR 2 isn't as simple as adding a few lines of code and recompiling. In Sony's PSVR 2 FAQ, it states "Some games may be available for cross buy or upgrades on a title-by-title basis. The offering and any associated costs are based on the developer's preference." And below that: "Some VR games will be available as a cross-gen product. The PS4 version of the game will be available for PSVR, and PS5 version of the game will be available for PSVR 2."
There is one silver lining that may or may not make up for the loss of PSVR game compatibility, and that is Cinematic Mode, which lets you play games on a virtual 2D display. I finally got around to finishing Final Fantasy VII Remake Intergrade and though the virtual screen resolution is capped at 1080p, it's a decent 2D screen with HDR support. I'm not getting rid of my 65-inch LG 4K OLED just yet. Cinematic Mode also works with streaming apps like Netflix. I'd love to see these apps get proper VR versions with virtual accoutrements and settings for resizing the 2D screen like you get on Quest.
Should you buy it?
Despite VR being a modern gaming platform since the release of the groundbreaking Oculus Rift in 2016, it's largely remained a niche for tech and gaming enthusiasts. That makes it difficult to predict whether the PSVR 2 will have legs because while most of the PSVR 2 games that I tried are "old" to me, they're fresh and immersive to a VR newbie. With the PSVR only having half the 10 million+ Quest 2 install base, resetting things with the PSVR 2 isn't a bad strategy.
What I do know is that VR is still anybody's game. Meta's Quest headsets may be the poster children for VR, but if Sony can court game developers to create exclusive titles for the PSVR 2, it could carve itself a sizable chunk of the market without going full-blown metaverse. It's not like Microsoft is interested in VR for Xbox and Nintendo's VR Labo for the Switch is no serious threat.
VR is still anybody's game.
If the price doesn't scare you away and you're looking for a way to breathe new life into your PS5, the PSVR 2 is a good headset for immersive gaming and the occasional 2D movie. Like I said at the start, Sony is laser-focused on selling PSVR 2 for gaming, and has the potential to excel at that. Otherwise, I don't think most people will be missing out. Again, that could all change if Sony bolsters PSVR 2's library, but until then, it's largely an expensive toy. A fun toy, but expensive!
Zooming out, I believe VR is not for everyone and may never be. And that's okay because, at the end of the day, the PSVR 2 is still an accessory for a console. Maybe one day that'll change, but perhaps only when PSVR is the console. I'll never give up on the PS9 dream that drew me to PlayStation over two decades ago. At the very least, I'm positive VR is not a fad the same way 3D TVs were more than a decade ago.