Sonos Era 300 Review: Spatial Audio That'll Knock Your Socks Off
There's no all-in-one smart speaker that delivers the same level of spatial audio clarity at such extreme volumes.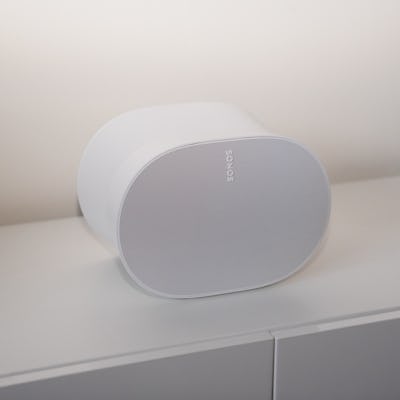 Photography by Raymond Wong
My neighbors probably hate me. If the people next door weren't such sweet octogenarians, I'm sure they would have called the cops on me for blasting music on the new Sonos Era 300 smart speaker.
That's basically the latest Sonos Wi-Fi and Bluetooth speaker in a nutshell. The nearly 10-pound Era 300 is capable of playing spatial audio with Dolby Atmos at ear-shattering volumes and with such clarity and depth that it's almost a disservice to play it at low volumes. In more spacious rooms, you want the sound to bounce off the ceilings and walls in order to get the full spatial audio effect.
At $449, the Era 300 sits on the premium end. Competing smart speakers such as Apple's $349 second-generation HomePod and Amazon's $199 Echo Studio also tout spatial audio with Dolby Atmos, and they sound good. But they're no comparison to the loudness and fullness of the Era 300. Sonos' spatial audio speaker is in a different class, which makes it worth the premium, especially if you already own Sonos products.
Beyond stereo sound
As I said in my hands-on with the Era 300, Sonos designed the smart speaker to maximize the reach of spatial audio. The bongo-like shape of the speaker may look odd at first, but it's true form following function. Inside, there are six class-D digital amplifiers — a "high-performance woofer" and tweeter on each side, and a tweeter firing up and one facing forward — along with custom waveguides that disperse the sound from them. Together, these drivers push a massive amount of air, more than you'd expect from its size.
I am not surprised that the Era 300 sounds impressive. This is a Sonos speaker and I did get my first listen to it in a small room that Sonos chose for its optimal reverberations after all. I walked away enthusiastic to spend more listening time.
In my much larger living room with higher 10-foot ceilings and 18-foot-long walls, the three-dimensional qualities of spatial audio — the depth from the front and top-firing sound — were less noticeable unless I cranked the volume up. Which is where I ran into some kind warnings from my neighbors.
At a reasonable distance and at a volume of around 50–70 percent, I could still pick apart the expanded separation that spatial audio adds to music, but I might also be in the minority. While I am not at all an audiophile with a "golden ear" I do know how to listen to music carefully versus just hearing it. In other words, I know what to look for. In blind tests with a few of my friends, it was 50-50 that they could tell the difference between a song in stereo streamed over to the Era 300 through Spotify and a Dolby Atmos-mixed version beamed via Amazon Music. Stereo is still very good despite its two-channel limits, especially at close range.
Speaking of Amazon Music, I should mention that it was the only music service with spatial audio that worked during my review period. Any song marked with Dolby Atmos or 360 worked. I wasn't able to try spatial audio on Apple Music because it's not available until March 28 (the day after this review embargo). I should also note that while the Era 300 supports Bluetooth (just long press the button on the back to pair), spatial audio only works via Wi-Fi because of its greater bandwidth.
If you've never experienced spatial audio, you're in for a real treat.
If you've never experienced spatial audio, you're in for a real treat… if you appreciate music like I do and it warms your heart to — this sounds really corny — close your eyes and really listen to the details. Otherwise, spatial audio might be lost on you, the same way car radio is still "fine" despite sounding like staticky garbage next to satellite or streaming radio. And if you already know the dimension that spatial audio enables, then the Era 300 isn't bringing anything new, except the pristine loudness that you may desire. If there's one thing the Era 300 excels at, it's bass — loud, very low-distortion bass that quakes whatever surface it's on and rattles the walls.
Personally, I'm a fan of spatial audio remasters. I prefer the nuanced vocals and whispers in David Bowie's "Space Oddity" over the stereo version, and I like feeling like I'm standing right in front of John Lennon performing "Imagine" or Taylor Swift's "All Of The Girls You Loved Before". Songs mastered in spatial audio have a kind of subtle warmth and presence that 2D stereo doesn't. It's a hard thing to describe, but as I've said in the past, it presents songs with more feeling. That being said, I've heard from others that they feel the spatial audio versions of songs are "wrong."
I understand where they're coming from, but seeing as most remasters are done with the artist's input and stamp of approval, where they helped remaster it to sound the way they want it to, it's in many ways the real definitive version.
A good analogy for spatial audio is HDR. Spatial audio is for sound and HDR is for picture quality, but both formats add more to the content. Stereo sound is good enough, just as non-HDR is watchable. However, once you're spoiled by spatial audio, everything else sounds inferior.
Which brings me to spatial audio availability. As I said, I was only able to test spatial audio on Amazon Music. But there's a catch: spatial audio on Amazon Music only works through the Sonos app. In the Amazon Music app, spatial audio tracks are labeled with a "Dolby Atmos" or "360" next to them when you search for them. But the app is so buggy and laggy (you can actually see the seconds-long delay when switching between songs) that I was often confused about whether or not a track was actually playing in spatial audio or not. Meanwhile, searching Amazon Music through the Sonos app doesn't show whether a track is in Dolby Atmos, not until you play it.
Just look at the screenshots above. I searched for "Elton John Atmos" and found an Amazon-curated playlist with "Imagine" by John Lennon. As shown in the first screenshot, the track has the Atmos label. Okay, great — I tapped to play it. But when I went back to the playlist, the Atmos label (and the others like "Ultra HD") disappeared from not just that song, but all of the songs on the playlist because it wasn't streaming through the Sonos app. That's because if you stream via Alexa or AirPlay it'll default to stereo output. The Amazon Music website is even worse. The same songs in the "Best of Spatial Audio" playlist don't even show the Atmos labels. See for yourself — here's the app on iPhone versus the desktop:
Amazon Music offers a bunch of curated playlists when you search "spatial audio" but I found the selection to mostly skew towards newer songs from today's mainstream artists like Tate McRae, Bad Bunny, or Miley Cyrus. Nothing wrong with these artists or their new releases but I wish it was easier to find older remastered songs. The other challenge is getting artists to remaster their songs in spatial audio, which either will happen or won't. There's no guarantee the songs you want to listen to in spatial audio will get the immersive treatment, which could limit not only its adoption but the urgency to get a spatial audio speaker right now.
The Sonos Ecosystem Difference
It's still very early days for spatial audio, which means the catalog of available tracks should only grow as more speakers and headphones support the format. As it stands, the Sonos Era 300 is pretty darn future-proof. The big new feature is spatial audio, and when you can get the proper remastered tracks, old songs sound new again. But stereo still sounds terrific, too. The soundstage isn't as wide and you don't get the same aural immersion, but if you're, for example, a Spotify user, and not subscribed to Amazon Music or Apple Music, you can still get a powerful speaker.
You might have noticed that I spent no time on things like the recessed bar up top that you can swipe and tap on to control the volume or the support for Alexa and the Sonos Voice Control (voiced by the talented Giancarlo Esposito), and that's for good reason: they work well. There's not really much to unpack. While I did use Sonos Voice Control and Alexa, a voice assistant is no longer the major selling point it used to be.
The Era 300 is the start of a new spatial audio chapter for Sonos.
The thing that makes the Era 300 worth the investment is the same thing that makes all of Sonos' other products worth the money: It can connect together into a system for a multi-device or multi-room audio experience. And if you choose to add the Era 300 into an existing Sonos system or as the first piece of one that'll be expanded in the future, it works flawlessly. I synced the Era 300 to my Arc soundbar, two One speakers, and Move portable speaker without issues. With an additional Era 300, an Arc or Beam (Gen 2), and a Sub Mini, you can build out an even better surround sound experience at home.
When Sonos landed on the scene in 2005, there were valid concerns about purchasing a pricey speaker system from a brand that lacked the same legacy as a Bose or Sony. Eighteen years later, it's clear Sonos knows what it's doing. The Era 300 is the start of a new spatial audio chapter for Sonos, but its mission remains unchanged in delivering great sound first and foremost.
Photography by Raymond Wong