The Type Folio for the reMarkable 2 Has a Baffling Keyboard Layout
The Type Folio works for quick notes, but it'll unlikely help you write the next New York Times Best Seller.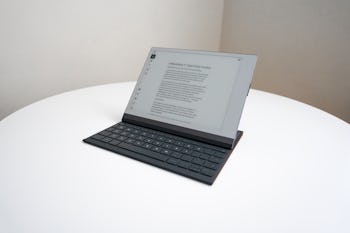 Photography by Raymond Wong
We may receive a portion of sales if you purchase a product through a link in this article.
reMarkable 2 owners love their E Ink paper tablets.
I count myself as one of them. But as terrific as the pencil-like "Marker" is for handwriting notes and drawings, I've often found myself wanting a keyboard attachment to type on. I am a writer and editor living in 2023 and not 1923 after all, and keyboards are a faster form of text input.
Ask and we shall receive: reMarkable's now selling a Type Folio keyboard attachment for the E Ink tablet. It's a little pricey at $199, but if you are as fond of the distraction-free E Ink tablet for notetaking as I am, the Type Folio might be a worthwhile investment, though it does have quirks. If you pay for reMarkable's Connect subscription and have an active account as of yesterday, March 6, 2023, you can get a $50 discount. Don't need a keyboard for your reMarkable 2? Don't buy it. It's that simple.
Slim Design
Two reasons I love my reMarkable 2 are how thin and light it is: 4.7mm thick and 403 grams. That's thinner and lighter than an iPad Air (fifth generation). I'm not kidding when I say I forget I have mine in my backpack's laptop compartment most days because it's hardly noticeable.
Thankfully, the Type Folio doesn't add too much bulk to the reMarkable 2. Part keyboard and part folio case, the accessory folds open for easy typing and shuts to protect the display when the tablet isn't in use, while still leaving enough room for a Marker to attach to the side of the tablet. It's a clean folding design that's unoffensive. My review model is the faux leather "Sepia Brown" but it's also available in a faux leather "Ink Black" if that's more your jam. I'm into the brown; it resembles a leather-bound notebook. I don't know how it'll age over time, though. I doubt it'll patina with use since the material is synthetic. I also wonder how well the display will be shielded with the cover; there's no microfiber lining on the inside like there is on the reMarkable 2's standard cover.
The reMarkable 2 connects to the Type Folio via magnets and five tiny pogo pins, and immediately switches to landscape orientation. Detaching the reMarkable 2 from the keyboard is an easy affair… if you have fingernails. There are two narrow handles on the left and right side of the tablet mounting area and you need to hold them while digging a fingernail in between to separate it from the tablet. I appreciate the strong magnets used to hold the reMarkable 2 in place, but detaching the tablet from the keyboard would have been a struggle without nails.
Keyboard Quirks
At the end of the day, the only thing that matters is whether or not the Type Folio is a good keyboard. For simple text entry, it does the job. Despite its slim design, the keys are surprisingly tactile and have good travel. Wafer-thin Apple butterfly keyboard, the Type Folio is not. The keyboard width is roughly as wide as the Magic Keyboard for the 11-inch iPad Pro/Air and the Magic Keyboard Folio for the 10th-gen iPad.
Like I said, if you're typing short notes, the keyboard works so long as you can adjust to some questionable button decisions and placements. But if you're planning to write the next New York Times Best Seller, the quirks might drive you mad. So let's talk about them.
When you first attach the Type Folio, it asks you to choose PC or Mac layouts for the modifier keys — where you want your control, option, and alt keys. For PC, "ctrl" works as "Control" and for Mac, the "alt" key becomes the "Command" key.
And then you open or create a note… and type. That's when all the little things start to surface. For me, that includes seeing the slightest latency between key press and what appears on the screen. Then there are the following: shift keys that are shorter than I'm used to; a half-height number row; the odd movement of the tilde key (~) from the left of the 1 key to above the enter key, where the brackets and keys and backslash slash key usually sits. There are no keys for brackets or curly brackets. There's a forward slash key but no backslash. Some keys like the 0 key serve triple duty — in this case, as a number key, right parenthesis, and + key depending on the modifier key pressed with it. But the compact keyboard doesn't leave much room for many of these keys, you say. I'm looking at my Magic Keyboard Keyboard Folio and even without a full-height number row, Apple managed to fit all of the keys (and in their correct locations) just fine.
There's a bit of muscle memory recalibration that you need to do before you can get back to your usual typing speed. It was challenging to get over the learning curve and I'm not sure that I have even come close after several days of trying. Are you willing to retrain your muscle memory for a single keyboard layout? Maybe if the Type Folio is the only keyboard you use, but most people are typing on a laptop or desktop keyboard.
Another thing to be mindful about: the cursor doesn't blink. Because the reMarkable 2 uses E Ink, the text cursor just remains static. There's no precision to tapping on text to move the cursor there like on iPad; an on-screen magnifying glass would have helped, but E Ink is a very slow display refresh technology. The only way to accurately move the text cursor around the E Ink screen is to use the arrow keys.
Lastly, the Type Folio keyboard isn't backlit. This isn't a dealbreaker to me — iPad Pro/Air Magic Keyboards are backlit but they only turn on automatically and the Magic Keyboard Folio has no backlighting — but if you plan on typing in the dark, you're going to need a lamp.
Should You Buy It?
I tried my best to type this entire review using the Type Folio, but the awkward keyboard layout fought me at every press and I ended up switching back to the Keychron Q1 Pro mechanical keyboard plugged into my MacBook Pro. My first draft had too many S letters where there should have been As.
As the first and only keyboard accessory for the reMarkable 2, the Type Folio is serviceable. If you think any of the things that bothered me won't be problems for you, then by all means spring for a Type Folio. For me, I'll stick to using the reMarkable 2 for what it's best used for: handwritten note content. My handwriting has improved since I started using the reMarkable 2 for daily journaling and, as a result, the handwriting-to-text conversion has become more accurate.
The good thing is the Type Folio is optional. It does not sour the reMarkable 2 as an amazing E Ink notepad in any way.