OnePlus 11 Review: Return of the Value King
No tricks or gimmicks. The OnePlus 11 is all that you need in a phone and nothing else.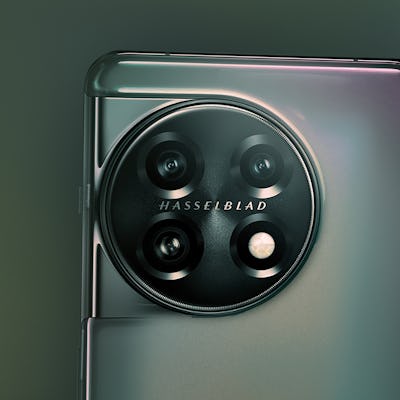 Xin Xin / Inverse
OnePlus is returning back to its roots this year. There's just one flagship model: the OnePlus 11. No "Pro" or "Ultra" version — just the OnePlus 11.
This single-model approach makes considering the Android phone as easy as the good ol' days. You either like what you see or you don't. There isn't a more premium version to upsell.
This simplification does come with a few tradeoffs. Similar to OnePlus 7 and older phones, the OnePlus 11 cuts a few corners to get to its aggressively priced $699 starting price. Fans of the OnePlus 8, 9, and 10 won't like the loss of certain conveniences, but overall, the OnePlus 11 is a solid package.
"Missing" features
Let's get right into the features the OnePlus 11 doesn't have: wireless charging and an IP68 rating.
You're probably thinking that no wireless charging on a flagship phone in 2023 is a non-starter. But is it? Wireless charging is convenient — I'll give it that. However, wireless charging is still slower than most wired charging and it requires a pad that's sold separately. In the case of previous OnePlus phones that support fast wireless charging, you need to pony up for a special fast charging stand. Aligning phones on Qi charging pads also isn't as clever as the iPhone's MagSafe wireless charging system which uses magnets to ensure perfect alignment.
So OnePlus said out with wireless charging — you won't miss it! Instead, how about 80W fast charging and you get the fast charger (with USB-A to USB-C cable) in the box? International OnePlus 11 devices are blessed with even faster 100W charging. With the ability to go from 1–100 percent in around 27 minutes or 1–65 percent in about 17 minutes, I can't say I missed wireless charging on the OnePlus 11.
As for the IP rating dropping from the more common IP68 which allows a phone to be submerged in water, OnePlus also doesn't view it as a downgrade. The IP64 rating in the OnePlus 11 means it can survive splashes just fine (rain won't break it), but all bets are off if you drop the phone in the toilet or a pool.
Fast and smooth
There's nothing I don't like about the OnePlus 11 hardware except the circular camera bump, and that's just my personal preference. This phone isn't OnePlus' first rodeo and everything is mostly there. The 6.7-inch 120Hz AMOLED display is large, sharp, bright, and now supports Dolby Vision HDR content. Despite being a big phone, it's lighter than an iPhone 14 Pro Max and Samsung's Galaxy S23 Ultra, which feel like bricks in the hand (and pocket). OnePlus' signature "alert slider" that was removed from the OnePlus 10T is back. The haptic motors are on point. And performance is exactly what you'd expect from a OnePlus flagship: fast and smooth.
Thanks to the very performant Qualcomm Snapdragon 8 Gen 2 chip, OxygenOS 13 (Android 13) is super responsive. Year-over-year chip upgrades are rarely more than a spec bump, but in the OnePlus 11's case, performance is up across the board, including in power efficiency; cooling is improved too from a larger cooling chamber. Compared to phones with last year's Snapdragon 8 Gen 1 chip, the 5,000 mAh battery in the OnePlus 11 stretches longer into the day. OnePlus also says the built-in "Battery Health Engine" prevents the battery from wearing out through repeated fast charging.
My review unit has 16GB of LPDDR5X RAM and I haven't noticed any slowdown for basic tasks. OnePlus throws around lots of numbers like the phone being able to keep up to 44 apps open in the background and a "RAM-Vita" feature, which lets you add more memory bandwidth using free storage, but these are primarily for power users. I suppose if you're remotely interested in the OnePlus 11, you probably consider yourself one.
With the Snapdragon 8 Gen 2 chip also comes gains in GPU performance, specifically ray tracing. I'm all for games with fancy graphics and real-time lighting and reflections but it feels unnecessary for mobile games — even 3D ones like Diablo Immortal. Yes, progress, but also just look at how poorly optimized graphics like Call of Duty Mobile and PUBG run on phones. I'd rather mobile games run better with ray tracing than poorly with it. Plus, there are almost no mobile games that support ray tracing right now so you're not going to benefit much until that happens.
OxygenOS 13 is where I suspect people will be the most divided. Ever since OnePlus parent company Oppo merged the company's OxygenOS codebase with ColorOS in 2021, many OnePlus loyalists have complained that the software has gone downhill. It's true, OxygenOS 13 is virtually identical to ColorOS (give or take some tweaks); it's not the old stock Android found in early OnePlus phones. I… don't hate it. I can forgive stuff like the stock iconography (just leave the Settings icon a gear instead of a nut) and inconsistent behaviors in places like the notification center because of the fluidity of the software, but the OnePlus 11 is also Android, which means you can install any launcher you want and customize it to your heart's content. Again, if the OnePlus 11 is on your consideration list, then you probably won't be uncomfortable with a little tinkering.
Good pictures
When OnePlus was coming up, the recurring complaint about its phones was that they didn't have cameras that could hang with iPhones or Samsung Galaxy phones. That all changed with the OnePlus 8 Pro, which not only had a great triple-lens camera system that hung with the best phones available but sometimes bested them on image quality. That phone also started at $900, $200 more than the OnePlus 11.
In fairness, OnePlus has invested more into making the cameras on its flagship phones better. In 2021, the company inked a contract with Hasselblad that I can only imagine included a check with a lot of zeros on it to show just how serious it was about improving image quality. The results of the partnership have been pretty weak in my opinion. While working with Hasselblad has objectively improved image quality attributes like dynamic range and white balance compared to pre-OnePlus 9 cameras, few people would say the 9 or the 10 series have unseated the iPhone or Galaxy. It's one of those close-but-no-cigar situations.
With this context, I do think the OnePlus 11 takes good photos. The Hasselblad logo stamped into the OnePlus 11 still doesn't mean the camera system completely blows away an iPhone 14 Pro or Samsung Galaxy S23 or Pixel 7 Pro, but it does take good pictures in daylight and even the dark. It's a solid camera for everyone except the most discerning eye who will no doubt find something to nitpick at a micro level.
Unless you're going to shoot at full resolution, you can all but ignore the megapixel counts (50-megapixel main, 48-megapixel ultrawide, and 32-megapixel telephoto) because photos by default are "binned" down to 12 megapixels just like on iPhones and other Android phones. It's really a deceit when OnePlus touts a 50-megapixel camera and Samsung a 200-megapixel shooter. The majority of people are just not shooting at full res. And as such, the differences between phone cameras, at least on the premium spectrum, are so minor that there's really no FOMO. Take it from me, a guy who used to really care about the image quality details, and now doesn't. Instead of fixating on sharpness or color depth, I practice better composition and editing techniques, which has resulted in me creating more interesting photos than just sitting on a mountain of snapshots.
As a tool, the OnePlus 11 camera is plenty capable of capturing great photos. You can leave it on auto or dial things exactly how you want them with the pro/manual settings. I find the two portrait modes ​that are meant to simulate Hasselblad ​XCD 30mm and 65mm lenses more of a marketing thing, but the focal lengths at least create good-looking images. If there's one thing that could use software tweaking, it's the autofocus — it can be very hit-or-miss. Sometimes it's just a step too slow to freeze a subject and then you go back and review your photo later and it's blurry.
Should you buy it?
Compared to other flagship smartphones with triple cameras, the OnePlus 11 makes a strong case for saving money. $699 gets you in the door with 8GB of RAM and 128GB of storage; an extra $100 doubles the RAM to 16GB and storage to 256GB.
The Pixel 7 Pro starts at $899; the Galaxy S23 at $799; and iPhone 14 Pro at $999. Why am I not comparing the OnePlus 11 to the iPhone 14 (starting at $799) and Pixel 7 ($599)? They only have two cameras. You can make the case to compare the OnePlus 11 to whatever featureset you want on another phone. But to me, the OnePlus 11 offers virtually all of what these triple-lens camera phones do with very forgivable downsides. Performance, cameras, battery life, and build quality are all premium tier.