M2 Mac Mini Review: Unbeatable Value for Content Creators
Apple's smallest and most affordable Mac redefines "entry-level" computer.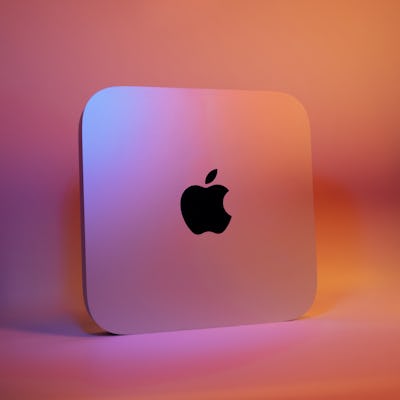 Photography by Xin Xin
If you're still in denial about how transformative Apple silicon has been for Macs, look no further than the Mac mini.
The compact desktop computer went from being a terrible value with horrible Intel CPU and GPU performance — basically the worst Mac in Apple's lineup — to the M2 Mac mini, which is easily the best value Mac that Apple sells thanks to a $100 price drop and incredible CPU and GPU power.
Starting at $599, the M2 Mac mini redefines the meaning of "entry-level"... for a Mac. I'm sure the PC Master Race will argue that you can build a better desktop for the money with the right discounts on parts, but that's a Windows computer. Nothing wrong with a PC (I have equal love them) but if you want macOS and its direct integration with Apple services like iMessage and FaceTime that work seamlessly with iPhones and iPads, the M2 Mac mini is a slam dunk, especially if you're not interested in stepping up to over $1,300 for an M1 iMac or $2,000 for the Mac Studio.
Entry-level on a Mac mini used to mean serious compromise — an underpowered Intel CPU and underpowered integrated graphics — that was only good for web browsing or writing documents. That's no longer true. The M2 Mac mini is not only an excellent machine for light computing tasks, but it's also a powerhouse for real content creation. For aspiring or even professional YouTubers, filmmakers, 3D artists, the M2 Mac mini delivers more than it appears to on paper.
When entry-level is powerful
When I said that the M2 Mac mini redefines "entry-level" for a Mac, I was not kidding. The $599 base model M2 Mac mini with 8-core CPU, 10-core GPU, 256GB SSD, and 8GB of unified memory is equal to the $1,299 M2 MacBook Air with the same specs that I reviewed last year. Both have a 16-core Neural Engine and 100GB/s memory bandwidth. The M2 is a monster chip that's up to 10 percent faster for the CPU and up to 18 percent faster for the GPU compared to the M1 chip inside the previous generation Mac mini.
I was blown away by the M1 chip performance when Apple introduced it to the Mac lineup in 2020, and while the performance bumps may not seem very major, in real-world applications like layered timelines in Final Cut Pro, you absolutely will notice the extra power.
If you want to see how the M2 chip compares to the M1 chip with 8GB of unified memory (and also with the M1 Max chip and 64GB of unified memory), definitely check out my M2 MacBook Air review. Since the base M2 Mac mini has the same M2 chip, the export times were virtually identical in my testing.
The short answer is: For really light computing like browsing the web, the M2 chip won't make things noticeably faster unless, of course, your wireless network is Wi-Fi 6E, and you might experience faster loading and reliability. That also depends on the speed of your internet service.
However, if you work with apps like Photoshop, Lightroom, Figma, Final Cut Pro, the gains from the M2 chip — particularly the GPU — could potentially add up. Shaving off nine seconds in a 4K video export that would take 18 seconds on the M1 Mac mini may not seem like a big difference, but when that's scaled up, for example, cutting a 10-minute export down to five the efficiency is undeniable. Generally, the M2 chip shined the most with large RAW photos or video timelines with lots of clips and effects. The latter use case, specifically with Final Cut Pro, is low-key an overlooked feature. With a hardware-accelerated ProRes encode and decode engine, the M2 chip can process professional video files much faster than on the M1 Mac mini, which lacks any such engine. This is the "magic" synergy between hardware and software that Apple is always trumpeting, and it works wonders in the M2 Mac mini. Intel Mac minis could only dream of this kind of graphics prowess.
My advice is to spend the extra $200 and double the 8GB of unified memory to 16GB because you can't add more later (storage can always be added externally). 8GB of unified memory is usable, but 16GB will extend the lifespan for years to come on top of giving apps more resources to access. Apple sells a $799 model with 8GB of unified memory and 512GB SSD instead of 256GB, but external storage is cheap and can always be added via USB-C, unified memory can't.
Intel Mac minis could only dream of this kind of graphics prowess.
Whether you go with the $599 or $799 M2 Mac mini with double the unified memory, the performance doesn't lie. It's powerful enough for any type of user, but most importantly content creators — amateur or professional. Because let's face it: light computing now encompasses video editing. It's not just working in Google Docs or browsing the web or watching a streaming video. More people than ever are making YouTube videos and more engaging TikToks, and longer ones at that. A computer that can excel at these modern definitions of "light computing" — and silently — that's contained within a beautifully machined block of aluminum is the holy grail of desktop computers. I would have loved an M2 Mac mini when I was a teenager.
Even more power with M2 Pro
And that would have been the end of my M2 Mac mini review, but Apple is also selling the M2 Mac mini with an M2 Pro chip — the same chip in the 2023 14 and 16-inch MacBook Pros. This model, starting at $1,299, with a base 10-core CPU (configurable up to 12), 16-core GPU (configurable up to 19), 512GB SSD (up to 8TB), and 16GB unified memory (up to 32GB) is an even better content creation machine. You can spec it up with more everything and the performance scales pretty linearly. The M2 Pro Mac mini also has four Thunderbolt 4 USB-C ports instead of two on the M2 models.
The M2 Pro model that Apple loaned me is spec'd out with a 12-core CPU, 19-core GPU, 1TB SSD, and 16GB of unified memory comes out to $1,799, which is on the pricey side for a Mac mini. It's also only $200 shy of a Mac Studio with M1 Max chip, which has a 10-core CPU, 24-core GPU, 512GB SSD, and 32GB unified memory. Do you get the newer and more powerful CPU inside of the M2 Pro Mac mini or the older Mac Studio with a slightly weaker 10-core GPU, but more GPU cores, double the unified memory, plus an SD card slot and more Thunderbolt 4 ports? If you're spending nearly $2,000, I'd pick the Mac Studio over the M2 Pro Mac mini just for the additional GPU cores and extra unified memory; the two extra CPU cores and 10 percent performance eked from them will be negligible long-term.
Champ from top to bottom
Intel has to be very nervous right now. The base M2 Mac mini runs circles around any PC of comparable size. You can always build a larger, more powerful Windows PC, but the drawbacks are case size, fan noise, thermal management, and power consumption. The M2 Mac mini is in a class of its own; it's tiny, never makes a peep (not even under heavy loads that would turn an Intel Mac mini into a jet engine), runs extremely cool, and only uses 50W or less power. Good luck finding a PC of similar size that can do all of that and provide the same CPU and GPU performance.
The real story of Apple silicon is that every model that a Mac comes in is a performant champ. Even the entry-level model like what we have with the M2 Mac mini. Configuring the base model Mac mini with more CPU and GPU cores, more storage, more unified memory will, of course, mean a better machine, but even if you don't, you're getting a ton of power.
The base M2 Mac mini runs circles around any PC of comparable size.
There's still one area where the M2 Mac mini (and all Macs for that matter) could use some serious attention: gaming. I'm not talking about playing Apple Arcade games, but real desktop-optimized games that take full advantage of the GPU and Metal APIs that Apple loves to boast about. Apple silicon is capable of running PC/console-level games.
I recently saw Resident Evil Village running on an M2 MacBook Air and M2 Max MacBook Pro and it looks extremely promising. The graphics were fantastic on the Retina displays and the game ran at smooth framerates depending on the resolution and texture settings. Similarly, I got to demo the recently announced title, The Medium, from Bloober Team. I was told the live demo I played on an M2 Mac mini "runs better than on PS5" which is pretty big praise! Last month, TechCrunch sat down with Tim Millet, Apple VP of Platform Architecture and Hardware Technologies, and Bob Borchers, the company's VP of Worldwide Product Marketing, and they hinted at a future where gaming is a reason to buy a Mac. But we've also been hearing this spiel for decades. The GPU in the M2 Mac mini is capable of real games. Now Apple just needs developers to get on board. Perhaps, we'll hear more at WWDC in June, but until then, gaming remains a weak point for the Mac platform. The rest is terrific.