How To Use the Pixel Phone's Magic Eraser To Clean Up Pictures in Google Photos
Google's Magic Eraser tries to bring Photoshop-level picture editing to its Pixel phones and beyond.
by Alyson Velati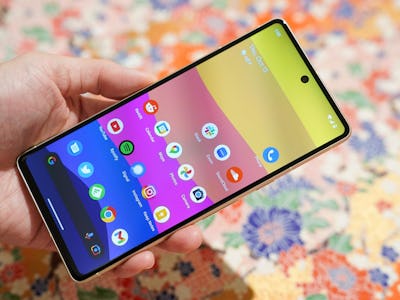 Flattering selfies are great, but less so when you accidentally catch a stranger picking their nose in the background. Luckily, if you own Google's Pixel Phone, or subscribe to Google One, there's a tool that can help.
The "Magic Eraser," as Google has dubbed it, is a feature that does exactly what it sounds like: it erases unwanted people and objects from your photos.
While it's not revolutionary tech — Photoshop has existed for quite a while now — it's pretty handy to have directly on your phone. If you need to make your new dating pics ex-free or nix all the fellow tourists from your trip to Hawaii, here's how to become a Magic Eraser master.
HOW TO USE GOOGLE'S MAGIC ERASER
The Magic Eraser previously only worked on a Pixel 6 or a later model but was previously rolled into Google One, the company's paid cloud storage service. The latter development means even if you have a Samsung Galaxy phone and a Google One subscription, you'll be able to take advantage of Magic Eraser in Google Photos. To get started:
Open the Google Photos app on your phone.
Select the photo you want to change and tap the edit button.
Then, look for the tools icon and from there tap the Magic Eraser icon.
Magic Eraser needs a few seconds to load, but once it's all ready, use your finger to swipe over the area you want to be removed. Once you lift your finger from the screen, the person or object will disappear.
When you're done removing your nuisance, tap on "Done." Then tap on "Save copy" to keep the image in Google Photos.
MILEAGE MAY VARY
As convenient as Magic Eraser is in theory, Google's "Photoshop for phones" is far from perfect. While it's pretty adept at identifying objects that could potentially be erased, it still regularly leaves behind artifacts, usually in the form of distorted or wonky pixels.
Plus, like any form of computational photography, there will be plenty of variables: is the object you're trying to delete in the foreground or background? Is it in focus? How is the lighting? As advanced as Google is in the realm of photo AI, reducing Photoshop to one tap on your phone is still a pretty tall order. If you're going to use Magic Eraser, you should know going in that your scrubbed photos might not be perfect. For smaller objects, the evidence may be hard to see, but eliminating entire bodies from your pictures is still a job best handled by a device with a lot more power.