How To Use FaceTime to Play Games With Your Friends
Apple has coupled SharePlay, FaceTime, and its Game Center to allow for a more cooperative mobile gaming experience.
by Alyson Velati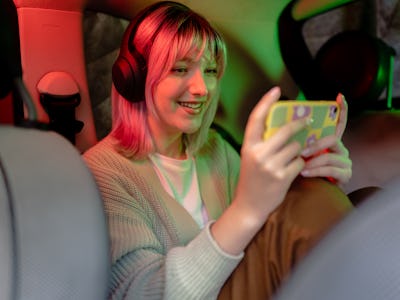 Kemal Yildirim/E+/Getty Images
FaceTime isn't just for video calls anymore — Apple is letting gaming in on the party.
Through SharePlay on iOS 16, users can watch movies, listen to music, and share their screens with others on a FaceTime call simultaneously.
SharePlay with FaceTime was introduced through iOS 15, but the iOS 16.2 update allows SharePlay support in Game Center. This lets you play multiplayer games with the people you are on a FaceTime call with.
Here's a step-by-step guide on how to play games through SharePlay on a FaceTime call.
Create a Game Center profile
You'll also need to make sure you have a profile set up with Game Center. To do that on your iPhone or iPad, you need to:
Go to your settings. Scroll down to Game Center and then tap it.
You'll see if Game Center is on or off — turn it on and then sign in with your Apple ID.
Once you are signed in, tap the nickname section to add your username which will appear when you're playing games with your friends.
To add friends, go to Game Center in your settings and tap "Friends." Then tap "Add Friends," where you can add your friends' email addresses or phone numbers associated with their Game Center profiles (or you can tap the + button to invite your friends).
How to play games on FaceTime
Now that you've added your friends, go to the App Store to download any multiplayer game if you don't have one pre-installed. To start your gaming session:
Call your friends on FaceTime.
Open the game.
Tap "Start SharePlay."
Follow the instructions on the screen to play the game.
Consider Apple Arcade
If mobile gaming is your thing, Apple Arcade should be on your radar. The service offers hundreds of games and allows you to add up to six family members. You can play unlimited games for around $5 a month or $50 annually, but first-time users get the first month for free (a no-risk way of gauging whether you like the service in the first place).
Since the barrier to entry is so low, Apple Arcade is a great way to play multiplayer games with friends and family. The service could be worth it if you start to play with friends via FaceTime (or solo) more frequently.