How To Use Apple Music Sing To Become a Karaoke Pro
Apple Music's new sing-along feature brings karaoke to your iPhone, iPad, and Apple TV.
by Alyson Velati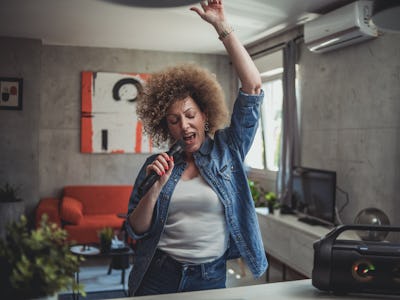 Milan Markovic/E+/Getty Images
No party is complete without a late-night, drunken karaoke hour and now Apple has your back — at least with the karaoke part.
Apple Music Sing, rolled out in December, is a relatively new feature that's offered through Apple Music. According to Apple, it grants users access to "tens of millions of songs and 50 dedicated playlists that effectively turn your iPhone, iPad, or Apple TV 4K into Apple Music-powered karaoke machines.
If you're an Apple Music subscriber who's in the market for an easy and effective way to sing karaoke at home, here's exactly how to get started with Apple Music Sing right now.
How to use Apple Music Sing
Before you can start singing, make sure your iPhone or iPad are updated to iOS 16.2 or later and the latest version of the Apple Music app. Once you're updated:
Play a song from your library or the dedicated Sing playlists that offer real-time lyrics. It doesn't work with every single song — songs that don't already have lyrics, for instance.
Once your song starts playing, tap the speech bubble on the bottom right corner of your screen to show the lyrics.
At the top right corner of your screen you'll see a volume icon with a microphone, which allows you to alter the vocal levels. Now you're ready to sing along to your favorite karaoke song.
Note: if you subscribe to Apple Music on Android, you can still use Apple Music Sing.
Other fun features
If you're petrified of singing alone, Apple has a duet feature for your favorite Sonny and Cher song. The lyrics are situated to the left and right of the screen to show the different sets of lyrics. I tried it out on a slew of tracks and it worked on almost every song. My sister is typically my karaoke partner, so the duet feature definitely came in handy.
The feature also offers backup vocals with lyrics. Backup vocals are displayed in a smaller font on the screen, but are shown at the same time as the primary lyrics. Like regular karaoke, you can choose if you want to sing backup lyrics.
I personally like singing along with the artist since it drowns out my voice, but after some liquid courage, I have the option to turn down the vocals to sing on my own. I definitely used it to sing along to Rihanna's Super Bowl performance at the halftime show.