How To Get Texts and Calls From Your iPhone in Windows 11
Phone Link brings iOS and Windows 11 closer together than ever before.
by Henri Robbins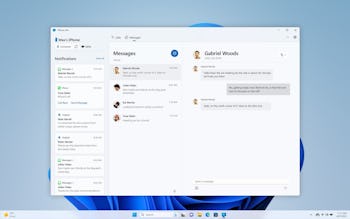 Microsoft
For years, iPhone users have been forced into the Apple ecosystem if they wanted to receive text messages or phone calls on a device that isn't their phone.
Now, with a refreshed Windows 11, non-Mac users have multiple ways to connect their iPhone to their Windows devices.
What is Windows 11 Phone Link for iPhones?
Microsoft recently rolled out iPhone connectivity through its Windows Insider program, an early-access program for Windows 10 and 11 that allows Windows users to test early-access features.
To be able to access this feature, users will need to register for the Insider Program and update their system to Windows 11. Registration can be done with any Microsoft account and takes around five minutes.
Once your system is on an Insider build, you can open up the Phone Link app, where there will be a new button to connect an iPhone to your device.
Microsoft does note that not all users will have access to the feature immediately. Instead, there are plans to gradually roll out the feature to users as they receive feedback.
How do I start using the Insider Program?
Insider Program preview builds of Windows can be accessed from your computer settings, but you won't be able to activate them unless you're already registered in a browser.
Registration can be done on Microsoft's website — you just have to agree to Microsoft's program agreement and privacy statement through an existing Microsoft account.
You need to be running a licensed version of Windows, and if you want to stop using a preview build for any reason (like stability, features, or security), you'll need to perform a factory reset on your device.
After getting your account set up, you'll then activate the preview build on your device:
First, go to your system settings, and navigate to the Windows Update tab.
Select the Windows Insider Program, then the "Get Started" button.
Link your registered Microsoft account, and select the Insider channel you want to use.
Which channel you select will depend on what features you want to have access to. They are ordered from most experimental/unstable to least, where Canary has the newest previews, and the Beta and Release Preview channels are the most stable.
Microsoft recommends the Dev Channel to most users since this channel is a good blend between new features and stability.
While you can always switch to a newer update without any issue, you can't roll back to a previous one without needing to reinstall Windows. For example, you can switch from the Dev Channel build to the Canary Channel without issue, but cannot go the other way.
The Canary Channel may seem like the way to go, but Microsoft warns that only users who back up their data and are comfortable with having to reinstall Windows should use this build.
Once you've registered for the Insider Program and activated it on your computer, there is a chance that your Phone Link app will be able to link to your iPhone. If not, there will be a grayed-out button that says "iPhone - Coming Soon"
Microsoft notes that they will only be rolling out the feature to a small number of Windows users at first, but it will release the function to more users as it receives feedback.
Once registered, how do I connect my iPhone?
The process to connect your iPhone should be fairly simple:
If you have access to the preview build, you should be able to click on the "iPhone" button, which will prompt you to pair your devices over Bluetooth by scanning a QR code.
Once you've scanned the code with your phone, you'll need to confirm a code to finish pairing.
After that, you will need to grant permission for Phone Link to access your messages, contacts, and notifications.
From there, you should be able to receive messages from your iPhone on your Windows device.
Is it safe to use an Insider program build?
Generally, yes. While there are some new or experimental features included in the updates, Microsoft tends to do a lot of internal testing before it rolls out new software.
However, Microsoft notes that — especially for the most advanced preview builds — users should be backing up their system regularly and should be prepared to perform a reset/reinstall on their system. Because of that, we suggest users start at the recommended Dev build, and only advance to the Canary build if they have a specific reason to do so.