How To Build a Racing Sim Setup Worthy of the Pros
Readers, start your simulators.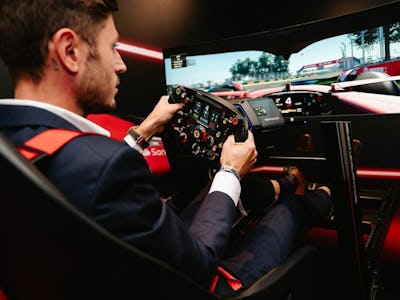 Ferrari
We may receive a portion of sales if you purchase a product through a link in this article.
While 2020 was a rough year for most things and most people, it was a banner year for sim racing. With global racing series going silent, all the world's best drivers were stuck doing the same thing as the rest of us: running laps online. And so, the global online motorsports boom was born.
These days the checkered flags are back, yet the sim racing action is just as hot as ever. Vehicular eSports are incredibly competitive and breaking out in virtual racing is still infinitely cheaper (and safer) than doing it on the track for real.
Plus, with the Gran Turismo movie coming up, you know everybody and their uncle is going to be lapping online.
I've been sim racing for over 20 years now, since the days of fan-made mods of dubious legality, and I'm here to give you a run-down of today's best gear that will make even the top-tier pros turn green with envy.
First, you're going to need somewhere to sit.
Cockpit
There are plenty of great sim racing wheels that can be clamped onto a table, but if you want to get serious, you need a spot that's always ready. You'll want a dedicated chassis to house your wheel, your pedals, and your posterior.
Next Level Racing is a great place to start because its portfolio supports just about any budget, starting with $250 rigs that will fold up and fit in your closet. Since we're going high-end here, I suggest the $1,299 F-GT Elite 160.
It's made of beefy, extruded aluminum with a wide cross-section, meaning it'll easily handle all the torque your epic force-feedback wheel can crank out. It's also fully customizable, so you can sit up high if you're doing some rally racing or crank it down low and lift the pedals for a laid-out, formula-style posture.
It also comes with a side plate for an H-pattern shifter and, if you're looking for a little more immersion, another $3,499 adds on the Motion Platform V3, which moves the seat to match the action.
Speaking of seats, that price for the cockpit actually doesn't include one. Something that reclines, like the $399 ERS1 Elite will give you the most flexibility, but the beauty of this system is you can buy any real seat you like and mount it in there, even something racy like a $3,500 Recaro Podium CF.
Wheel and Pedals
You can easily spend tens of thousands of dollars for posh pedals and hydraulic handbrakes, but even for extremely serious racers, that's well past the point of diminishing returns.
Since this is meant to be a pro-spec bundle, we're not cheaping out. I'm a big fan of Fanatec products. I've raced with them for years now and not only do they offer excellent feel and compatibility, the Fanatec ecosystem is so broad that your setup can easily grow and change with your needs.
Fanatec makes it easy to piece together a custom bundle and get exactly what you want, but if you're not sure where to start I'd recommend the $2,080 Podium DD1 Elite Bundle.
This includes the DD1 wheelbase, which is the core of the system. DD means direct drive, so no gears inside to muddy up the feedback. Fanatec does make a higher-end version, the DD2, but unless you're looking to rip your shoulders from their sockets, stick with the DD1.
It's here that you'll attach a steering wheel of your choice and a set of pedals. This bundle includes a formula-style wheel, but again Fanatec has dozens of choices covering everything from giant, NASCAR-style rims to the $1,500 BMW M4 GT3 wheel, which is exactly the same wheel used by the pros in the real car.
The formula wheel in the bundle offers enough buttons, knobs, thumbsticks, and rotary controllers to pilot the latest Formula One cars. Most importantly, it looks amazing with its carbon fiber face.
Finally, this bundle comes with Fanatec's recently improved CSL Elite V2 pedals. These use a load cell for the brake pedal to give it a much more realistic feel than the cheapo potentiometer pedals you may have sampled before.
It's worth noting that this system will work with a PC or an Xbox One, but it is not compatible with a PlayStation 5. If Gran Turismo 7 is your game, you'll want to go with something like the $970 Gran Turismo DD Pro Premium Bundle instead.
Display and Graphics
Okay, it's decision time: do you want to find room for a giant monitor, or do you want to strap something to your face?
Traditionally, the ultimate sim-racing setup has been triple monitors, arranged edge-to-edge to give you a wide, wrap-around view. But, with an increasing number of curved, ultra-wide displays on the market, a single panel is the way to go.
The sweet spot is Samsung's $1,899 Odyssey Neo G9. The sprawling 49 inches means it'll span from mirror to mirror in the cockpit; 7,680 x 2,160 resolution means enough pixels to spot braking markers at the end of the straight; and 240Hz is more than enough to handle all the frames your graphics card can send it.
But for true immersion, virtual reality is the way to go. There's nothing like sitting in the cockpit of a new car, looking around for the first time, and truly feeling like you're in there. It's even more valuable if you're doing intense, rally-style racing, where the ability to look over your shoulder through the turns is invaluable.
The gaming VR headset market is a bit stagnant at the moment, but my personal choice is the $449 HP Reverb G2. It's getting a little old but its 2,160 x 2,160 per-eye resolution is still spectacular, while the integrated sound is surprisingly good.
Whichever way you go, you're going to want a lot of power to drive all those pixels. Don't mess around, go with the best of the moment: NVIDIA's RTX 4090. You'll spend about $1,599 on that.
Games
Chances are you already have a good idea of what you want to be playing, but if you want to get serious about simming, here are my favs.
iRacing
Now entering its 15th year, iRacing is the go-to place for online sim racing. A service, not a game, iRacing has evolved and grown to cover everything from dirt oval racing to Formula One. Regardless of what you're into, you can easily find a car to drive, a track to learn, and, most importantly, some competition to challenge.
You never know who you might run into online. I've rubbed fenders with pros from NASCAR, Formula One, and WRC in pick-up races online, and let me tell you, beating one of them feels pretty good — even if nobody handed me a trophy afterward.
If you're not ready to mix it up with others yet, iRacing has been busy adding AI to its sim, so you can take on a pack of artificial hotshoes. That's one of the major updates added to the title recently, along with smarter assistance when figuring out pit strategies for longer races.
iRacing's coolest update: the Porsche Mission R, its first fully electric racer. There's surely more to come as this king of sims continues to evolve. Subscribing to iRacing costs about $8 per month, or $66 per year.
rFactor 2
For a game released over a decade ago, rFactor 2 has some remarkable staying power. Though there are many prettier, more modern sims on the market, rFactor 2 has something they all lack: a professional physics engine. Well, close to it, anyway.
rFactor 2 relies on similar code to rFactor Pro, the software running in many of the multi-million-dollar simulators used by teams in Formula One, Indy, and NASCAR. That provenance has earned it a place as one of the leading tools in eSports series, like those run by Ferrari and Williams.
Assetto Corsa Competizione
The newest game on this list, Asssetto Corsa Competizione, is a hardcore spin-off of the more casual racing game Assetto Corsa. Brutal and unforgiving yet beautiful and engaging, ACC is a real joy to play assuming your graphics card can handle it – and you can find some competition.
Finding pick-up races in ACC is tricker than in iRacing, but plenty of leagues rely on this game, and some eSports, too. This is Lamborghini's tool of choice for its sim feeder series, The Real Race.