2024 Audi Q8 E-Tron Drive: Don't Call It a Comeback
Way more range, style, and performance make for a solid refresh.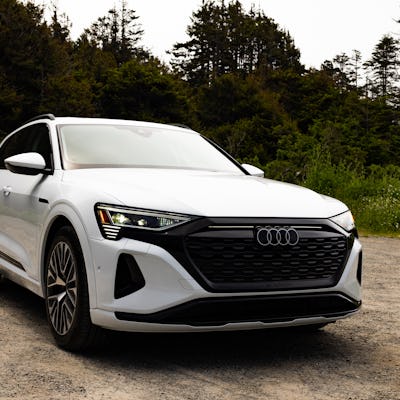 Photograph by Tim Stevens
Not every car needs to be exciting. That was the crux of the argument I made when I first reviewed the Audi E-Tron in 2019. It was nice to drive, comfortable and calm, and smooth. It was quick off the line, as most EVs are, but otherwise had no hope of elevating your heart rate. In a word, it was boring, but that didn't stop it from being a great car.
Fast-forward four years and Audi's giving the humble E-Tron a bit of a re-release — and a new name, too. Though fundamentally the same car as the outgoing E-Tron, the new Q8 E-Tron has more range, more refinement, and yes more fun, plus the requisite new nose required for any mid-cycle refresh. The result is surprisingly effective.
Let's take a quick run through the numbers first, because they are impressive. Despite looking largely the same as the outgoing car, and despite keeping the exact same physical battery pack size, the newly rechristened Q8 E-Tron has 20 percent more battery capacity: 114 kilowatt-hours vs. 95 before.
How'd Audi do that? Largely by changing the shape of the cells within that battery pack. Moving to flat, stacked prismatic cells means energy density in the same space, thus the extra capacity. While upgrading that, Audi's engineers also dialed up the charging capacity, up to 170 kW maximum from 150 before. That means the 10 to 80 percent charge time is still just 31 minutes despite the greater capacity.
More efficient asynchronous motors offer the same maximum power (402 horses worth) but boost efficiency, as does a subtle aero job on the exterior, which drops the drag of the car by six percent, from 0.31 to 0.29 in the SUV, or 0.28 to 0.27 in the Sportback.
Yes, Audi will still offer two styles of Q8 E-Tron. The so-called SUV shape could almost be called a tall wagon in the spirit of many great Audi wagons of yore, and offers 28.5 cubic feet of storage space. If you want a little more style and a little less drag, at the expense of 1.3 cubic feet of storage, the Sportback edition lops off the rear extent of the roof. (Like the old E-Tron, both models offer only a token frunk, barely big enough to carry the charging cable.)
That slipperier shape means the Sportback manages 300 miles on a charge if you tick the right options boxes. The SUV's frumpier profile limits it to 285 miles on the EPA test cycle. That's a remarkable 83 miles over 2019's original E-Tron.
Other updates include standard air suspension on all trims, which can lower the car to reduce drag at speed or lift it up a full two inches for maximum off-road clearance. A heat pump is also standard, which will help the car stay efficient even when it's cold out.
That's all great, but if you're wondering where the "more fun" bit of the upgrades to the Q8 E-Tron comes in, you need to look beneath the skin. In addition to the standard air suspension, Audi stiffened up the bushings and, most significantly, put on a significantly quicker steering rack, with a 14.6:1 steering ratio. This means the car reacts far more quickly to your steering inputs.
I'll be honest, none of that sounded particularly earth-shattering to me. As a fan of the flavor of the original car, bland though it was, I was eager to see whether Audi's added spice had ruined the dish. The company couldn't have chosen a better place to launch the thing: a stretch up State Route 1 from Napa Valley, then looping inland, cutting through vineyards and weaving around redwoods.
Not only is it an absolutely gorgeous place full of amazing twists and turns, more EVs are sold in California than any other state. There are more chargers, too, making it the perfect place for covering 180 miles at speed in a new Q8. Yes, it was a long route, but with that new pack range was never a concern.
I started out in an SUV in Efficiency mode, one of six pre-programmed modes you can toggle through to suit your mood. There's also a seventh, Individual mode if you prefer to roll your own. In Efficiency, the car accelerates like molasses and has all the handling finesse you'd expect of a car that weighs around 5,800 pounds. But, that's kind of the point. If you're feeling patient and want maximum range, the car is pleasant to drive in this mode.
Here and in Comfort mode the suspension is too soft, like a car with blown struts, but it does soak up road imperfections and bumps with aplomb. It's also extremely quiet inside. This would make for an excellent limousine. Throw on the seat massager, queue up a little Frank Ocean on the superb 705-watt B&O sound system, and watch the miles tick by.
If you're feeling a little more eager, pick the Dynamic mode. Here the suspension firms up noticeably, but not punishingly. The Q8 is still remarkably compliant in this mode, even on bumpy roads, but no longer floating quite so excessively. That sharper steering is really noticeable here, not so sensitive that it makes the car feel nervous, but adding some legitimate hustle to this 16-foot-long SUV.
I finished the day in one of the Launch Edition Q8 E-Tron Sportbacks, a $95,395 (including $1,195 destination) package that comes with larger, 22-inch wheels wrapped with summer tires. That took the handling up another notch, the extra grip of the tires bringing out bigger and bigger grins as the asphalt turned back on itself again and again.
Don't get me wrong: this is not a sports car. Not even close. But, where things just got more awkward in the old E-Tron the harder you pushed it, the new one actually responds. It's eager for more, and you will be too. Those few performance upgrades work.
I just wish Audi had upgraded a few other things, like the infotainment. Though Audi's MMI software experience was world-class back in 2019, today it feels sluggish, with noticeable delays switching between screens. Sometimes, presses of the clever haptic, capacitive-touch buttons never even triggered their intended action. Wireless Android Auto and Apple CarPlay at least are on offer, and there are plenty of USB-C ports front and rear.
The interior overall is barely changed from the outgoing E-Tron, which is not necessarily a bad thing. It's solidly built, beautifully designed, and wrapped with good materials, including some fresh new colors, like Valcona Milano Leather (a.k.a. "gray") seats with orange piping on the Launch Edition. Sadly, the exterior lacks the same flare: Each of the seven paint colors is more boring than the last.
The 2024 Audi Q8 E-Tron starts at $74,400 and is extremely well equipped for that money, under-cutting fresher competitors like the Mercedes-Benz EQE SUV, which starts at just over $79,000. While the boost in range is far and away the most significant change in this re-brand, the other subtle tweaks that came along with the new name make for a tangibly better EV, one worth reconsidering, and one that's a lot less likely to be called boring.