Hands-On With Apple Watch Series 9 and Ultra 2: The Double Tap Gesture Rules
Double Tap is a new way to control Apple's smartwatches without tapping the screen or rotating the digital crown.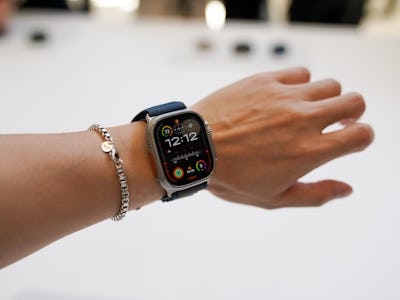 Photograph by Raymond Wong
I'll spare you the full feature list rundown on the Apple Watch Series 9 and Apple Watch Ultra 2 because it was apparent to me what the two most important features on the new smartwatches were.
The first is the new "Double Tap" gesture that lets you control either of the Apple Watches by tapping your watch hand's index finger and thumb together twice. Apple is billing it as a new way to use your smartwatch without having to touch the screen or rotate the digital crown.
The features uses machine learning to process data from the accelerometer, gyroscope, and optical heart sensor. "The algorithm detects the unique signature of tiny wrist movements and changes in blood flow when the index finger and thumb perform a double tap," according to Apple.
I was skeptical at first, but after trying it for myself, I can say Double Tap works better than I expected. It's not perfect — sometimes it didn't work — but it'll definitely come in handy for when your other hand is carrying things, wet, or in use for something else.
In several demos I was able to use the Double Tap gesture to select, navigate, and react to certain features. When a call came in, I could use Double Tap to answer and then end it. When receiving a message, I could Double Tap to reply and the Series 9 activated dictation for me to quickly read out a text message. In other scenarios, I flipped through various widgets, started and stopped timers, snoozed alarms, and controlled music via Apple Music.
The best way to show you guys how it works is a video, so here you go:
I wanna say nine out of ten times, Double Tap worked. Double Tap works best with your index and thumb, but I tried my other fingers with my thumb and they worked, too, though they weren't nearly as responsive.
One situation where it might not work is when you're wearing gloves. An Apple rep said Double Tap doesn't work with thick gloves. How thick? They didn't specify so we'll have to test it. That's kind of a bummer because a person who wears gloves for work is exactly the kind of use case where you'd want to use Double Tap.
Double Tap won't be available when the Apple Watch Series 9 and Ultra 2 release on September 22, though. Apple says it'll come in a software update next month.
The second big feature on the Apple Watch Series 9 and Ultra 2 is their screens. Apple has doubled the brightness on both of them. The Series 9 can reach 2,000 nits of brightness compared to 1,000 nits on the Series 8. And the Watch 2 maxes out at 3,000 nits versus 2,000 nits on the first-gen Apple Watch. Side-by-side, I could see the difference — the displays on the new models look a lot clearer than their predecessors. Whether you need the increased brightness is a different question. I, for one, will never refuse a brighter screen that is more visible in direct sunlight.
To wrap this first impression up, I want to talk about the new FineWoven bands. They replace the leather bands that were offered previously. I checked out the Magnetic Link and Modern Buckle. The materials are soft and have an almost suede-like texture to them. Here's how Apple describes the FineWoven material: "a luxurious and durable microtwill made of 68 percent post-consumer recycled content." They look nice, feel nice, and you'll feel good that they're environmentally friendly.
Apple's new smartwatches may not look materially different on the outside, but they do have a ton of internal upgrades that are worth considering. We'll have a review of the new Apple Watches very soon. Stay tuned to Inverse.