The Cheapest, Most Clever Home Products With Near-Perfect Reviews on Amazon
Get your home in top shape for less.
by Christina X. Wood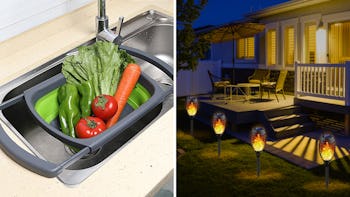 Amazon
We may receive a portion of sales if you purchase a product through a link in this article.
To make your home the best home it can be, you need tools. If those tools are clever, convenient, and ultra-budget-friendly, all the better. Trick out your kitchen with gadgets that make food prep more efficient. Deploy items that make life easier by helping you reach that high shelf, store the supplies, or enjoy a more comfortable climate.
All this sounds expensive, right? But it's not. Not if you are savvy and browse this list of the cheapest, most clever home products on Amazon. They also have near-perfect reviews, so you can click "Buy Now" with the utmost confidence.