Snapchat's Major Change Will Divide News and Friends
It's rolling out this week.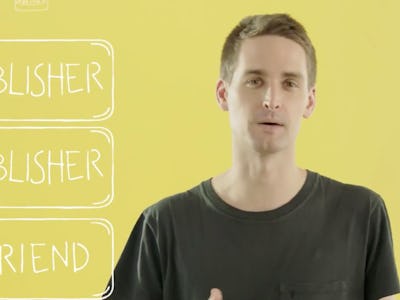 A redesigned Snapchat is here.
Teased earlier this month the new Snapchat separates conversations with friends from content from publishers. There are now two Snapchats within one.
The new look intends to respond to "many of the problems that plague the Internet today," Snap Inc. announced Wednesday, and is also part of the company's attempts to appeal to an older demographic.
In a blog post published Wednesday morning, along with a "behind-the-scenes" type video of CEO Evan Spiegel, Snap. Inc. took aim at the social media landscape that's blurred the lines between the "social" (friends) and "media" (news) aspects. The upgrade has reorganized content with both manmade changes and AI-made personalization to give users the "best content experience on mobile," Snap says.
Here's Spiegel explaining the new Snapchat in a video released on Wednesday:
The changes follows Snap's disappointing earnings report last quarter that yielded losses and stock dips.
The new Snapchat update will be introduced to a small percentage of users this week, then will roll out to the rest of the community in the weeks following, Snap Inc. tells Inverse
Here's what the new Snapchat will look like:
Separating "Social" From "Media"
The major aspect of Snapchat's redesign is a distinction between your friends and content from Snap's creators and influencers. To the left of the camera will be the new Friends page, and to the right will be a redesigned Discover page.
Merged Friends List and Stories
Instead of a separate Friends and Stories tabs, these will both appear on a single Friends page in the update. The Friends page will simplify where you can find everything associated with that person: their Stories, your Chats, their Bitmojis. Additionally, Group Chats will automatically come with the option for a Group Story.
The order of what appears up top is determined using A.I. to figure out the content you likely want to view the most. The algorithm will organize content by new Snaps and Chats, then the Friends (and their Stories) that you most communicate with and have recently talked with.
Redesigned Discover Page
The Discover page will now be the location for anything that comes from news publishers, content creators, and the Snapchat community — that includes Snap Map, Our Stories, Publisher Stories (News), Shows, and Official Stories from public accounts. The order that this content appears in will also be determined by machine algorithm, and can be looked through in a horizontal scroll.
While this won't directly affect your experience, Snap says that content creators will have new opportunities to make money off their content.
New Profile Page
Your Profile page is changing, so it's not just a useless page that you hardly go to. Your My Story is now managed from the page, so it's where you'll go to download your Story to your phone, delete content from it, and see who has viewed it.