When Will Bitcoin Hit $10,000? Cryptocurrency's Price Passes $9,500 Sunday
Experts estimate it could happen before the end of the year.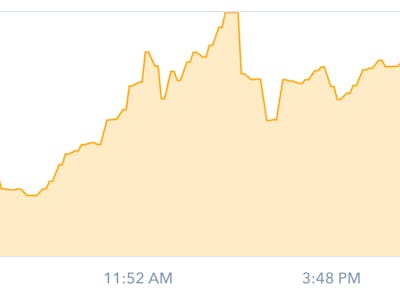 Less than a week after topping $8,000, the cryptocurrency bitcoin surged Sunday to a record high value above $9,584 per bitcoin. The quick rise of this digital currency in the past few weeks could signal that it could soon surpass the five-digit mark before the end of the year.
The currency rose to its highest at $9,481 a coin on Sunday afternoon, but the San Francisco-based firm Coinbase had bitcoin up more than 7 percent from the day before, valued at $9,584 as of 8:12 p.m. Eastern on Sunday.
This comes two weeks after bitcoin's value crashed down to a low of $5,500 as cryptocurrency advocates, who were anticipating a drastic change that would up bitcoin's blockchain size, put a hold on their plans.
But this rise in bitcoin's price may signal that investors are more optimistic in the currency's continual development. CNBC reports that Coinbase, the largest bitcoin exchange in the United States, added around 100,000 accounts just between Wednesday and Friday. The influx of investor interest coincides with the Thanksgiving holiday, when people have more time off work.
When Will Bitcoin Hit $10,000?
Bitcoin is approaching $10,000 at an ever faster rate and may be on track to reach the milestone before the end of 2017. Some experts say it might get there by Christmas. Billionaire Mike Novogratz, who's launching a $500 million hedge fund that invests in digital currency, said last month he expected bitcoin to hit this milestone by April 2018. However, he revised this estimate just last week to say bitcoin would be valued above $10,000 before the end of 2017.
Although Novogratz has a stake in bitcoin, he's not alone in his predictions. Mark Cuban, the billionaire businessman and NBA team owner, told Business Insider that bitcoin's value will keep rising as long as it "continues to function more as a collectible than an actual currency."
The number of people opening up new accounts and buying bitcoin, even fractionally, is skyrocketing," Cuban said. "Yet the people who have it as a true store of value have no reason to sell it as long as demand continues."
But bitcoin investors will likely have to wait a while longer until they're at selling value. This month, LendEDU asked hundreds of Americans who invest in bitcoin about what point they would sell:
On average, respondents reported that they would be willing to sell all of their Bitcoin investment at $196,165.79 per Bitcoin. At the time of the survey completion, the price per Bitcoin was $6,490.
Now read this: This Teen Quit School and Made a Million on Bitcoin. Now What?