On Net Neutrality, Here's What AT&T, Verizon, Charter, and Comcast Say
Does your internet provider support a free and open internet?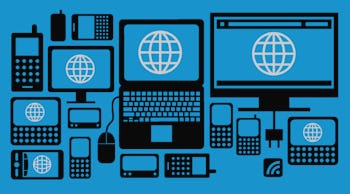 Getty Images / Chip Somodevilla
Net neutrality nears a step closer to its death each day as the Federal Communications Commission's December 14 vote nears without any barriers in sight. The repeal of these Obama-era internet protections would signal the end of a free and open internet, and the imminent rise of major internet providers that can control access and speed as they see fit, unless Congress steps in.
Update, 1:34 p.m. Eastern, December 14: The FCC Has Killed Net Neutrality. Here's what Comcast, Verizon, and AT&T have to say in response to the ruling.
One of the major issues lies in the monopoly that the top internet service providers have on access.
Four corporations — Comcast, Charter, AT&T, and Verizon — account for about 76 percent of the 94.5 million internet subscribers in the United States, as of 2017's third fiscal quarter, according to a report from the Leichtman Research Group. While conservatives say net neutrality is an unnecessary regulation, these ISPs will be able to force companies to pay for speed, shape internet access, and block websites as they see fit. The FCC's move would also take away a slew of consumer protections that let them dispute unfair prices and maintain privacy.
The net neutrality fight has pitted large ISPs who stand to gain financial benefits against tech companies, small business advocates, civil liberties activists, and everyday consumers. But some have been mysteriously vague or silent about their stances on net neutrality, which has made it difficult for consumers to understand their actual stances.
Go deeper: Net Neutrality Timeline: 10 Events That Led to Dec. 14 FCC Meeting
Here's what the biggest ISPs in the land have actually said about net neutrality.
AT&T Comments on Net Neutrality:
The latest: AT&T's message can easily trip up readers. A page on AT&T's website states in large letters, "We support an open internet." But below this statement that seems to be in support of net neutrality, AT&T speaks out against the net neutrality regulations. The company claimed 15.7 million subscribers as of Q3 2017 and seems cautious at best and deceptive at worst in its appearance to advocate net neutrality — and in its call on customers to join with them in advocating their stance.
Verizon Comments on Net Neutrality:
The latest: Verizon released a video back in April where one of its top legal counselors tries to explain that the FCC is not actually killing net neutrality. But a lot of what he says is deceptive or simply not true. Memorably, The Verge examined those comments in a scathing breakdown. Below is the video. First question, where in the hell did they film this video? Beyond that, this video glosses over the specifics and leans heavily into over-simplified examples and emotive gestures. Basically, Verizon doesn't want the internet to be treated as a utility, in spite of how important access to the internet is for tens of millions of people to find jobs, get an education, connect with the community, or just kick back and watch Rick and Morty episodes.
With almost 7 million broadband subscribers, Verizon has a big stake in the net neutrality controversy — not to mention that FCC commissioner Ajit Pai used to work on Verizon's legal team.
Comcast Comments on Net Neutrality:
The latest: Comcast commended the FCC for its work to repeal the net neutrality laws in a corporate blog post this week, which also says that the company "will not block, throttle, or discriminate against lawful content." Comcast, the largest broadband provider at 25.5 million subscribers, met with the FCC earlier this month to talk about ways to prevent states from enacting their own net neutrality laws.
Charter Comments on Net Neutrality:
The latest: Charter — which also markets as Charter Spectrum — is second-largest broadband provider with 23.6 million subscribers. The CEO of Charter said the FCC's plan would "spur investment in and the deployment of the next generation of broadband."
Since it merged with Time Warner in 2016, Charter has been staunch in saying it has voluntarily adhered to net neutrality rules as one of the biggest internet companies. However, it's unclear what kind of effect the repeal of net neutrality would have.
What's Next?
The FCC will vote on the rollback of net neutrality regulations — enacted two years ago under the Obama administration — on December 14. There are various ways to protest between now and then for people who believe that internet access for the majority of Americans shouldn't be controlled by a handful of major corporations.