What's Next for Astronaut Scott Kelly After a Year in Space?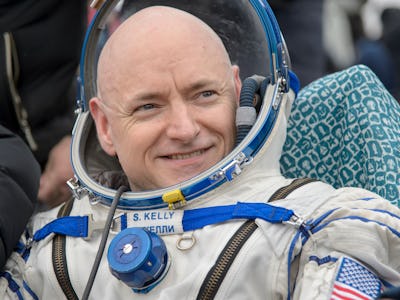 Getty
The last message astronaut Scott Kelly sent from his hugely popular Twitter account before returning to Earth late Tuesday night: "The journey isn't over."
Now that he's back, Kelly must re-acclimatize himself to living on the planet and faces months, perhaps years, of testing to determine the effects after his historic 340 days in space.
"They'll be going through a variety of different tasks that look a lot like what you might have to do if you had just landed on the surface of Mars and needed to connect to a habitat maybe that had been prepositioned and there's no one there to help you," International Space Station Chief Scientist Julie Robinson said in a NASA video of the initial tests.
The tasks sound relatively easy, unless your muscles have been weakened by living in low gravity: climbing ladders, opening hatches, maybe some light programming, and getting back up after falling down. This will help us understand the effectiveness of the countermeasures in place to keep a body healthy enough to be useful after a journey to Mars. If Kelly has lost a significant amount of bone density, it's an indication we might not be able to keep people fit enough to make the trip. Lost bone density can take up to three years to replace.
Then there's data collection and genetic testing on Kelly, which will happen for at least the next nine months. In what's likely the most important experiment, researchers will examine Kelly compared to his identical twin brother, former astronaut Mark Kelly.
Mark Kelly participated in studies on Earth so scientists could compare the effects of space on a genetic duplicate of Scott, who already provided some initial data during his time in space. Scott Kelly tested his own blood and performed ultrasounds on himself and on fellow crew members which can now be compared to Mark Kelly's body. Some of Scott Kelly's biological samples remain on the space station and will need to be brought back on next April's SpaceX capsule launch.
Upon returning to Houston, Kelly will undergo a physical rehab program standard for all astronauts coming back from a six-month stay on the International Space Station. Kelly has been up there double that time, but doctors expect that the usual 45 day timeline of targeted exercises will be all he needs to get back the muscle mass he lost living in low gravity.
While commanding the ISS, Kelly was provided with a NASA ARED exercise machine designed to stimulate normal gravitational resistance. He'll be tested to see how well that regime worked.
Kelly called the intense studies and long term space journey a "small part" of achieving a necessary goal upon his return.
"By going to Mars one day, it'll only make things better here on Earth," he said.