The 10 best men's winter gloves
We only recommend products we love and that we think you will, too. We may receive a portion of sales from products purchased from this article, which was written by our Commerce team.
by Scarlett James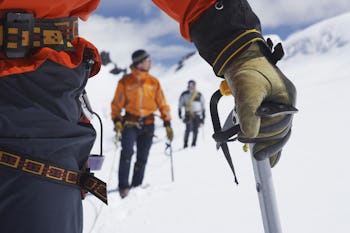 Shutterstock
Science shows there's much to gain from working out outside even when the temperatures are less than motivating — from being able to last longer without getting tired to mood-boosting effects. But having the right gear is key: The best men's winter gloves will help keep your hands warm and dry so you stay adequately protected on your quest for glory — whether you're shoveling, commuting, or hitting the slopes.
When shopping around, look for a glove's temperature rating to see what kind of coverage you can expect — some intrepid pairs promise to keep you warm even when it's as low as -40 degrees Fahrenheit. Of course, you'll want a pair with solid insulation, and that can run the gamut from Thinsulate to wool to synthetic fibers. Your gloves should at the very least be water-resistant if not entirely waterproof — and some include a moisture-wicking lining. Close-fitting cuffs are essential, whether that's a ribbed sweater-like knit or something adjustable to batten down the hatches. From there, touch screen capabilities and extra grip on the palms all add up to a genuinely functional glove.
From the heavy-duty gauntlets temperature-rated well below zero to some lightweight winter gloves for sports (and the leather pair you'll grab when you're leading with style rather than straight utility), these are the top-rated winter gloves on Amazon.
1. Some best-selling winter gloves built for extreme temps
These best-selling Ozero winter gloves are built with five layers of protection, including 2 millimeters of sponge insulation and a waterproof, windproof shell (The brand even dares you to dip your hand in a bucket of water to prove it). The knit cuff is the only component that isn't 100% weather-resistant, but it works just as hard to prevent drafts or snow from working their way inside. These insulated waterproof gloves have a cold resistance rating of -30 degrees Fahrenheit, so you know they can handle frigid conditions. A web of grippy silica gel on the palms means your phone won't go flying, and there are touch screen capabilities on the thumb and index finger of both hands for a full-featured winter glove.
One reviewer wrote: "Ok, these gloves so far are awesome. They feel great. Enough dexterity to adjust the bindings on my snowboard, but probably not enough to mess with my helmet easily. These are definitely windproof because I ran them under water like I was washing my hands for 30 seconds and I felt nothing. No water, no cold, nothing. These are great. Thick lining so they will keep your hands warm."
Available colors: 1
Available sizes: Small — XX-Large
2. A 2-pack of high-dexterity winter gloves
These warm waterproof gloves combine a high-dexterity cut with essential waterproof and windproof features. Their fingers are sewn to a 45-degree curve that follows the hand's natural anatomy, and both palms are cut precisely so there's no extra material bunching up when you make a fist (or grab a shovel). The synthetic leather grip features contoured cutouts for increased flexibility where your hand instinctively bends, and a reflective strip ensures visibility in low light. The glove features a six-layer construction, including a waterproof, windproof TPU membrane and a layer of 3M Thinsulate that promises to keep you comfortable in temperatures down to -4 degrees Fahrenheit. A Velcro band at the wrist allows you to easily adjust the fit, and there's touch screen functionality on the thumb, index, and middle fingers.
One reviewer wrote: "Great product that so far lives up to its billing. Tested at work that needs dexterity, insulation, waterproofing, and use of touchscreens, and these gloves pass the test. Would recommend for jobs where water is involved in chilly weather."
Available colors: 3
Available sizes: X-Small — XX-Large
3. These minimalist gloves made from soft merino wool
If you're looking for the best wool gloves, this pair from Minus33 is your pick. They're made from merino wool, which is softer and thinner than other types of wool, with a bit of nylon and elastane for a stretchy, snug fit. Wool also boasts many qualities that make it a great material for cold weather. Not only is it moisture-wicking, but it's also more absorbent and insulating than cotton or polyester, so your hands won't get clammy, even if the gloves get wet. To boot, wool is a temperature-regulating material, so it'll keep your hands toasty when it's chilly, but won't overheat you once the temperatures begin to rise. They're not water-resistant — so best for low-key activities like staying warm while commuting or going to outdoor sports games — but you can also use them as liners inside bulkier gloves if you're venturing out into frigid weather. While no temperature rating was provided, several reviewers reported that they held up in temperatures below freezing.
The only thing these gloves lack is touch screen sensitivity. If that's a dealbreaker, consider the Bruceriver wool gloves with a layer of fleece and Thinsulate.
One reviewer wrote: "They have held up well and are very warm. I wear them while running errands and walking the dog because they are warm but also are easy to take off and put on. An added bonus is that they are small enough to put in a jacket pocket when you aren't wearing them. The wool is not so thick you lose all dexterity and the fingers are nice and fitted."
Available colors: 3
Available sizes: X-Small — X-Large
4. The winter ski gloves that are vetted for shoveling
These ski gloves were designed with winter sports in mind, but according to reviewers, they're arguably the best gloves for shoveling snow. With 150 grams of 3M Thinsulate, these men's waterproof winter gloves are rated to keep you warm in temperatures down to -40 degrees Fahrenheit. The performance nylon exterior sheds snow like a duck, and inside is a waterproof TPU sleeve to prevent any snowmelt from getting through — but enhanced breathability means you won't risk clamminess or blisters. The leather palms are rugged and double-stitched, with a second layer of cowhide where the thumb meets your hand for durable reinforcement where you'll most need it. The 5-inch gauntlets cinch down tightly with a buckle and bungee cord because the last thing you need is snow down your gloves. Don't care about dexterity and just want maximum warmth? They're also available in a five-finger mitten cut.
One reviewer wrote: "I have paid way more for way less comfort!! These things are amazing!! [...] These are warm and well designed, fit perfectly and keep my fingers toasty. I have a big driveway and long corner-lot of sidewalk plus my front walk. I have shoveled 3 times since I got them and I have forgotten the pain of frozen fingers. They show no signs of wear, dry quickly, I love 'em"
Available colors: 2
Available sizes: Medium — XX-Large
5. These nice leather driving gloves with an adjustable cuff
If you're headed someplace where your winter work gloves aren't going to cut it, these leather driving gloves win for looking put together while keeping your digits warm. While the Napa leather has a certain degree of water resistance, these gloves are obviously not waterproof — but they're meant for driving cars, not snowmobiles. And it's really the lining that makes these the men's leather gloves for winter — you can choose between a full hand of cashmere and wool or sink your fingers into some deep-pile fleece (both are available in this listing). The adjustable snap cuff on the wrist helps prevent snow and cold air from sneaking in, and the touch screen functionality on three fingers is highly responsive.
One reviewer wrote: "I love how these gloves feel on my hand, and the lining around the wrists is a better design option than other glove options, in my opinion, of keeping your hands warm. The touchscreen feature works EXTREMELY well- a nice convenience while driving or walking around (which is the reason I got these in the first place). I recently bought a 2nd set to keep in my car as a spare."
Available colors and styles: 6
Available sizes: 8 — 10
6. The highly rated gloves from a cult-favorite brand
Carhartt has made a name for itself as a leader in heavy-duty workwear, and these waterproof snow gloves live up to the brand's reputation, having earned an impressive 4.6-star overall rating after more than 20,000 Amazon reviews. The polyester gloves are constructed with a durable polytex shell with waterproof inserts and reinforced palms that can stand up to lots of wear and tear, whether you're shoveling snow or gripping ski poles. To keep cold air (or sleet or snow) from reaching your palms, the gauntlet gloves feature ribbed cuffs and an adjustable strap at the wrist to further block the chill. And while polyester has a tendency to retain heat (not a bad thing if you're trying to stay warm), the addition of FastDry technology wicks away sweat to keep you feeling comfortable.
One reviewer wrote: "These gloves arrived after we had two snowfalls and the temperature was zero in the morning and never rose above twenty. [...] My hands were finally warm. The gloves are bulky but flexible enough to hold scrapers, shovels, etc. without awkwardness. The cuffs are elasticized, but not too tight. Kept the snow from getting in. Outer layer didn't get wet. All in all, these gloves are exactly as described: warm, insulated and waterproof."
Available colors: 4
Available sizes: Small — XX-Large
7. The thin waterproof gloves that minimize bulk
If dexterity is important — but so is protection against moisture and cold — these thin, warm waterproof gloves are for you. The three-layer construction includes a water-resistant outer shell, a waterproof inner membrane, and a thermal polar fleece lining that's soft on skin. The non-bulky design means these can easily be worn while driving or cycling, and the nonslip grips on the palms help keep items like your phone firmly within your grasp. Speaking of phones — the thumbs and forefingers are touch screen-sensitive, so you can answer calls without taking off the gloves. Stretchy knit cuffs keep out moisture and cold, but it's important to note that several reviewers have reported these gloves are best for milder temperatures, and may not keep you warm for long once it drops below freezing. That being said, you can opt for basic colors like black or brights like neon green, which is helpful for visibility in low-light conditions.
One reviewer wrote: "As I wear them while riding my ebike, I was initially concerned with being able to use my touch screen; however, the gloves allowed adequate functionality. [...] Comfort is good and the price is right."
Available colors: 10
Available sizes: Small — X-Large
8. The cozy pair made with sherpa fleece
What these sherpa fleece gloves lack in performance specs, they make up for in cozy warmth, and they're ideal for anyone looking for something that makes it feel like your hands are wrapped in a warm blanket. Made from warmth-retaining and moisture-wicking polyester, they feature snug-fitting cuffs, although they shorter cuffs may not block chill as well as some other options. The unlined gloves are not temperature-rated, but one reviewer expressed that they do well in a range of 25 to 40 degrees Fahrenheit. And if you're looking to use your phone while wearing them, you're in luck — the thumbs and forefingers are touch screen-conductive.
One reviewer wrote: "The touch function does work as expected. It is easy to scroll with these gloves as well as open and close apps and or receive calls. [..] These Amazon Brand - Goodthreads Men's Sherpa Gloves are well constructed, fit as expected and are warm and comfortable to wear."
Available colors: 3
Available sizes: Small — X-Large
9. A budget-friendly pick that still does the job
These simple winter gloves are a great buy, whether you're sticking within certain budget limits, or simply want an extra pair or two to keep in coat pockets or a glove box. Made from an acrylic, polyester, and spandex blend, they offer a decent amount of warmth in temperatures above freezing, according to reviewers. As far as phone compatibility goes, nonslip grips on the palm keep your device firmly in your hands, while the thumb, forefinger, and middle finger are touch screen-sensitive. Snug elasticated cuffs and warm fleece lining upgrade insulation and comfort, but keep in mind that these aren't water-resistant, so they're best for walking, driving, and other non-snow-specific activities.
One reviewer wrote: "They fit fantastically and it feels like the fingers have more (intentional) tightness than your average pair of gloves. This really keeps them snug and in place; no sliding or looseness at all which is really beneficial to anyone who is trying to work in them. [...] I'm a security officer who does bike patrol and it's 43 degrees Fahrenheit tonight and my hands have been pleasantly warm without sweating. The grips on the gloves are subtle yet effective."
Available colors: 8
Available sizes: Medium — X-Large
10. The heated gloves that offer next-level warmth
Extreme temperatures call for extreme measures, and that's where these rechargeable heated gloves shine. The best gloves for cold weather (really cold), they feature an impressive five heat settings, ranging from 113 to 158 degrees Fahrenheit, and you can adjust the warmth with the small button on the back of the hand. They offer heating power for six to 11 hours, depending on the temperature setting, but even without that high-tech perk, these gloves stand up to cold temperatures, thanks to a six-layer construction that includes a waterproof shell, 3M insulation, and thermal lining. They also do a great job of blocking cold and snow, as they're built with elastic at the wrists, adjustable straps, and drawstring closures at the wrists. Choose from faux leather and polyester options.
One reviewer wrote: "I live in NY and we just got hit with our first winter storm last night with over 15" of snow. I had these gloves fully charged and try them out last night while clearing the snow.I was outside in the middle of the night for an hour shoveling snows and these gloves kept me dry and warm, and I didn't even had to turn on the heat! When I tried turning on the heat after I was done clearing the snow, I could not believe how warm my hands felt inside these gloves!"
Available colors: 1
Available sizes: Medium — X-Large
Other great men's winter gloves from around the web
This article was originally published on