How To Use TikTok's AI Effects To Make Yourself Into a Manga Character
TikTok dance trends not your thing? Perhaps turning yourself into AI art is more your speed.
by Alyson Velati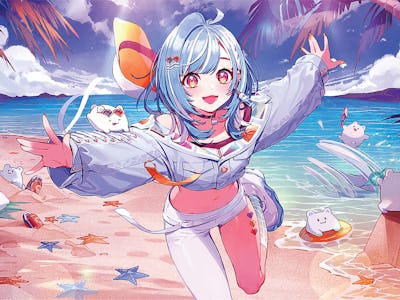 Shutterstock
AI art has taken social media by storm, and TikTok is no exception. Some apps allow users to create images from personal photos, while others use text-to-image filters that generate an AI background.
There are plenty of different ways you can delve into AI filters, but one of the most popular as of late has been an effect that lets you go full anime. Here's what you need to know about TikTok's AI effects trend and how to get started.
HOW TO TURN A SELFIE INTO A MANGA CHARACTER
To access AI Manga, open up TikTok to create your own video using the plus sign icon. Tap the "Effects" icon, go into the search bar, and type in "AI Manga." The feature shows up on the "Trending" section of the different filters that are provided, which proves its popularity.
After you select the filter, your screen will prompt you to either tap your screen to scan your face or allow you to upload a photo of yourself.
I tried both options and it seems like the filter just has a collection of its own curated manga art. It doesn't produce surrealist imagery like its Lensa AI counterpart (which was the most popular iPhone app in the U.S. at one point in December), but definitely made me into the Manga character of my dreams. It really made my avatar somewhat realistic – I guess as real as you can get for a Manga character.
When I searched for the feature, it shows that 10.6 million videos were created with the AI Manga tool. TikTok users are definitely going a step beyond a simple selfie, with varying degrees of success: using their fists or a pack of apples to create abs or using bowls to create cleavage.
HOW DID AI ART CROP UP ON TIKTOK?
The AI art trend took off last year, with the rise of art generators like Lensa, Craiyon (formerly DALL-E Mini), and Midjourney.
The craze eventually led TikTok to create some of its own AI filters, which quickly rose to popularity since users don't have to pay for them as they did for Lensa's "Magic Avatar" feature.
Last summer, TikTok rolled out its own text-to-image filter called "AI greenscreen," which allowed users to type in words or phrases that create an image to use as a background to a video. The video platform previously had "AI Art," where you could add a photo from your own library and the app generates it as an AI image, and more recently "AI Sky," which turns your ceiling into different things like a winter wonderland.