Chevy's new E-Ray Corvette makes hybrid cars feel sexy
Performance, not practicality, is the name of the game with Chevy's 2024 E-Ray hybrid Corvette.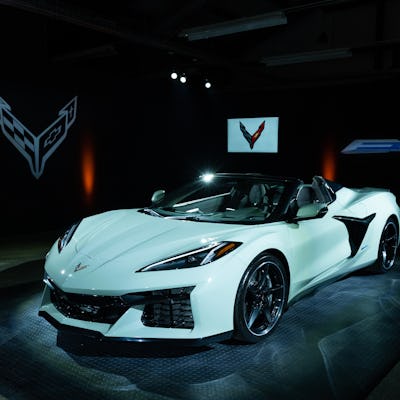 Tim Stevens / Inverse
You almost have to feel bad for all the Corvette discussion groups out there.
For decades they were hotbeds of speculation about a mid-engined Corvette. Then, when Chevrolet finally silenced that discussion thread by releasing the C8, everyone started speculating about a hybrid Corvette. Today, it's time to shut down those rumor mills too.
The hybrid-powered 2024 Chevrolet Corvette E-Ray exists and, after a visit to GM's super-secure Milford Proving Grounds, I feel confident in saying it will not disappoint.
PERFORMANCE PLAY
Before I tell you what the E-Ray is, let's start by telling you what it isn't: This is not an MPG play. This is not an eco-minded Corvette, a plug-in hybrid designed to get you to work without burning a drop of gas, nor is it a radical change in form. No, dear readers, today is not the day that the Stingray lost its edge.
The E-Ray uses a through-the-road hybrid system that powers the front axle only. The 6.2-liter LT2 small block at the back is still as sweet and pure as ever, delivering 495 horsepower and 470 lb-foot of torque exclusively to the rear wheels. Up front, the electric motor splits its power between the front wheels only, providing another 160 hp and 125 lb-ft.
As tempting as it is to just add those figures together to create world-conquering, tire-shredding performance numbers, it's not that simple. Chevrolet quotes effective power of 655 hp and 595 lb-ft of torque. That's very, very healthy — just 15 ponies short of the new Z06 — but more significantly, a whopping 135 lb-ft more on the torque side.
The result is an astonishing 2.5 second 0–60 mph sprint, one-tenth quicker even than the Z06.
DEMO RIDE
What does that feel like? I'm fresh out of the right seat of the new E-Ray, a demo ride at a closed test track in a pre-production car, and the acceleration is frightful.
The Corvette has always encouraged a laid-back seating position. Thanks to the joys of physics, that means a hard launch has a tendency to shift your internal organs upward, a borderline unpleasant sensation that's a little like dipping over the top of a roller coaster. Only here, instead of gravity doing the work, there are 655 horses worth of power slinging you forward.
Instead of gravity doing the work, there are 655 horses worth of power slinging you forward.
The E-Ray rocketed off the line with little drama despite cold temperatures (the gauge cluster showed 31 degrees F) and all-season tires. The rear stepped out just a few degrees, enough to remind us passengers that it was grip and not power limiting our forward progression. But as the speed increased the thrust, and the delightful noise just kept on climbing.
There is a bit of electric whine here, an edgy soprano note that accompanies the basso profundo of the V8, creating a soul-stirring harmony. But, should you want to be a little more subtle, the E-Ray can be driven emissions- and noise-free. Only for very limited distances, though, and only at speeds up to 45 mph.
BATTERY POWER
The battery here (which lives in the transmission tunnel between the seats) measures a mere 1.9 kWh. That's about one-fiftieth the size of a Tesla Model S. Again, the intent isn't emissions-free motoring, it's performance. A lighter battery that can rapidly charge and discharge is more advantageous than a bigger, heavier one when it comes to outright performance.
And performance is the goal. A battery designed to quickly pull enough juice in under hard braking, plus a few extra watts here and there while coasting and under acceleration, ensure that the charge will make it through a lengthy hot-lap session on a track. The driver cannot specify regen rates, but there is a Charge+ mode that'll work to put power back into the battery while you drive, ensuring you have enough to slink back out of your neighborhood quietly the next morning.
Performance is the goal.
Though it wasn't the primary goal, the hybrid system should help with fuel economy as well. It can even help the V8 stay in cylinder deactivation mode for longer, providing a twist of extra torque to help the Corvette up hills on the highway where normally it would have started firing on all eight again.
Despite all that, the Corvette's frunk is unaffected. Yes, the car's weight has increased, but only about 220 pounds — not bad, given the base Stingray weighs north of 3,600 pounds. Meanwhile, the balance shifts forward to 41 percent — up just one tick from the regular C8's 40/60 split. All that is a small price to pay for the extra power, not to mention all-wheel-drive, but what about handling?
It's always hard to tell from the right seat, but nothing seemed to be totally amiss. The E-Ray felt like it has a tendency toward understeering to start, just like the regular Stingray, but it only took a long press of the mode dial to disable stability control, plus a little extra provocation from the driver's right foot, to kick that tail out into a big, lurid slide.
Yes, folks, the E-Ray will drift. More importantly, when it does fall over into understeer, the car seemed to react well when the driver added throttle instead of taking it away. In this way, the electric drive up front effectively worked to pull the nose through the turn, not just plowing onward like your average all-wheel drive car.
Helping all that are massive tires at all four corners. The E-Ray comes on a staggered setup, 21 inches at the rear with 20-inch fronts, just like the Z06. That means the hybrid gets the Z06's wider body, too, but not the Z06's always-on personality. Driving a Z06 is a real commitment because it is always ready to race. The new E-Ray, on the other hand, was designed to have Z06 levels of acceleration but otherwise be a far more palatable daily driver.
Appropriate, then, that its visual cues are minimal. The hybrid 'Vette is emblazoned by only a few, subtle E-Ray badges. That said, if that's not enough visual flare, a pair of big, blue stripes can be optioned as well, exclusive to the E-Ray.
Carbon ceramic brakes come standard, as does adaptive MagneRide suspension, meaning the E-Ray is pretty well-loaded even before you start ticking the boxes. That'll just give you more time to start pondering one of the C8's new colors, like the very faint green you see here. Chevy calls it Cacti, and you'll still have your choice of a coupe with a removable hard-top or convertible.
Pick the coupe and you're looking at $104,295 ($111,295 for the convertible). That puts it within spitting distance of the Z06 and well above the roughly $65,000 you'd spend to get a base Stingray. But remember, this is far better equipped than a base 'Vette — on par with the Z06 in many ways but in a package much more tolerable for the daily drive.
It's an interesting proposition, a different sort of Corvette than I've seen before and one that genuinely feels complementary to the existing models. As to how it truly drives, and whether it's worth that cost, we'll still have to wait a little longer to know for sure.