What to Expect from Nintendo's Tears of the Kingdom Gameplay Reveal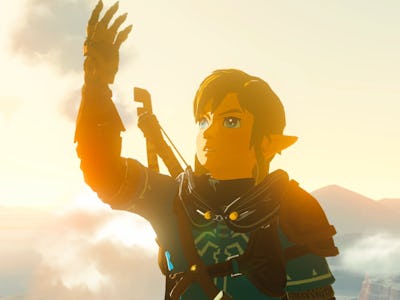 It's happening! We're just weeks away from the launch of The Legend of Zelda: Tears of the Kingdom, Nintendo's long-awaited successor to the smash-hit Switch launch title Breath of the Wild. And slowly but surely, Nintendo's starting to give Zelda fans a peek behind the curtain of 2023's most anticipated game. On March 28, series producer Eiji Aonuma will host a brief rundown of TotK's gameplay.
Here's what we know about the event — and some educated guesses about what we're going to see during the presentation.
How to Watch the Tears of the Kingdom Gameplay Reveal
Nintendo will broadcast the new footage from Tears of the Kingdom on Tuesday, March 28 at 7 a.m. Pacific time, or 10 a.m. Eastern. It's not clear if this new look at TotK will be pre-recorded, or a live stream. Notably, the tweet from Nintendo does not refer to this as a "Tears of the Kingdom Direct," though it's not impossible that we'll see a longer and more detailed presentation as we get closer to launch.
You can watch the stream on Nintendo of America's official YouTube channel.
What to Expect From the Tears of the Kingdom Gameplay Reveal
Well, don't expect the keys to the kingdom. This reveal is only slated to last 10 minutes, so we don't expect to come out the other side of it with a totally clear picture of everything the game has to offer. As Nintendo's reps mentioned in the social media post, this is a "gameplay reveal," so we expect the focus here to be mostly on mechanics, rather than the plot of Tears of the Kingdom.
Based purely on what we've seen in previous footage of Tears of the Kingdom, we know that a significant portion of the game will take place on a number of islands floating in the sky above Hyrule. This is a shift from Breath of the Wild, so we imagine a good chunk of Nintendo's March 28 presentation will focus on the various ways Link can traverse this new environment.
As such, we expect to see more detail on the evolved glider mechanics that will return from BotW and a deeper dive into the eclectic assortment of vehicles we saw back in February's trailer. There's a chance we might get a bit more insight into that neat-o "teleporting through puddles" mechanic we saw back at E3 2021, back when it was still called "The Sequel to The Legend of Zelda: Breath of the Wild." We haven't seen a much of that nifty new move since the game got an official name.
Either way, we're in the home stretch now. It's a little more than a month left to go until May 12, when Tears of the Kingdom debuts on Nintendo Switch.