2023's Best Party Game Yet Made Me Punch Myself in the Face
There's a reason I'm a journalist and not a professional dancer, okay?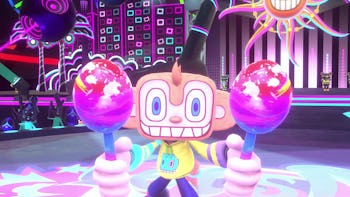 I had a slight edge in points, but my buddy was uncomfortably close to catching up. And I desperately needed this round to even out the score. I flung my fists and legs wildly to the beat, in what I can only imagine looked like a thoroughly unimpressive combination of Donkey Kong and Shakira.
I almost kept it together. Almost. Until I somehow smashed the blue Joy-Con into my glasses in a masterfully uncool movement. My intense focus was broken as the giggles took over.
Samba de Amigo: Party Central isn't the kind of game you'll binge for hours on end for weeks at a time, like Tears of the Kingdom. But it is one of those games that you're gonna bust out now and again with friends and family and have an absolute blast. With the exception of Switch Sports, there aren't a ton of movement-based games to play on Switch, despite its many similarities to the Wii. But Samba de Amigo: Party Central is already a frontrunner for 2023's best party game.
The premise is simple — your adorable avatar (monkey or another cuddly critter) appears on-screen, surrounded by a ring of prompts for shaking your maracas at high, middle, and low heights. You'll need to keep to the beat of the music and occasionally hit a dramatic pose using the maracas, like a punchy V-stance or a flamenco-inspired flourish. If you're consistent with the timing, your character will become more animated and be flocked by a crowd of adoring admirers. If your rhythm stinks, your fans will flee.
The original Samba de Amigo was released in arcades in late 1999 and came to Sega's criminally underrated Dreamcast console the following year. A port for the Wii, which ditched the bespoke maraca remotes for the Wii Remote and Nunchuk, was released in 2008. Samba de Amigo: Party Central isn't a warmed-over port of the original, but a full-fledged sequel. It retains the core mechanics of the previous game, swapping out the maracas and Wiimotes for the Switch's petite Joy-Cons. You can play standing or seated, but either way, you'll probably want to unearth those wrist straps for this one, especially if you've got younger or less experienced players getting in on the hijinks.
The standard edition of the game includes an eclectic selection of 40 songs, encompassing Latin bangers, power ballads, pop-princess anthems, and dad rock. The simplest version of the game simply allows you to pick a song, choose one of four difficulty levels, and shake what your momma gave you with up to three buddies. (Be warned: the higher difficulties are no joke.) Several inventive minigames build upon the core premise, including a live-stream showdown to compete for the crowd's affection, and a Love Tester-inspired two-player mode to measure how in sync you are with your partner.
All your performances, however grand or terrible, will earn in-game currency that you can use to unlock new cosmetics for your characters, like luchador masks or Sonic character helmets. Sega plans to add more music tracks with future DLC, and folks who spring for the deluxe edition will get two bonus bundles of Sonic and Sega music to beef up their libraries.
If you're curious, here's a full list of the launch playlist.
"Break Free (ft. Zedd)" by Ariana Grande
"Good Time" by Owl City & Carly Rae Jepsen
"Pompeii" by Bastille
"You Give Love A Bad Name" by Bon Jovi
"I Really Like You" by Carly Rae Jepsen
"Payback (feat. Icona Pop)" by Cheat Codes
"Karma Chameleon" by Culture Club
"Let You Go (feat. Kareen Lomax)" by Diplo & TSHA
"Good Feeling" by Flo Rida
"Runaway (U&I)" by Galantis
"I Will Survive (Eric Kupper Mix Extended)" by Gloria Gaynor
"I Love It" by Icona Pop
"Centerfold" by J Geils Band
"Bang Bang" by Jessie J, Ariana Grande, Nicki Minaj
"Sucker" by Jonas Brothers
"Move Your Feet" by Junior Senior
"TiK ToK" by Kesha
"Moves Like Jagger (feat. Christina Aguilera)" by Maroon 5
"Panama" by Matteo
"Pa'lla" by Max Pizzolante
"Plastic Hearts" by Miley Cyrus
"I Won't Let You Down" by OK Go
"Celebrate" by Pitbull
"The Cup of Life (La Copa de la Vida)" by Ricky Martin
"XS" by Rina Sawayama
"Bom Bom" by Sam and the Womp
"Get Busy" by Soolja
"Azukita" by Steve Aoki, Daddy Yankee, Play-N-Skillz & Elvis Crespo
"Escape From The City" from Sonic Adventure 2
"Fist Bump" from Sonic Forces
"Macarena (Cover)"
"La Bamba (Cover)"
"Fugue (Classic)"
"Scent of Your Sweet Love" from Sega
"Let's Find It and Shake It" from Sega
"Chosen Mask" from Sega
"Wedding March" from Sega
Samba de Amigo: Party Central comes to Nintendo Switch on August 29.