8 Games We Will (and Won't) See at the PlayStation Showcase
Hot Geoff Summer is off to an early start.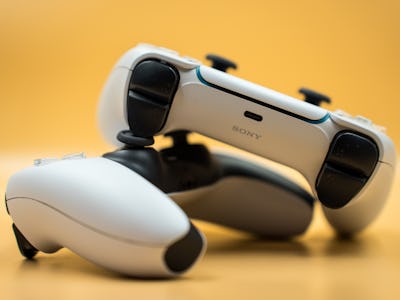 NurPhoto/NurPhoto/Getty Images
The most wonderful time of the year is starting early. Traditionally, the middle of June is reveal season, when gamers can expect a bunch of major announcements and updates for upcoming titles. But on May 17, Sony shared plans to kick things off early, with an hour-long livestream in the afternoon of Wednesday, May 24.
The PlayStation Blog announcement about the showcase is pretty light on details, which likely means several days of the usual suspects passing off educated guesses as juicy insider info on social media. Here's what we know from the horse's mouth:
The show will run a bit over an hour, focusing on PS5 and PS VR2 games in development from top studios from around the world. Expect a glimpse at several new creations from PlayStation Studios, as well as spellbinding games from our third-party partners and indie creators.
Based on that very limited info, I've put together a few predictions about what we can expect from Sony for this year's not-E3 showcase, based on publicly available information.
1. Live a Clive
Let's get the obvious stuff out of the way first. Final Fantasy XVI is a PS5 exclusive that launches on June 22. Given that the showcase is just about a month out from release, we'd expect to see a good chunk of time devoted to the latest installment of Square's flagship series. PlayStation has a lot more invested in FF16's success than a typical third-party game, so I'd expect something more extensive than just a new trailer. I'm guessing we can expect 10-15 minutes devoted to Yoshi-P's dark fantasy epic.
2. Call of the Headset
The next obvious thing is PSVR 2. (Yes, I'm aware that Sony spaces it out as PS VR2 in its official communications, and I'm choosing to ignore it.) We were really impressed with the headset and its flagship title, Horizon Call of the Mountain, when we reviewed them earlier this year. However, there aren't a ton of PSVR 2 exclusives at this point, and recent reports suggest that Sony has scaled back production plans after weaker-than-expected sales. PlayStation is gonna want to use this moment to generate some buzz around PVSVR 2 offering. I predict we'll see about 15 minutes, or roughly a quarter of this hour-plus event, devoted to new ports and (hopefully!) some first-party VR stuff.
3. Webslinger Update
The final obvious thing is Spider-Man 2. We haven't heard much about this highly anticipated sequel in a while, and it's PlayStation's big fall release to compete with the likes of Starfield... and whatever mystery offering Nintendo has up its sleeve after Pikmin 4. Hopefully, we'll get an official launch date for Spidey's next outing, too.
4. Naughty Dog's Next Trick
From there, things get a lot more speculative. One possibility is the multiplayer spinoff of The Last of Us, which was announced at last year's Summer Game Fest. This has been in development since The Last of Us Part II, but Naughty Dog also didn't have any gameplay footage to show last year, so the project may be getting a more extensive overhaul. Back in March, TLOU director Neil Druckmann said fans could expect to see "much more" about the multiplayer game later this year. Whether that's now or in the fall remains to be seen.
5. Hardware Accessibility
We might also get a new look at Project Leonardo, PlayStation's modular controller for players with disabilities. While Sony has been on the cutting edge of software innovations in accessibility, its hardware options have been lacking. An official name, pricing info, and launch date are distinct possibilities for the May showcase. Then again, I wouldn't be surprised to see this as the focus of a smaller, dedicated reveal event with more of an accessibility focus.
6. Fatal Attraction
A couple of widely rumored third-party projects have a pretty decent chance of showing up on May 24. The first of these is Mortal Kombat 12. Series co-creator Ed Boon has been tweeting up a storm about the franchise, which recently celebrated its 30th anniversary, in recent weeks.
Unless NetherRealm has a big reveal of its own planned, we're willing to bet the next installment of the legendary fighting series will get announced at Sony's event.
Update: I've already been proven wrong! NetherRealm is doing its own event on May 18. It conspicuously includes Mortal Kombat font. But maybe they'll show more during the Sony Showcase?
7. God of Who?
Most intriguing of all are the "several new creations" from PlayStation Studios references in the post. We don't know what Santa Monica Studio, the team behind the God of War series, is currently working on. (The studio happens to be hiring an artist with experience in "fantasy-based worlds" for an unannounced title, which could mean God of War — or not.)
Back in November, director Cory Barlog told the Los Angeles Times that the studio has been "spread out on a lot of different things." Maybe we're about to find out what one of those projects is. It's a slim chance, but a girl can dream.
8. Sorry, Bub
While we haven't heard about Wolverine in a minute, it's very unlikely we'll see it in the May showcase. That's because being developed by Insomniac Games, the studio behind Spider-Man 2. Insomniac isn't going to steal its own thunder by showing two Marvel games in the same event, even if Wolverine is in a state to be shown. If this shows up, I will eat my hat (metaphorical).
So what's on your May 24 bingo card? We won't have long to find out.