PlayStation Portal Is Like a Nintendo Switch — But You're Chained To Your Desk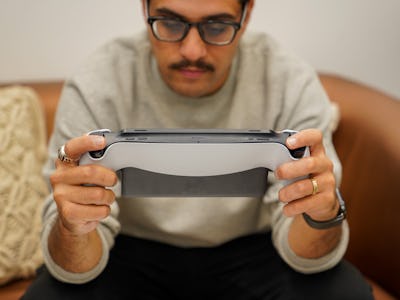 Photograph by Raymond Wong
My first reaction when I pick up the PlayStation Portal is to crack a grin. This handheld device is one long boy.
After avidly gaming on the PlayStation 5, I've gotten used to the curves and design of the PS5 controller. Now, Sony has decided to slice that controller in half and plop an 8-inch screen down the middle. It's hilarious to look at, like a PlayStation 5 controller but stretched out with the display awkwardly placed in the middle. The PS5 button is now weirdly pushed to the left side, making me chuckle.
Awkward is the resounding word of the day when it comes to my Portal experience, from the design to the setup process to the actual gaming experience. While I didn't have a ton of time with the product due to the late arrival of my pre-launch review unit and some initial connectivity issues, I was able to play several games on the Portal, test out its battery life and graphics, and find out what it's really like to live with this $200 device.
The controller vibrations are still present, and the Portal also has its own speakers. You can listen to the PS5 and Portal both play the same audio at the same time (if that's something you want, for some reason). You can also plug your headphones into the Portal or use Sony's new wireless earbuds). The speakers are pretty standard, though turning up the sound drains battery life a bit more, as expected.
Speaking of battery life, I was able to get about eight hours of solid play out of the Portal. After that, the graphics quality started dropping and it started disconnecting randomly from the PS5. I had been in the middle of deleting a bunch of games to clear enough space to download Call of Duty: Modern Warfare III, so this meant I had to awkwardly (there it is again!) switch between my PS5 controller and the Portal to guide my PS5 toward the correct series of actions. (My PS5 helpfully announced every other second that I had disconnected or reconnected via Remote Play.)
The best use case for the PlayStation Portal is multitasking. You can chip away at a lengthy Japanese role-playing game while you watch TV (that's probably the coolest perk). I played Persona 5 Strikers, a 2020 game that has been weighing down my backlog while working out. That's something I couldn't do on my TV as it's harder to look up and hack and slash away at enemies while doing Pilates. (Streaming apps like Netflix, Crunchyroll, and YouTube are blocked for Remote Play, so I was unable to use those on the Portal.)
The Portal is tragically limited by its connectivity issues, which I hope get better post-launch. When I tried taking the Portal outside — it disconnected immediately. When I tried taking the Portal to my bedroom, where a metal pillar in the wall historically blocks out the Wi-Fi signal — it predictably disconnected. (Although I assume in plenty of homes, playing the Portal from your bed will be a huge perk.)
It's understandable that the Portal didn't work in these situations. PlayStation clearly advertises it as a remote-play device, a way to mirror your TV on a much smaller screen. The company never said anything about gaming on the go. But in a world filled with handhelds like the Nintendo Switch and Steam Deck, the Portal is lagging behind the times.
Take the screen, for instance. It's not OLED but LCD, so that's a bit of a downgrade, especially if you consider that Valve just announced the Steam Deck OLED, which can play PC titles in higher definition. (The Nintendo Switch also comes in an OLED flavor.) PlayStation dominates the market when it comes to blockbuster exclusives with top-tier visuals, so that extremely impressive array of games should be followed up with hardware that can handle it. The Portal, in its current form, is not quite it.
PlayStation claims the Portal runs at up to 60 frames per second with a 1080p resolution, but that's entirely situational. When my Portal fell below 30 percent battery, it started lagging. Even a still image of the Call of Duty Modern Warfare III homepage became blurry. Even Astro, roaming around in Astro's Playroom — that preinstalled game that I basically use just to benchmark the PS5's performance — lagged. He was just a little guy rolling around a sleek space reminiscent of the PS5, but he became indistinguishable from all the other characters as another mass of pixels.
Let's talk about when the Portal is working. When it's juiced up on power and perfect Wi-Fi, the Portal has virtually no screen lag. When Peter Parker webs up foes in Spider-Man 2, he's doing that in real-time on the Portal just like on your TV. And, as I mentioned earlier, if you happen to be playing a grindy game and want to sink some extra hours in while watching some very captivating TV, you can do just that. The Portal is also tailor-made for anyone forced to share a TV with their roommates or family. And depending on the layout of your home, you can probably also play PS5 games on the toilet, if that's something you're interested in. Just be on the lookout for the Portal to disconnect at some point.
I also like that the PS Portal has a touch screen, though I found that I rarely get to use it in games, or even in typing. It just doesn't seem applicable to most gameplay, although maybe that will change in the future as PlayStation and third-party developers adapt.
When you first set up the Portal, you'll find yourself watching the same game simultaneously on both your TV and the handheld screen. Most people probably won't use the device like that, but if you do, you probably won't get much out of the experience. I have a Samsung 8K 55-inch TV and it's hard to look away when both the Portal and my TV are running. (It just seems more obvious to stare at the screen with higher graphics.) But the Portal is being pitched to people who don't necessarily have access to a TV all the time. And at $200, it's certainly cheaper than buying a second TV in most situations.
In its current form, the PS Portal feels like a party trick. You might buy one as a novelty to see what it's like, but given all of the connection issues, it's very hard to have a smooth time gaming on the Portal. It definitely feels like an unnecessary accessory: nice to have but one you can feel free to skip for now.
The PlayStation Portal hits stores on November 15.