Here's exactly when you can play One Piece Odyssey
Launch times vary depending on your platform.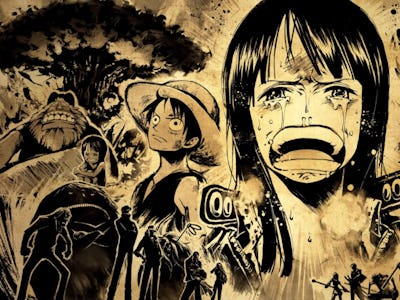 Ahoy there! It's almost time for anime lovers to set sail on the high seas of adventure. One Piece Odyssey, Bandai Namco's new RPG inspired by the long-running manga series, launches later this week.
Odyssey tells an all-new story featuring the iconic Captain Monkey D. Luffy and the Straw Hat Crew, who are caught in a perilous sea storm. When the weather calms, they find themselves stranded on a mysterious island called Waford, which is full of natural wonders, oddball locals, and some formidable baddies.
Produced with direct involvement from One Piece series creator Eiichiro Oda, One Piece Odyssey features new characters and monsters in addition to familiar faces from throughout the series' 25-year history. The game also boasts a soaring soundtrack scored by composer Motoi Sakuraba, who has previously created memorable music for the Tales and Dark Souls series.
If you're looking to get in on the fun at the earliest possible moment, here's what you need to know about the One Piece Odyssey launch. Depending on your platform of choice, some players will be able to access the game eight hours early.
One Piece Odyssey Steam / PC release time
The Steam version of One Piece Odyssey will be available to play starting Thursday, January 12 at 4 p.m. Eastern
One Piece Odyssey Xbox release time
Xbox Series X|S and Xbox One versions of One Piece Odyssey launch on Thursday, January 12 at 7 p.m. Eastern
One Piece Odyssey PlayStation release time
If you're hoping to play One Piece Odyssey on PS4 or PS5, those versions will be available slightly later, on Friday, January 13 at 12 a.m. Eastern.
Is One Piece Odyssey on Xbox Game Pass?
Tough break, bargain-savvy gamers. One Piece Odyssey won't be available on Microsoft's subscription service at launch. However, it's certainly possible the game could be included in the months ahead.
Back in 2021, Bandai Namco brought the RPG Scarlet Nexus to Game Pass just three months after its initial release. Being on Game Pass brought an additional 1 million players to the game. Scarlet Nexus producer Keita Iizuka also told Inverse in January 2022 that the game's success on the service made a sequel more likely.
"It has definitely given Scarlet Nexus a boost in publicity and popularity. It has also largely contributed to the visibility and sales of downloadable content," Iizuka said.
While we don't know for certain that One Piece Odyssey will come to Game Pass any time soon, we wouldn't be shocked to see it appear on the service by the end of 2023, given the strong performance of past Bandai Namco RPGs on the service.