The 6 best portable chargers for Nintendo Switch
We only recommend products we love and that we think you will, too. We may receive a portion of sales from products purchased from this article, which was written by our Commerce team.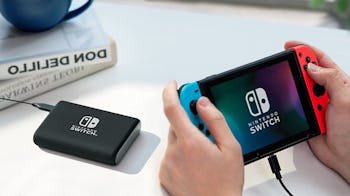 Inverse / Amazon
Technically, if you have the right cord, you can use almost any portable power bank to keep your Nintendo Switch charged. That said, the best portable chargers for the Nintendo Switch in particular will be high-capacity and compact; bonus points if it offers additional features that make your Switch gaming experience even more comfortable and convenient.
First, you'll need to figure out how much battery capacity you need. Battery capacity is measured in mAh or milliamps hour, and the Nintendo Switch has a battery capacity of 4310 mAh. So, to get at least one full charge, you'll want a portable battery with a minimum of 5000 mAh, though many models offer 10,000 mAh or more for multiple charges or if you want to use it with other devices.
Since a major selling point of the Nintendo Switch is its portability, you also likely want a power bank that's just as compact and easy to take with you. I've listed the dimensions below each option to ensure that it's travel-friendly enough for your needs. That said, certain power banks take portability a step further with case-like designs that slip right over your console — while some even have built-in kickstands or solar designs that transform the sun's rays into usable power.
Finally, you'll want to make sure you have the right cords for your charger. The Nintendo Switch uses a USB type-C plug to charge, but if you're using a cord with a USB-C on both ends, it may not work since some power banks have a USB type-C port solely to charge the power bank itself, and it can't be used as an output to charge other devices. For that reason, make sure you have the right adapter to connect the Switch to your power bank of choice. There's a popular USB-C to USB charging cord at the bottom of this article, which should work with most off-brand power banks.
Scroll on for the best portable chargers for the Nintendo Switch no matter your needs.
1. The charger designed especially for the Nintendo Switch
If you're concerned about compatible adapter cords, portability, and optimal capacity, get this one: The Anker PowerCore portable battery makes it easy because it was licensed by Nintendo and specifically designed for use alongside your Switch. Despite its small size and travel-friendly weight of about half a pound, the 13,000 mAh capacity has enough juice for 1.7 charges (or you can opt for the 20,100 mAh model for even more power). It also uses PowerIQ technology and an included USB-C to USB-C cord for the fastest charging available. Plus, its rubberized exterior is grippy and durable. More than 500 reviewers have awarded it an overall 4.7 stars.
Capacity: 13,400 mAh (or 20,100 mAh)
Size: 3.82 by 3.15 by 0.87 inches
Output charger type: 1 USB-C
One reviewer wrote: "No Switch should be without this if you use your device primarily on the go. And thanks to Nintendo using a proprietary charging algorithm I wouldn't trust just any power brick. This is the official Nintendo Switch endorsed charger so you know it works to Nintendo's standard. I've managed 2 separate full charges on my Switch Lite with about a quarter capacity to spare in my testing."
2. The best value charger
For less than $25, you get two portable chargers, each with a 10,000-mAh capacity. For that reason, it's really no wonder this listing has racked up more than 60,000 reviews and the overall rating of 4.6 stars proves that it doesn't skimp on quality. In terms of design, these chargers are lightweight, slim, and grippy. Plus, they have two standard USB ports each for charging (the USB-C and micro USB ports are used only to charge the power bank itself, so they can't be used to charge your Nintendo Switch). The smart sensors inside automatically detect your device — whether it's your phone or your Switch — and aim to deliver the appropriate current for charging.
Capacity: 10,000 mAh each (2-pack)
Size: 11.02 by 5.28 by 1.26 inches
Output charger type: 2 USB
One reviewer wrote: "I originally bought these for a trip last month, but I've used them consistently since then. I don't know how lived without them before! I can get two and a half full charges for my phone from one bank, and charging them is super fast! I've also used them to charge my Nintendo Switch without a problem."
3. The best Nintendo Switch charging case
There are definitely more expensive Nintendo Switch charger cases around, but this one is a solid option offered in a comfortable-to-grip case that's also protective — all for "for an extremely reasonable price," according to one reviewer. It not only encases your console in fireproof plastic, Joy-Cons included, but it also offers a 10,000-mAh capacity that can expand your playtime up to eight hours. It uses a USB-C for both input and output, but it also has a standard USB on the outside so you can use it to charge other devices like your phone. There's even a built-in kickstand and dual card slots for game storage.
Capacity: 10000 mAh
Size: N/A (but designed to fit around your Switch)
Output charger type: 1 USB-C, 1 USB
One reviewer wrote: "This is a pretty nice charging case. When both my Switch and this charging case is fully charged, I can basically use my switch all day without running out of juice. The joycon attachments make holding the Switch much more comfortable."
4. The best power pack
A power pack is an external battery that fits over your device, and according to reviewers, the Nyko Power Pak is one of the best for the Nintendo Switch. Even though it's made by a secondary company, the design fits well without blocking any ports or vents — and it's sleek with a sturdy built-in kickstand so it adds to your gaming experience rather than taking away from it. Last but definitely not least, the 5,000-mAh capacity doubles your battery life using an internal USB-C charger, and the pack itself charges quickly with an included USB-C cable.
Capacity: 5000 mAh
Size: 5.12 by 1.97 by 7.28 inches
Output charger type: 1 USB-C
One reviewer wrote: "SO AWESOME! I was able to play during an entire flight and while I waited in the airport for my plane to arrive! This charging case basically does what it says it does! It doubles the battery life!"
5. The most portable
It's the smallest power bank on this list, but it still offers 10,000 mAh of juice for any compatible device, and the long list includes the Nintendo Switch. Needless to say, since it's so small and lightweight (roughly 6 ounces or 0.4 pounds), it's an extra-portable option that fits effortlessly in your pocket. The dual USB ports are designed with protective technology to prevent over-currents and short-circuiting, and there's even a digital display that tells you how much battery life it has left.
Capacity: 10000 mAh
Size: 2.44 by 3.5 by 0.86 inches
Output charger type: 2 USB
One reviewer wrote: "I have purchased several portable chargers over the last few years. This one is one of my favorites. It's incredibly small for 10,000mAh. I can get several charges out of it for my iPhone XR. It fits in a pocket and it is pretty lightweight. The size is definitely the selling point."
6. The best solar powered portable charger
The Riapow solar charger definitely isn't the fastest option on the market — but for power outages, camping trips, or emergency backups, it's a great way to ensure you always have a charge. It has a 26,800 mAh capacity (the largest on this list) and can charge up to four devices at once. The USB-C port can even be used as an output for your Nintendo Switch. Most importantly, the solar design collects energy from the sun and turns it into battery power, so you can keep your devices on even when there aren't any outlets in sight (though you can also charge it up using a USB-C cord, not included). In terms of other cool additional features, the built-in LED flashlight has three modes for emergencies, it can charge your phone wirelessly using Qi technology, and the power bank itself is waterproof and drop-resistant.
Capacity: 26800 mAh
Size: 6.89 by 3.54 by 1.18 inches
Output charger type: 2 USB, 1 USB-C, 1 wireless Qi charger
One reviewer wrote: "Great buy! The power went out today and I was ready! This was such a great purchase for my phone, but also charges my children's Nintendo Switch. Win-win!"
Also great: a USB-C charging cable for the Nintendo Switch
With the right cord, you can use just about any portable battery to charge your Nintendo Switch, and this USB-C charging cable is one of the most popular options on Amazon. On one side of the reversible 4.92-foot cord, it has a USB plug that'll fit any standard port, and on the other, you'll find a USB-C plug that delivers high-speed, protected charging to your Nintendo Switch. It has a soft yet sturdy plastic encasing and comes in a huge range of colors to add flair to your setup or just make it easier to find.
One reviewer wrote: "We bought this to charge our Nintendo Switch while we took a long road trip as a family. The cord is a decent length and it does the trick! I like that it's a different color than my other cords… makes it easy to distinguish."